4th - 12th August 2018

Regatta and Carnival Week 2018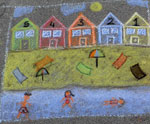 See lymeregiscarnival.co.uk
Raising funds for local good causes
Sunday 26th 2018
Candles on the Cobb
Monday 27th Summer Bank Holiday
---
2018 Dates to be advised:
Tuesday evenings


Music by the Sea'
Lyme Regis Town Band, 8pm - 9.15pm The Shelters, Marine Parade




Lyme Regis Sailing Club Regatta races





Walk of Light


Teddy Bear's Picnic in the Marine Parade Shelters - bring your own picnic.

The Red Arrows
will give a display over Lyme Bay in aid of local charities. Lyme Regis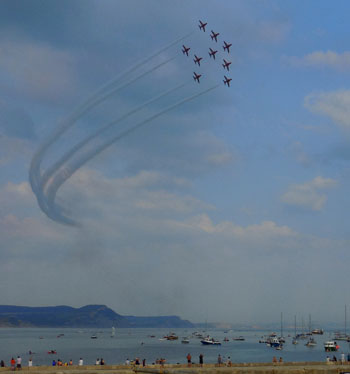 Yes, thanks to the efforts of locals, businesses and organisations, Lyme Regis is delighted to welcome the Red Arrows again this year.
Do not try to drive through Lyme Regis - traffic will be at a standstill in town (more so than usual). If a sign says a car park is full then it is!! There will be marshals advising where there are spaces. See above right for more info on parking
www.facebook.com/redarrowslyme, @LymeRedArrows on Twitter or www.raf.mod.uk/reds/



Firework Display

Lyme Regis Gig Club Regatta Day
Pavement Art Competition The Shelters

Judging of Floats for Grand Carnival Procession in Holmbush Car Park followed by
Grand Carnival Procession
from Holmbush car park to Cobb Square (by the Cobb Arms) via Broad Street

Grand Duck Race from the Upper Mill, Windsor Terrace to Jordan Flats.

Food Rocks 2017
Mark Hix's Food Rocks returns for its 5th year! Expect all things food and drink from Dorset and surrounding areas. The festival not only raises money to support local charities, but also aims to give something back to the local community. Food Rocks is a fun-filled weekend bursting with live, interactive cookery demonstrations from top chefs, talks and tastings from local producers, and a wide range of seasonal food and drink exhibitors to purchase from. There will also be kid's activities so there is something to suit everyone!
---