Saturday 28th July - Friday 3rd August

Lyme Regis Lifeboat Week 2018 - fun for all the family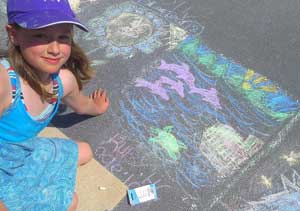 For full information about Lyme Regis Lifeboat Week; competition entry details and confirmation of times please see the full programme available from outlets throughout the town and posters. (Sorry but the organisers have asked us not to publish times in order that they can sell more programmes - only £2 from shops around the town) Fun for all the family.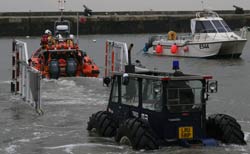 The 48 page Lifeboat Week programme, with full details and timings of all events is now available at the Lifeboat Shop at the harbour and throughout Lyme Regis and Charmouth. www.facebook.com/LymeRegisLifeboatWeek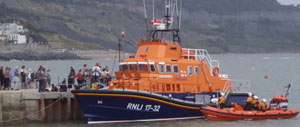 The following items in red are in aid of Lifeboat Week
Wednesday August 1st

TALK & DISPLAY OF REPTILES by Animal Encounters Tak

e a close up look at snakes and exotic reptiles with Chris Johnson. Proceeds to RNLI. Tickets £3, from Brian Cursley 07831 533580, Uplyme Post Office and RNLI shop. 7.30pm

Friday August 3rd



Taunton Flower Show
9.15amCOACH TRIP Show gardens, competitive classes for plants, produce and crafts, a floral marquee, trade stands and events in the arena. £19 includes admission. Bookings: Rose Mock 01297 34733 or 33049.



Firework Display
Saturday 4th - Sunday 12th August 2018



Regatta and Carnival Week 2018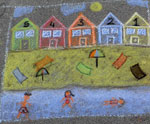 See lymeregiscarnival.co.uk
Raising funds for local good causes


Saturday 4th

Lyme Regis Sailing Club Regatta races
Tuesday 7th August

Music by the Sea'
Lyme Regis Town Band, 8pm - 9.15pm The Shelters, Marine Parade.
Weather permitting

August 13th to 19th LYME Regis Community Week
to raise funds for local organisations

Tuesday 14th August



Music by the Sea'
Lyme Regis Town Band, 8pm - 9.15pm The Shelters, Marine Parade. Weather permitting




Sat 18th - Friday 24th
Aspire Merlin Nationals Lyme Regis Sailing Club

Sunday August 19th



National Trust Castle Drogo
9.30am COACH TRIP Dramatic castle and grounds overlooking Teign Gorge, cafe and shop. NT members £12.50, non NT £18.50. Bookings: Gill Williams 01297 444927 or 444034. Limited places! Uplyme and Lyme Regis Horticultural Society
Tuesday 21st

Music by the Sea'
Lyme Regis Town Band, 8pm - 9.15pm The Shelters, Marine Parade. Weather permitting

Wednesday August 22nd

TALK by Sue Applegate 'Plant to Plate' – this illustrated talk by Sue of Hurstbrook Plants describes how the UK fresh produce industry supplies farm assured food to farmers' markets and supermarkets. Seasonal, UK grown produce will be available to buy afterwards 7.30pm Uplyme and Lyme Regis Horticultural Society
Sunday 26th 2018
Candles on the Cobb returns

Candles on the Cobb is back! Organised and run this year by the Rotary Club of Lyme Regis with the blessing of the founders of this event, Phil Street and Mike Higgs, with 3 members of the original team and is being orchestrated to be part of Lyme's WW1 commemorations.
Proceeds to be shared 50/50 with the Royal British Legion and Lyme Regis youth projects.
5000 candles will be generously supplied again by Quinnell Candles. Individual candles and a certificate in memory of a loved one may be purchased online at candlesonthecobb.org
This community event is one not to be missed, 5000 lit candles outlining the historic harbour walls. See Rotary Candles on the Cobb
Monday 27th Summer Bank Holiday
Tuesday 28th


Music by the Sea'
Lyme Regis Town Band, 8pm - 9.15pm The Shelters, Marine Parade


AUGUST 31 - SEPTEMBER 2 Lyme Folk Weekend
Friday August 31




Lyme Folk weekend
Kicking things off will be one of our favourite acts from previous years - the wonderful Jon Whitley and Jay LaBouchardiere, otherwise known as Ninebarrow. Jon and Jay will be joined on stage by several 'Friends', namely the amazing trio Kadia, superb guitar virtuoso Will McNicol and brilliant young a capella group The Teacups. Join all 10 of them for what will be a unique gathering of unforgettable folk!
---
2018 Dates to be advised:





Walk of Light


Teddy Bear's Picnic in the Marine Parade Shelters - bring your own picnic.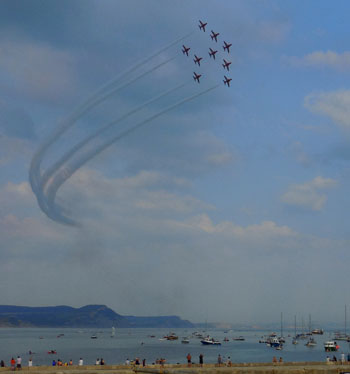 Sadly the The Red Arrows are unable to attend Lyme Regis in 2018


Lyme Regis Gig Club Regatta Day
Pavement Art Competition The Shelters

Judging of Floats for Grand Carnival Procession in

Holmbush Car Park followed by
Grand Carnival Procession
from Holmbush car park to Cobb Square (by the Cobb Arms) via Broad Street

Grand Duck Race from the Upper Mill, Windsor Terrace to Jordan Flats.
---