Saturday 1st - 8th August 2020 Regatta & Carnival Week
August 31st Summer Bank Holiday
---
Dates to be advised
For full information about Lyme Regis Lifeboat Week; competition entry details and confirmation of times please see the full programme available from outlets throughout the town and posters. (Sorry but the organisers have asked us not to publish times in order that they can sell more programmes - only £2 from shops around the town) Fun for all the family.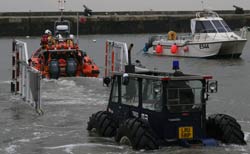 The 48 page Lifeboat Week programme, with full details and timings of all events is now available at the Lifeboat Shop at the harbour and throughout Lyme Regis and Charmouth. www.facebook.com/LymeRegisLifeboatWeek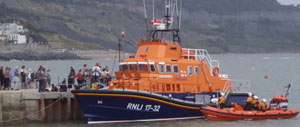 The following items in red are in aid of Lifeboat Week

Lifeboat Week events continue: Full details in the Lifeboat Week Programme available from the Lifeboat shop and many other outlets in Town and at Charmouth.


Book Stall
10 am onwards The Lifeboat Station
Knitting Stall
Another chance to admire the skills of local RNLI Supporters who have donated their work for sale in aid of the RNLI

Lifeboat Crew Barbecue
Hot Dogs produced by the Lifeboat Crew at the harbour. Tuck into a Jumbo Sausage and all the extras cooked on the Slipway by the Lifeboat Station
The Red Devils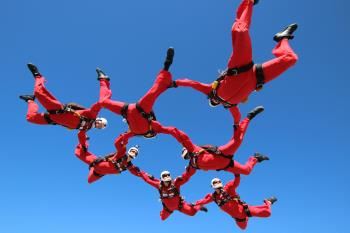 The British Army's official parachute display team will be a star attraction of our Lifeboat Week.
The Red Devils, based at Netheravon Airfield on Salisbury Plain, are a team of 15, all of whom have seen active service in the Falklands, Northern Ireland, Kosovo, Sierra Leone, Afghanistan or Iraq. They are widely acknowledged as among the best display parachutists in the world, and carry out spectacular shows at public events worldwide, promoting the British Army and the Parachute Regiment, known as 'The Paras'.
A classic Red Devils display will see up to ten team members jumping from an altitude of 10,000ft. Trailing smoke to demonstrate their speed and movement, the highly skilled skydivers will freefall at speeds up to 120mph before opening their parachutes. Then they will demonstrate breath-taking high-speed 'swoop' landings and spectacular 'canopy formations'. A commentary will keep everyone informed and the skydivers will be available afterwards to meet spectators. Full details in the Lifeboat Week Programme available from the Lifeboat shop and many other

outlets in Town and at Charmouth. BEFORE THIS EVENT WE NEED THE CO-OPERATION OF EVERYBODY, FOR SAFETY REASONS, WHILE THE LIFEBOAT CREW AND ORGANISERS CLEAR THE BEACH LANDING AREA AT ABOUT 1.45PM

Singalong to Mama Mia!
Best Abba dressed adult and junior competition Marine Theatre

The Famous Nag's Music and Hog Roast.
Food and DeltaTango7 8 'til late at The Nags Head in Silver Street,

Grand Duck Race
The Duck Race this year is dedicated to Irene Roper who sadly died during Lifebaot Week last year: the Duck Race was one of her favourite events. 12 noon from the Upper Mill, Windsor Terrace to Jordan Flats. £1 per duck. Prizes. Duck tickets on sale Marine Parade.


Bowling Drive in aid of the RNLI at Lyme Regis Bowling Club, Monmouth Beach.
All Welcome

Fossil Talk


A fascinating talk by renowned local fossil expert Paddy Howe Paddy frequently appears on television discussing his passion for the Jurassic Coast and its secrets 6pm At the Lifeboat Station Adults £2 under 16s £1
Tug o' War: (rescheduled)
Lyme Regis Lifeboat Crew challenge Lyme Regis Football Club across the harbour mouth 6pm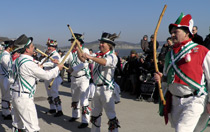 Uplyme Morris Dancers
Royal Standard 7pm onwards

Three Counties Swing Band

Performance area, Marine Parade 7.30pm Full details in the Lifeboat Week Programme available from the Lifeboat shop and many other outlets in Town and at Charmouth.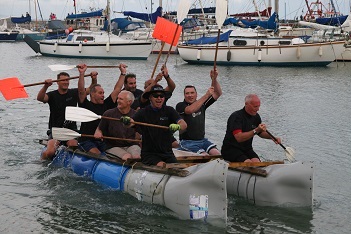 The Great Lyme Regis Bath Tub Race
Have a go at building a floating tub yourself!
Everyone welcome All entry details listed in the RNLI Lifeboat Week programme available at the shop and many other outlets around Lyme Regis and Charmouth and surrounding areas. 8.00 pm.
Registration 7 - 7.45pm Cobb Gate
Yoga Class
Come and join us for some holistic summer yoga. A space to reconnect with body, breath, mind and spirit. Stretch, balance, strengthen and relax. All welcome. Please wear comfortable loose clothing and bring a mat/blanket/block if you have them. All levels welcome. In aid of the Uplyme Community Sponsorship Fund 10 – 11.30 a.m. Masonic Hall, Broad St, Lyme Regis DT7 3QE (behind Galley Café) Tickets: £8. Contact Eva on 07847 280806 to secure a space. Angela Shannon is a fully qualified and experienced Yoga Teacher since 2010 (British Wheel of Yoga -BWY) The Uplyme Community Sponsorship Fund is raising funds to sponsor and support a Syrian refugee family to live in Uplyme next year. Reg. Charity No: 1183684 UCS

Lyme Regis Sailing Club Regatta races

Lyme Splash Water Polo Championship

Match of the Day
Local Emergency services team. including the Lifeboat crew, challenge Uplyme Legends at Venlake Meadow, beside the Uplyme Cricket Club 6pm. Bar and refreshments available. A Lifeboat Week event.



G

rand Lifeboat Week and Carnival Week Combined Firework display - bigger better and even more spectacular! Full details in the Lifeboat Week Programme available from the Lifeboat shop and many other outlets in Town and at Charmouth.
10pm The Cobb
Lyme Splash Water Polo Championship


Lyme Regis Sailing Club Regatta race: Up Anchors Seamanship Trophy Lyme Regis Sailing Club boats assemble at anchor off the bathing beach just outside the swim buoys with sails bent on but not raised. Finish line will be the dinghy finish line with the race officer on PJ taking our elapsed times. The finish line is likely to be busy during Regatta so we will dispense with the normal requirement to sail backwards over it!


Open-Air Cinema: Top Gun


Music by the Sea'
Lyme Regis Town Band, 8pm - 9.15pm The Shelters, Marine Parade.
Weather permitting

Open-Air Cinema: Wallace & Grommit




Torchlight Procession

Cornish Pilot Gig Rowing Regatta

Judging of Floats for Grand Carnival Procession 7pm in

Holmbush Car Park followed by

Grand Carnival Procession

8pm from
Holmbush car park to Cobb Square (by the Cobb Arms) via Broad Street

Coffee morning
There are no set charges, but collection boxes for Air Ambulance and RNLI, from 10.30 till 12.30 in Bethany Chapel, Coombe Street, all welcome.

Uplyme Church Art Festival
in aid of Ugandan Charities: Tearfund and New Hope (children with special needs and disabilities)
An exhibition of paintings, textiles, sculpture and 3D work by local artists. Open to the public 10:00 am to 4:00 pm Entry free: refreshments available all day.
Sunday 25th


Music by the Sea'
Lyme Regis Town Band, 2.30 The Shelters, Marine Parade.
Weather permitting

Lyme Folk Weekend What began life in 2013 as 'The Late Summer Festival by the Sea', has grown into one of the folk scene's most popular events. Lyme Folk Weekend's headline events are here at the Marine.

LYMe fOLK WeeKeND: JON BODeN
Opening the folk festival with a bang is Jon Boden, previously lead singer and arranger of the popular folk-group Bellowhead. Outside of folk he has composed music for both theatre and film, most notably two Royal Shakespeare productions at Stratford: Merchant of Venice (2008) and A Winter's Tale (2012)."one of the most venerated of the younger Brit folk generation" ~ The Guardian Support from the Askew Sisters £20 advance and on the door Starts at 7:30 P.M www.marinetheatre.com

Fun at the Lifeboat Station
Win wine or a snack or water;
Name the Welly Dog Family Competition plus

100's of books to browse at our amazing Book Stall
In aid of Lyme Regis Lifeboat. Organised by Lyme Regis and Charmouth Lifeboat Supporters. 10.30am - 5.30pm approx. at the Lifeboat Station by the Lifeboat Shop by the harbour.