Wednesday 1st November

Improving the footpath between Lyme Regis and Uplyme
Public Drop-in sessions regarding improving the path alongside the River Lym from Lyme Regis to Uplyme. Open to residents and visitors. Dorset Coastal Forum 5.30pm - 7.30pm Uplyme Village Hall

Thursday 2nd

LAST POSTING DATE International Economy to: Eastern Europe, Greece, Cyprus, Turkey, Malta and Iceland




BBC 6Music favourites


The Gravity Drive is a harmony driven independent alternative pop band fronted by Elijah and Ava Wolf. Their songs have been championed and played on Radio 2 and BBC 6Music. They will be performing songs from their new album and new songs from their upcoming new album 'The Wildlight'.
The Gravity Drive will be performing for the first time in Lyme Regis, fresh from their performance at The Lost Weekend festival. Support from the excellent Jake Miller and Grace Gillan. Showtime: 8:00 pm Tickets £14 (concessions £12) Marine Theatre www.marinetheatre.com
Friday 3rd



Mince Pie and Coffee Morning
and sale of quality items. In aid of Save the Children. Baptist hall, Broad Street
Saturday 4th 2017


Northern Harmony
return from Vermont Book early for this sell out feast of harmony singing from around the world. Wootton Fitzpaine Village Hall Tickets from Sept 4th: £9 (U18:£7) from the self service box office at The Charmouth Practice Tel: 01297 560948 for information. Bar and Raffle. Proceeds to the Wootton Fitzpaine Village Hall. 7.30pm (Doors open at 7pm)

Fireworks
The display is Free! However a collection will be made during the evening for local charities so please give generously. 6.30pm Lyme Regis Harbour

followed by
Bonfire on the beach
Sunday 5th


Westonbirt Arboretum
The coach leaves Uplyme Village Hall at 9am. The autumn colours should be spectacular by then (unless at rains all of October), so book your place with Rose Mock (01297 34733) at a cost of £22 – guests £3 extra Uplyme and Lyme Regis Horticultural Society
Tuesday 7th November

Trees and Gardens
Lynda Kettle, Pastel. Lyme Regis Art Society Demonstration: 2:00 pm to 4:00 pm Woodmead Halls non-members £5. For more information please contact Sheila.lyme@gmail.com or 01297 445464

Friday 10th

Russia and the Russians as I have known them since the mid-1950s


speaker (Sir David Ratford K.C.M.G., C.V.O)
Sir David's talk will begin at 11.00am. Beforehand, at 10.00am, the AGM will be held: hear a summary of the year's activities across the many groups, monthly talks, trips and visits; learn of the (good) state of the U3A's finances; ask questions, make suggestions, and elect (or change) the committee. During the coffee break at 10.30, members can book tickets for the Christmas Quiz on Friday 8th December. Heritage Coast U3A meeting, Woodmead Halls

Saturday 11th Armistice Day NATIONAL TWO MINUTES SILENCE at 11.00 am

Wreath laying services
9.30am at the HMS Formidable memorial in Lyme Regis Town cemetery

and at the Polish war Memorial in Anning Road (between Woodmead Road and Queens Walk junctions) at 10.15 am

Armistice Day 2 minutes Silence
At the Monmouth Street War Memorial, St Georges Square. Silence at 11am: Please be sure to arrive early. Last Post and Silence at 1100hrs.
"WE'LL MEET AGAIN" REMEMBRANCE CONCERT
Swing Unlimited Big Band bring war-time classics by Glenn Miller, Count Basie and Duke Ellington, back to life in a special concert for Remembrance weekend. Songs by Ella Fitzgerald and Frank Sinatra help re-create the period, along with images, words and music, in an uplifting, fun and moving evening. 8pm Marine Theatre, Lyme Regis Concert tickets: £18/ £16 concessions. Tickets: http://www.wegottickets.com/event/413623 or Box Office: 01297 442138
Sunday 12th Remembrance Day


Remembrance Sunday Parade
9.45am from Langmoor Gardens. Participants please arrive by 9.30
followed by
Remembrance Service
at St. Michael's Church, Church Street at 10am. Serving representatives from all of the Armed Forces are expected to attend in uniform.
1115-1140 Hrs. Parade reforms and marches past the Town War Memorial and forms up in Cobb Square for address and dismissal
Tuesday 14th

The Greening of Lyme


Sometime Coast Ranger Terry Sweeney will reflect on the endeavours of many to keep Lyme and its landscape clean, green and valued. 7.15 for 7.30pm Royal Lion Hotel, Lyme Regis www.turnlymegreen.co.uk For more information 01297 446066 EVERYONE WELCOME

Thursday November 16th LAST POSTING DATE International Economy to: Africa, Middle East


Those Were The Days


Lyme Folk Weekend team have teamed up with Windrose Media Trust to present a fascinating evening of archive films from the local Lyme Regis area, accompanied by live folk music and songs from Dorset sung by local singers. Tickets for what is sure to be an amazing evening are on sale on the Marine Theatre website or from Lyme Regis Tourist Information on 01297 442138.

Monday November 20th

"Death and Despair in Paradise; the experience of refugees and migrants in the Greek islands".

The Lyme Regis Amnesty group will present a talk by Sarah Uppard, Consultant- International Child Protection, in the Small Woodmead Hall at 7.00 p.m. Everyone is welcome. Entrance and refreshments are free.
Tuesday 21st November

Creative Glass Design
by Jackie Hunt, Stained Glass. Lyme Regis Art Society Demonstration: 2:00 pm to 4:00 pm Woodmead Halls non-members £5. For more information please contact Sheila.lyme@gmail.com or 01297 445464
Wednesday November 22nd


AGM, followed by a talk by Ben Candlin on "Plants of Tenerife and the Canaries".
The AGM is your chance to discuss how your Society is run and to offer your help to the Society in 2018 We are always looking for members to help with the organisation of our Shows, talks, outings and other events – it is not necessary to be on the Committee to get involved, though there will be vacancies there. 7:30pm in Uplyme Village Hall Uplyme and Lyme Regis Horticultural Society

Thursday 23rd November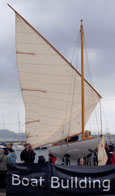 The Launch 2017


After 38 weeks of demanding work, the Lyme Regis Boat Building Academy Class of February 2017 are launching their boats for the first time. The 15 students are building six new build boats, all of which will be lined up for launch. The boats the students have built are;
11′ Moth Dinghy;
11'3″ Beaulieu Scow;
16′ Bassett Rascal 2-seater runabout;
16′ Smakke Jolle;
18′ Orkney Yole;
20′ Paul Gartside Outboard.
Launch at 10am at Lyme Regis Harbour

What's happening to local health and care? Information meeting:
Changes are afoot in how health care and social services are provided in Lyme Regis and Charmouth. The new shape of things is unlikely to come about before January 2019, but the powers-that-be are working on plans now.
LymeForward's Health & Wellbeing Group is trying hard to influence those plans to serve local people as well as possible. The group can't succeed in that unless residents of the area understand the present arrangements and the ways in which they may alter. Nor can it succeed unless it has a thorough understanding of what works well, and not so well, at present.
U3A publicity officer, Chris Boothroyd, who chairs the Health & Wellbeing Group, is offering a chance for U3A members, plus their friends and neighbours, to hear what we know of the possible future, to ask questions, and to contribute ideas and experiences. So do come along to the Small Hall at Woodmead Halls on Thursday 23 November, from 2.30 - 3.30, and join in.
This is emphatically not the same set of issues as some members may have come across in last year's Dorset-wide Clinical Services Review and consultation. That was mainly about secondary, acute and emergency services at the major Dorset hospitals. This is about primary and community services on our doorsteps. 2.30 - 3.30, Small Hall at Woodmead Halls
Tuesday 28th November


Workshop: Drawing and Painting Portraits
by Hannah Twine Charcoal/Oil Lyme Regis Art Society 10:00 am – 1:00 pm Lyme Regis Football Club, charge tba. For more information please contact Sheila.lyme@gmail.com or 01297 445464
Who's who?


using photo-identification to monitor South West dolphin populations by Rachael Davies Dorset Wildlife Trust Conservation Science Manager. A joint meeting with the Lyme Regis society. 2.30pm Woodmead Hall. Members £2 visitors £3

---
2016 Events you may have missed




Spooky Firework Fun
Fancy dress, Fireworks, BBQ & bar. Charmouth Beach 5.45 - 7.30pm
Christmas Bazaar


Cakes, Books, Homecrafts, Raffle, Bottle tombola, Bric-a-brac, Christmas items, games by the schoolchildren, refreshments and light lunches etc In aid of St Michaels Church and St Michaels School. Admission 50p, children free. 10.30 - 2pm Woodmead Hall
'