Saturday 4th 2017



Fireworks
The display is Free! However a collection will be made during the evening for local charities so please give generously. Lyme Regis Harbour
followed by
Bonfire on the beach
---
2016 Events you may have missed



Acrylic "Animals in Landscape"
Paul Weaver demonstration 2.00pm The Woodmead Halls, Hill Road, Lyme Regis Art Society. More info: 01297 445464
Last posting date for International Mail (formerly surface mail) to Cyprus, Eastern Europe, Greece, Iceland, Malta, Turkey



Spooky Firework Fun
Fancy dress, Fireworks, BBQ & bar. Charmouth Beach 5.45 - 7.30pm


Quiz for the Christmas lights
at the Nags Head at 8pm £2 per person maximum 6 per team.

Armistice Day NATIONAL TWO MINUTES SILENCE at 11.00 am
Annual General Meeting and guest speaker: Maureen D`Albertanson - A Minuet in Time

The business of the meeting will start at 10.00am. We will break for coffee before a talk at 11.00 am by Maureen D`Albertanson - A Minuet in Time.... she will tell us about the life and training of young dancers in the Royal Ballet. This date is Armistice Day, and we will have 2 min silence at 11.00am to remember those who died. 10am Woodmead Halls, Hill Road Free to members, non-members suggested donation £2

Armistice Day 2 minutes Silence
At the Monmouth Street War Memorial, St Georges Square. 11am: Please be sure to arrive early.

Wreath laying services
10.30am at the HMS Formidable memorial in Lyme Regis Town cemetery

and at the Polish war Memorial in Anning Road (between Woodmead Road and Queens Walk junctions) at 11am


Remembrance Day


Remembrance Sunday Parade
9.40am from Langmoor Gardens. Participants please arrive by 9.30
followed by
Remembrance Service
at St. Michael's Church, Church Street at 10am. Serving representatives from all of the Armed Forces are expected to attend in uniform.

Lyme Bay Chorale invites singers to 'Come and sing Mozart'
with them on Remembrance Sunday , November 13th, 2016. The day will be lead and tut

ored by Julie De'Ath Lancaster. 11am - 4.15pm with a performance at 5pm. The work to be studied is The Mozart Requiem and excerpts will be chosen for the performance, with a retiring collection from he audience. The cost for the day is £15 to include score hire, tea and cakes. To let us know you are coming contact Sally on 01297444580 or email her on allegrosally53@btinternet.com. For more information about the day visit www.lymebaychorale.co.uk .




Mixed Media "Mixing it up and knowing your materials and breaking the rules"
Alison Board demonstration 2.00pm The Woodmead Halls, Hill Road, Lyme Regis Art Society. More info: 01297 445464

Last posting date for International Economy (formerly surface mail) to Western Europe


Service of Commemoration
marking the centenary of the conclusion of the Battle of the Somme
At the War Memorial, St Georges Square, Monmouth Street 1.30pm.


Christmas Bazaar


Cakes, Books, Homecrafts, Raffle, Bottle tombola, Bric-a-brac, Christmas items, games by the schoolchildren, refreshments and light lunches etc In aid of St Michaels Church and St Michaels School. Admission 50p, children free. 10.30 - 2pm Woodmead Hall
C

oncerts in the West: Classical Music at The Hub
Emma Halnan, Flute, and Daniel King Smith, Piano, will be performing works by JS Bach, Messiaen, York Bowen, Copland, Lili Boulanger and Schubert. Emma is currently principal flute of the European Union Youth Orchestra and The Assembly Project and Daniel has given concerts all over the world as both a soloist and collaborative pianist. Come and support these young professional musicians. Tickets are £15 (concessions apply) and can be purchased from Serendip, telephone 01297 442594. The Hub 7.30pm.

Acrylics Workshop
Paul Weaver 10-3.00 Football Club, Lyme Regis. Lyme Regis Art Society. More info: 01297 445464.

The Launch 2016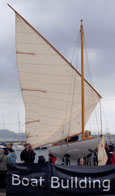 Just eight months ago the Class of February 2016 were learning how to sharpen chisels and make dovetail joints. Now they're making boats as part of their training on our intensive 38 week 'Boat Building, Maintenance and Support' course. You can read what brought each student to the Academy on their Class page and follow the progress of the boat builds here.
The boats will be led from the Boat Building Academy's workshops on Monmouth Beach to the slipway at Lyme Regis Harbour. Champagne corks will pop and at 1200, each boat will be launched into the water for the first time. The launch will celebrate the achievements of the class, the end of their training at the Academy and the start of their new lives as boat builders. Whatever the weather, we hope you can join the celebrations. At 1130 the boats will be led from the Academy's workshops on Monmouth Beach to the slipway at Lyme Regis Harbour.
'What to Grow in your Greenhouse'


7.30pm AGM followed at 8pm by a talk on "What to grow in your greenhouse" by Mike Burks of the Gardens Group. It is very important that as many members as possible attend – we are already well into the planning for the 2017 Summer Show and other events, and would be very pleased to welcome new members for the Committee who can bring fresh ideas and hands to help. Don't just grumble that the Society does not organise the events you would like to see – come along and help make it happen! Uplyme Village Hall
Uply

me and Lyme Regis Horticultural Society

Fun with Flowers with Pam Burge
Pam will demonstrate three arrangements then have a go yourselves at making a table decoration yourself. Dish, oasis and flowers provided. Bring ornaments (baubles, candles), greenery welcome and a pair of scissors. £5 includes tea and cake. St Michaels Church Hall, Church Street 2pm


Switch-on Saturday – the switching on of the Lyme Regis Christmas Lights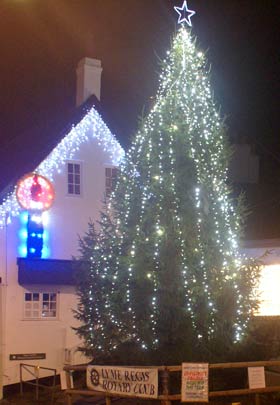 Make a lantern and help us switch on the Christmas Lights, the best in Dorset, here in Lyme Regis:


Switch on of the Christmas Lights. 5.30pm prompt

Come early for the Lantern Parade and enjoy the atmosphere:
Join in the countdown - don't be late or you'll miss it! 5.30pm prompt The Christmas Tree, The Shambles, Broad Street

Beavers in Devon
- restoring wetlands the natural way by Mark Elliot Joint meeting of the Lyme Regis Society with Dorset Wildlife Trust. 2.30pm Woodmead Hall www.lymeregissociety.org.uk members £2