Saturday 2nd

Fireworks
The display is Free! However a collection will be made during the evening for local charities so please give generously. 6.30pm Lyme Regis Harbour

followed by
Bonfire on the beach

Sunday 10th & Remembrance Day NATIONAL TWO MINUTES SILENCE 11.00 am

Remembrance Sunday Parade
Parade departs Langmoor Gardens marching down Broad Street and up Church Street arriving at St Michaels Church
Remembrance Service at St. Michael's Church, Church Street. Serving representatives from all of the Armed Forces are expected to attend in uniform.

Parade marches past the Town War Memorial and forms up in Cobb square outside Fordham's
1100 the two minutes silence and last post

Monday 11th Armistice Day
Wednesday November 27th 2019

AGM followed by 'Natural Gardening' by Brian Tomsett:

The history and application of "no-dig" and other non-traditional cultivation techniques for flowers, fruit and vegetables.
Everyone is welcome. AGM starts at 7.30pm at Uplyme Village Hall, followed by talk at 8pm. Refreshments are available from 7.15pm. Members free; non-members £3.
Uplyme and Lyme Regis Horticultural Society
Saturday 30th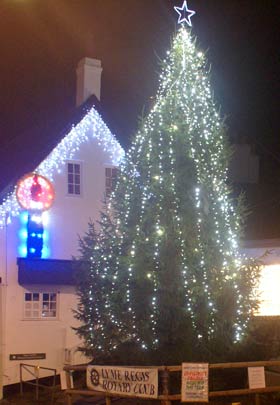 Switch-on Saturday – the switching on of the Lyme Regis Christmas Lights
3.00pm Lantern Workshop in Lyme Regis Baptist Church Pine Hall Children and adults welcome to come along and join in the fun and make a lantern
4.30pm Judging of the Lantern Competition in Lyme Regis Baptist Church
5.15pm Parade from the Baptist Church with lanterns, the Majorettes and Father Christmas down through Broad Street to the Christmas tree
5.30pm Switch on of the Christmas lights by the Mayor, Cllr Michaela Ellis
Come early for the Lantern Parade (5.15) and enjoy the atmosphere:
Join in the countdown - don't be late or you'll miss it! 5.30pm prompt The Christmas Tree, The Shambles, Broad Street
---
Date tbc
Coach Trip to Bath

Enjoy the city of Bath with its Roman baths, cathedral, museums, shops, restaurants and cafes.
Cost £10. Guests welcome at an additional cost of £3. Coach departs Uplyme Village Hall at 9.00am. Please ring Rose Mock 01297 34733 to book.
Uplyme and Lyme Regis Horticultural Society