Friday AUGUST 31st - Sunday SEPTEMBER 2nd Lyme Folk weekend
Saturday September 1st


Lyme Folk Weekend
If it's a lively Saturday night out you're after, then look no further than the Marine Theatre on when the amazing Merry Hell will be hitting the town. The band have been really making waves in the folk world over the last 12 months - come and catch them in Lyme Regis while you can... and bring your dancing shoes! www.marinetheatre.com
Sunday 2nd



Those of you who came to see Steve Knightley last year will be thrilled to hear that he will be returning for another festival finale show, but this time as one of half of folk's finest - Show of Hands. Steve and his partner in crime Phil Beer will bring the curtain down on the festival with a very special show.
Saturday 8th - Sunday 9 September
Lyme Regis Food Rocks Festival 2018 -10:00- 16:00

Mark Hix's Food Rocks returns for its 6th year! Expect all things food and drink from Dorset and surrounding areas. The festival not only raises money to support local charities, but also aims to give something back to the local community. Food Rocks is a fun-filled weekend bursting with live, interactive cookery demonstrations from top chefs, talks and tastings from local producers, and a wide range of seasonal food and drink exhibitors to purchase from. There will also be kid's activities so there is something to suit everyone!
Wednesday September 12th



Special Plants and Iford Manor
9.00am COACH TRIP Special Plants is a valley garden with varied planting. Iford Manor nr Bath is a Grade 1 formal Italianate garden. £25 includes guided tour from Derry Watkins. Bookings: Jenny Harding 01297 444034 or 33049. Limited places! Uplyme and Lyme Regis Horticultural Society

Lyme Lunches
Nutritious, good value lunch, aimed at over 50's. 2 courses plus tea or coffee £6 The Pine Hall, Baptist Church, Broad Street. 2nd Wednesday of month. Organised by Lyme Forward. Bookings: Penny Black café (behind the Post Office)

Wednesday 19th



Meet and Remember - A memory café for Lyme Regis, Uplyme and Charmouth Supportive, friendly environment for those experiencing memory loss or who have recently been diagnosed with dementia and the friends/relatives/carers who support them. 2 - 3.30pm Lyme Regis Football Club Pavilion 3rd Wednesday of the month, contact 07704902604 lymememory@gmail.com or just come along. LymeForward
Sunday 23rd Autumnal Equinox: The Autumn Equinox is the first day of the autumn season and occurs

when the sun passes the equator moving from the northern to the southern hemisphere. The sun is directly overhead at the equator and day and night are of approximately equal lengths. At equinox, the Sun rises everywhere on Earth (except the Poles) at about 6am in the morning and sets at about 6pm in the evening (though this can vary a little when time zones and daylight saving etc are taken into account).
Tuesday 25th

'History of Lyme Regis Museum'
by David Tucker, Director. The Lyme Regis Society. 2.30pm - 4pm Woodmead Halls. Free to Members, visitors £3 Including refreshments.
Wednesday September 26th

AUTUMN SHOW & HARVEST SUPPER – bring and share. Classes that celebrate the autumn harvest – produce, flowers, preserves and baking. 7.30pm Uplyme Village Hall Uplyme and Lyme Regis Horticultural Society
---
2018 Dates/events to be advised
Opening the festival at the Marine Theatre in Lyme Regis will be Jim Moray, nominated for two awards in this year's BBC Radio 2 folk awards - for Best Album and Best Original Song. For 15 years Jim has been at the forefront of a new movement in English traditional music. His debut album Sweet England changed the sound of folk song and won a brace of awards for its innovative melding of orchestration and electronica. Subsequent albums embraced everything from grime to Johnny Marr-esque guitar pop, but at their heart was always Jim's unmistakeable soulful and yearning voice; singing old songs in a new way.
His sixth album Upcetera heralds a new chapter for the producer and has received the best reviews of his career, including his two BBC nominations, and five stars from Mojo, fRoots and R2 magazines.

A rare opportunity to visit Lyme's

cemetery

chapel


Lyme Regis is supporting

Dorset Architectural Heritage Week

by opening the very highly decorated Victorian Church of England chapel built in 1856. It is not normally open to the public. It is still used occasionally by local families for funeral services and contains a fine example of a Victorian bier. The chapel will be open from 10 am to 4 pm
There is also the opportunity to visit the nearby grave of the crew of HMS Formidable, lost in 1915.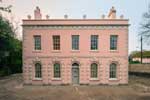 Belmont, Lyme Regis, Open Day
This fine 18th-century maritime villa in Lyme Regis is listed Grade II* and once belonged to the remarkable businesswoman, Mrs Eleanor Coade who devised a formula to mass produce architectural embellishments. More recently Belmont was home to world-famous author, John Fowles, author of The Magus and The French Lieutenant's Woman. We have restored Belmont to its appearance in Mrs Coade's day. Here you can sit – and indeed write – in John Fowles's former writing room with its wide views of sea and sky. In the garden there is a Victorian observatory tower, with hatch and revolving roof. Most of the long garden is left wild (Fowles was a keen naturalist) and it tumbles down to the esplanade, with a pebble beach and the Cobb beyond. Free Admission and leaflets on the building's history. 10am to 4pm Pound Street, Lyme Regis Click here for location


All you want to know about ELECTRIC CARS


Simon West will speak about the latest developments in electric cars. He has driven a Nissan Leaf for 4 years and will share his experiences and bring us up-to-date with what's happening in the marketplace turnlymegreen MEETING 7.15 for 7.30pm Royal Lion Hotel, Lyme Regis. More information 01297 446066 www.turnlymegreen.co.uk

Jekka McVicar's Herbetum and the Bristol Botanic Garden
Guided tours at both venues. The coach leaves Uplyme Village Hall at 9:00am – cost is £25 for members, £3 extra for guests, and bookings are being taken by Jenny Harding on 01297 444034 Uplyme and Lyme Regis Horticultural Society

The Great British Beach Clean
Boat Jumble


Raising funds for another defibrillator: the one on the Harbourmaster's Office wall has already been used to save a life this year. Training sessions will be organised for anyone interested. 9.30 The Cobb

Lyme Regis Organ School Late Summer Concerts
Peter Lea-Cox & Richard Godfrey (two pianos, two organs) St Michael's Church, Church Street, Sunday Afternoon 3.00 pm - 4.00 pm Admission free - retiring collection


Beach Clean
A one-hour beach clean session of Monmouth beach between 12noon and 1pm with a briefing on the harbour slipway at 11.45. Meet outside RNLI shop on the seafront. Wear protective shoes or boots; equipment for dealing with rubbish is provided.

Lyme Regis Organ School Late Summer Concerts
Katie Ninham ("Pipe-Up" senior student, Organ) St Michael's Church, Church Street, Sunday Afternoon 3.00 pm - 4.00 pm Admission free - retiring collection


Macmillan Coffee Morning
please come along this Friday 10.30am-12pm Marine Theatre All donations will go to the Macmillan fund.

Soup and Sweet Lunch
Selection of soups and puddings. Woodmead Halls 12noon - 3pm £6
'ArtsFest Unplugged'
---