Friday AUGUST 31st - Sunday SEPTEMBER 2nd Lyme Folk weekend
Saturday September 1st


Lyme Folk Weekend
If it's a lively Saturday night out you're after, then look no further than the Marine Theatre on when the amazing Merry Hell will be hitting the town. The band have been really making waves in the folk world over the last 12 months - come and catch them in Lyme Regis while you can... and bring your dancing shoes! www.marinetheatre.com
Sunday 2nd



Those of you who came to see Steve Knightley last year will be thrilled to hear that he will be returning for another festival finale show, but this time as one of half of folk's finest - Show of Hands. Steve and his partner in crime Phil Beer will bring the curtain down on the festival with a very special show.
Saturday 8th - Sunday 9 September
Lyme Regis Food Rocks Festival 2018 -10:00- 16:00

Mark Hix's Food Rocks returns for its 6th year! Expect all things food and drink from Dorset and surrounding areas. The festival not only raises money to support local charities, but also aims to give something back to the local community. Food Rocks is a fun-filled weekend bursting with live, interactive cookery demonstrations from top chefs, talks and tastings from local producers, and a wide range of seasonal food and drink exhibitors to purchase from. There will also be kid's activities so there is something to suit everyone!
Wednesday September 12th



Special Plants and Iford Manor
9.00am COACH TRIP Special Plants is a valley garden with varied planting. Iford Manor nr Bath is a Grade 1 formal Italianate garden. £25 includes guided tour from Derry Watkins. Bookings: Jenny Harding 01297 444034 or 33049. Limited places! Uplyme and Lyme Regis Horticultural Society
The Musical Heritage of Thomas Hardy – a presentation by Bonny Sartin
Thomas Hardy's skill as a fiddle-player is perhaps less well-known than his talents as novelist, poet and playwright, famed around the world. And Bonny Sartin is equally familiar to thousands worldwide as frontman for folk group the Yetties for the best part of fifty years.
Bring these two together and what do we have? The story of Hardy's music, his instruments and the characters he created, many involved in traditional song, music or dance, told with songs, poetry, music and readings. (And plenty of fun and laughter.)
The Sartins arrived in Dorset 350 years ago, Huguenots fleeing persecution and settling in Corscombe to work the land. Today the family is Dorset through-and-through, with the Yetties ("just four lads from the village") taking their name from Yetminster. Dorset was the anchor for a group that travelled the world, sharing folk music wherever they went. For the last seven years Bonny has undertaken many speaking engagements in the county "as a way of staying in touch". Don't miss this one. Coffee is served from 10.00 to 10.45 followed by talk at 11.00 until noon. Woodmead Halls, Lyme Regis Lyme Regis U3A

Lyme Lunches
Nutritious, good value lunch, aimed at over 50's. 2 courses plus tea or coffee £6 The Pine Hall, Baptist Church, Broad Street. 2nd Wednesday of month. Organised by Lyme Forward. Bookings: Penny Black café (behind the Post Office)

Wednesday 19th



Meet and Remember - A memory café for Lyme Regis, Uplyme and Charmouth Supportive, friendly environment for those experiencing memory loss or who have recently been diagnosed with dementia and the friends/relatives/carers who support them. 2 - 3.30pm Lyme Regis Football Club Pavilion 3rd Wednesday of the month, contact 07704902604 lymememory@gmail.com or just come along. LymeForward
Saturday 22nd

The Rifles march through Lyme Regis
(formerly the Devon and Dorset Regiment) as part of the First World War Centenary commemoration of the ending of the First World War

Unveiling of the enhanced Lyme Regis War Memorial in St Georges Square
Sunday 23rd Autumnal Equinox: The Autumn Equinox is the first day of the autumn season and occurs

when the sun passes the equator moving from the northern to the southern hemisphere. The sun is directly overhead at the equator and day and night are of approximately equal lengths. At equinox, the Sun rises everywhere on Earth (except the Poles) at about 6am in the morning and sets at about 6pm in the evening (though this can vary a little when time zones and daylight saving etc are taken into account).
Tuesday 25th

'History of Lyme Regis Museum'
by David Tucker, Director. The Lyme Regis Society. 2.30pm - 4pm Woodmead Halls. Free to Members, visitors £3 Including refreshments.
Wednesday September 26th

AUTUMN SHOW & HARVEST SUPPER – bring and share. Classes that celebrate the autumn harvest – produce, flowers, preserves and baking. 7.30pm Uplyme Village Hall Uplyme and Lyme Regis Horticultural Society
---
2018 Dates/events to be advised
Opening the festival at the Marine Theatre in Lyme Regis will be Jim Moray, nominated for two awards in this year's BBC Radio 2 folk awards - for Best Album and Best Original Song. For 15 years Jim has been at the forefront of a new movement in English traditional music. His debut album Sweet England changed the sound of folk song and won a brace of awards for its innovative melding of orchestration and electronica. Subsequent albums embraced everything from grime to Johnny Marr-esque guitar pop, but at their heart was always Jim's unmistakeable soulful and yearning voice; singing old songs in a new way.
His sixth album Upcetera heralds a new chapter for the producer and has received the best reviews of his career, including his two BBC nominations, and five stars from Mojo, fRoots and R2 magazines.

A rare opportunity to visit Lyme's

cemetery

chapel


Lyme Regis is supporting

Dorset Architectural Heritage Week

by opening the very highly decorated Victorian Church of England chapel built in 1856. It is not normally open to the public. It is still used occasionally by local families for funeral services and contains a fine example of a Victorian bier. The chapel will be open from 10 am to 4 pm
There is also the opportunity to visit the nearby grave of the crew of HMS Formidable, lost in 1915.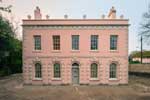 Belmont, Lyme Regis, Open Day
This fine 18th-century maritime villa in Lyme Regis is listed Grade II* and once belonged to the remarkable businesswoman, Mrs Eleanor Coade who devised a formula to mass produce architectural embellishments. More recently Belmont was home to world-famous author, John Fowles, author of The Magus and The French Lieutenant's Woman. We have restored Belmont to its appearance in Mrs Coade's day. Here you can sit – and indeed write – in John Fowles's former writing room with its wide views of sea and sky. In the garden there is a Victorian observatory tower, with hatch and revolving roof. Most of the long garden is left wild (Fowles was a keen naturalist) and it tumbles down to the esplanade, with a pebble beach and the Cobb beyond. Free Admission and leaflets on the building's history. 10am to 4pm Pound Street, Lyme Regis Click here for location


All you want to know about ELECTRIC CARS


Simon West will speak about the latest developments in electric cars. He has driven a Nissan Leaf for 4 years and will share his experiences and bring us up-to-date with what's happening in the marketplace turnlymegreen MEETING 7.15 for 7.30pm Royal Lion Hotel, Lyme Regis. More information 01297 446066 www.turnlymegreen.co.uk

Jekka McVicar's Herbetum and the Bristol Botanic Garden
Guided tours at both venues. The coach leaves Uplyme Village Hall at 9:00am – cost is £25 for members, £3 extra for guests, and bookings are being taken by Jenny Harding on 01297 444034 Uplyme and Lyme Regis Horticultural Society

The Great British Beach Clean
Boat Jumble


Raising funds for another defibrillator: the one on the Harbourmaster's Office wall has already been used to save a life this year. Training sessions will be organised for anyone interested. 9.30 The Cobb

Lyme Regis Organ School Late Summer Concerts
Peter Lea-Cox & Richard Godfrey (two pianos, two organs) St Michael's Church, Church Street, Sunday Afternoon 3.00 pm - 4.00 pm Admission free - retiring collection


Beach Clean
A one-hour beach clean session of Monmouth beach between 12noon and 1pm with a briefing on the harbour slipway at 11.45. Meet outside RNLI shop on the seafront. Wear protective shoes or boots; equipment for dealing with rubbish is provided.

Lyme Regis Organ School Late Summer Concerts
Katie Ninham ("Pipe-Up" senior student, Organ) St Michael's Church, Church Street, Sunday Afternoon 3.00 pm - 4.00 pm Admission free - retiring collection


Macmillan Coffee Morning
please come along this Friday 10.30am-12pm Marine Theatre All donations will go to the Macmillan fund.

Soup and Sweet Lunch
Selection of soups and puddings. Woodmead Halls 12noon - 3pm £6
'ArtsFest Unplugged'
---
Dogs need to be on a lead all year on


Marine Parade, Cart Road, Gun Cliff, Church Cliff Walk, the Harbour, the Cobb Lister & Langmoor Gardens

Lyme Regis's front beach:
No Dogs
from 1st May until 30th September

Dogs allowed all year
Monmouth Beach, Cobb Gate & East Beach.

Charmouth Beach:
no dogs from 1st May to 30 September.

Please check notices locally to verify this information
Dog waste must be cleared up and disposed of properly and dogs must be under the handler's control at all times. Failure to comply may result in a fine or prosecution.


Exhibitions
31 August-3 September
THE BIG DRAW

We are turning the Malthouse Gallery into a space where visitors of all ages can experiment with different forms of drawing, using various media and surfaces, these drawings being inspired by the local environment of the Town Mill and Lyme Regis. The atmosphere will create a playful setting which links with The Big Draw's theme of 'play'. Do come and join us!
T

he Malthouse Gallery, The Town Mill, Mill Lane, Lyme Regis DT7 3PU. Open daily 10.30-4.30. Free admission. www.townmillart.co.uk
31 August-12 September
EDGE

Four artists—glass artists Celia Goodman and Kathy Collins, potter Martin Collins and watercolourist Jasper Jacob—display their varied skills inspired by the liminal spaces in landscapes and seascapes where water meets land and desert, where field and forest meet sky. They have joined forces for 'Edge' to demonstrate how each has been enthused by the colour, light, shape, contours, weather and atmosphere where the elements meet.

The Courtyard Gallery, The Town Mill, Mill Lane, Lyme Regis DT7 3PU. Open daily 10.30-4.30. Free admission. www.townmillart.co.uk
8-25 September
GALLERIES

Valerie Barden studied at Yeovil College of Art, read Art History with the Open University and has been exhibiting professionally since 1994. Although painted in a figurative manner, Barden's work exemplifies the qualities of abstraction and flatness specific to modern painting and their subject matter place them in a contemporary context. This series of paintings is about people in galleries, in different public, indoor spaces, who are there for the purpose of looking at things. Valerie came to the subject simply by sitting for long periods in art galleries (and shopping centres) and thinking of pictures she could make of people standing or sitting fairly still in front of static paintings and objects, of the correspondence between viewer and exhibits, or simply figures as contrasting shapes against interesting architecture.

The Malthouse Gallery, The Town Mill, Mill Lane, Lyme Regis DT7 3PU. Open daily 10.30-4.30. Free admission. www.townmillart.co.uk
13-26 September
CHARMOUTH TO CHERNOBYL: People and Places that Inspire

Howard Flanagan is an emerging international artist, widely known for his individual highly detailed paintings. A finalist in the 2017 Sunday Times Watercolour Artist of the Year competition, Howard has worked this year almost exclusively with the organisers of the Clipper Round the World Yacht Race and the children's charity Unicef, to produce 12 paintings, a series of limited edition prints and a calendar, all to be sold in aid of Unicef. He takes inspiration from people and landscapes including the exclusion zone surrounding the Chernobyl nuclear reactor in the Ukraine, which he visited this spring. Looking around, he was both inspired and humbled by the struggles of the people who continue to live there. Working mainly in pastel, watercolour and ink, Howard seeks to capture quiet, unadorned natural beauty in the eyes of people struggling with every day life and the landscape around us.

The Courtyard Gallery, The Town Mill, Mill Lane, Lyme Regis DT7 3PU. Open daily 10.30-4.30. Free admission. www.townmillart.co.uk
WALKS and Tours
Do take advice about safe tide times before

setting off for more than fifteen minutes hike, without a guide, along our beautiful beaches: - what appears to be an easy bit of ground to scramble over is more likely to be a treacherous mud slide - don't take a chance!
FOSSIL WALKS

Get Fossiling on the Jurassic Coast! Join one of Lyme Regis Museum's famous fossil walks along this historic stretch of Dorset coast with Geologist Paddy Howe and Marine Biologist Chris Andrew. Some families return time and again to search with Paddy and Chris among the sand and rocks for fossils that have been washed down onto the beach after 190 million years. For adults and children alike, it's an unforgettable experience.
Each walk is limited to 15 people per guide. Start times for walks vary according to the tides and take about three hours.
Lyme History Walks

Meet at the Marine Theatre at 11.00am
Cost £8.00 Adults Children £4

July - Sept: Wed, Thurs, Sat ......+ Bank Hols
"Discover the unique and colourful history of Lyme Regis with experienced tour guide Chris Lovejoy"
01297 443140
Ghost Walks

Tues and Thurs 7.30 pm May – September

From outside Lyme Regis Museum
Lasts 1 hour Adults £8.00 Children £4.00

01297 443140 www.ghostwalkslyme.org.uk

Mary Anning Walks
Mary Anning was a world famous fossil hunter - and was featured in Tracey Chevalier's novel Remarkable Creatures - hear stories of her life and see where she lived and hunted.

Meet at
Lyme Regis Philpot Museum
Bridge Street
Lyme Regis
DT7 3QA
Jane Austen Tours
'During the Jane Austen tour we visit

the houses in which Jane is said to have stayed and hear stories of Lyme Regis as she would have known it. See where Louisa Musgrove fell on the Cobb.'
Tours run all year round. We have scheduled walks detailed below or you can contact us via our website www.literarylyme.co.uk to arrange another time.