Lyme Folk Weekend


Friday, August 30 to Sunday September 1

st 2019

Sunday 1st



The 25th anniversary of Ferne's Annual Fun Dog Show promises to be bigger and better than ever! Have-a-go agility, temptation alley and of course the show itself make it a doggy paradise, and there's plenty for people as well! website www.ferneanimalsanctuary.org
Saturday 7th and Sunday 8th
Lyme Regis Food Rocks Festival 2019

Mark Hix's Food Rocks returns for its 8th year! Expect all things food and drink from Dorset and surrounding areas. The festival started as a vision of Mark Hix with the aim of promoting the produce of his hometown of Lyme Regis and the surrounding areas, by presenting some of the best food, producers and suppliers that Dorset and the South West has to offer. The festival not only raises money to support local charities, but also aims to give something back to the local community. Food Rocks is a fun-filled weekend bursting with live, interactive cookery demonstrations from top chefs, talks and tastings from local producers, and a wide range of seasonal food and drink exhibitors to purchase from. There will also be kid's activities so there is something to suit everyone!
The festival brings together top chefs, exhibitors, locals and those who are visiting Lyme Regis. The main stage will showcase a diverse mix of interactive cookery demonstrations, talks and tastings across the weekend. In addition to this, all money raised is donated to the RNLI and the Fishermen's Mission. 10:00- 16:00 Marine Parade & the Cart Road
Sunday 8th

Lyme Splash
Lyme Regis to Charmouth Sea Swim Challenge
Wednesday September 11th 2019
Coach Trip to The Lost Gardens of Heligan

200 acres of Victorian gardens and pleasure grounds were rediscovered 30 years ago. The Lost Gardens include aged and colossal rhododendrons and camellias, a series of lakes fed by a ram pump over 100 years old, highly productive flower and vegetable gardens, an Italian garden, and a wild area filled with subtropical tree ferns called "The Jungle". The gardens also have Europe's only remaining pineapple pit, warmed by rotting manure, and two figures made from rocks and plants known as the Mud Maid and the Giant's Head Restaurant. Cost of £25 includes guided tour. Guests welcome at an additional cost of £3. Coach departs Uplyme Village Hall at 7.45am. Please ring Annie Kobus 01297 443346 to book. Uplyme and Lyme Regis Horticultural Society

Monday 23rd Autumnal Equinox: The Autumn Equinox is the first day of the autumn season and occurs

when the sun passes the equator moving from the northern to the southern hemisphere. The sun is directly overhead at the equator and day and night are of approximately equal lengths. At equinox, the Sun rises everywhere on Earth (except the Poles) at about 6am in the morning and sets at about 6pm in the evening (though this can vary a little when time zones and daylight saving etc are taken into account).
Wednesday September 25th 2019
'The Living Jigsaw Explained' – the nitty gritty of eco-friendly gardening by Val Bourne

Val Bourne is a celebrated garden writer, photographer and lecturer. She manages her third of an acre garden without using any chemicals at all and will share her eco-friendly hints and tips in this talk. Her newest book, 'The Living Jigsaw' published by Kew, explains how it all works. Val has won multiple awards including Journalist of the Year from the Garden Media Guild and is a regular contributor to The Daily Telegraph, among others. She gardens on the wind-swept Cotswolds at Spring Cottage – high above Bourton-on-the-Water in Gloucestershire. Val is a hands-on gardener and a committed plantaholic and is an Ambassador for the Hardy Plant Society. Everyone is welcome. Talk starts at 7.30pm at Uplyme Village Hall. Refreshments are available from 7.15pm. Members free; non-members £3. Uplyme and Lyme Regis Horticultural Society
Thursday 26th September
Autumn Art and Design History course about 'Romanticism' in painting in Lyme Regis starts Thursday 26th September, Time: 2pm-3.30pm for 6 wks. The course is about 'Romanticism' in painting, English, French and German artists, with some contextual decorative arts and design. (Turner and Constable, Samuel Palmer, Friedrich, Gericault, Delacroix etc) Fee £60 Venue: Lyme Regis Football club house, Charmouth Rd, free Parking. Bus stop nearby. Tutor: Pam Simpson MA, is a professional Art and Design historian, who has taught in London art colleges for 30 years. Currently teaching at Bath Spa University. She is an enthusiastic lecturer who loves her subject and conveying her knowledge to others. She has been teaching Art and Design History courses in Bridport in recent years.
For information or to book: contact Pam Simpson on: chris.pamsimpson@btinternet.com or tel: 01300 321715.
Saturday September 28th



Coffee morning
There are no set charges, but collection box for Macmillan Cancer Support, from 10.30 till 12.30 in Bethany Chapel, Coombe Street, all welcome.
---

PLASTIC FREE LYME REGIS
Turn Lyme Green Meeting Grenville Barr, Chair of the Steering Group, will give an update on the campaign and lead a discussion on future plans. Bring your ideas and comments. 7.15 for 7.30pm Royal Lion Hotel, Lyme Regis, Blue Room Everyone Welcome For more information 01297 446066
enquiries@turnlymegreen.co.uk www.turnlymegreen.co.uk

Public Open Days at the historic property Belmont on Saturday 8 and Sunday 9 September 2018.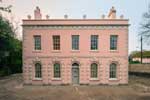 Belmont, Lyme Regis, Open Day
This fine 18th-century maritime villa in Lyme Regis is listed Grade II* and once belonged to the remarkable businesswoman, Mrs Eleanor Coade who devised a formula to mass produce architectural embellishments. More recently Belmont was home to world-famous author, John Fowles, author of The Magus and The French Lieutenant's Woman. We have restored Belmont to its appearance in Mrs Coade's day. Here you can sit – and indeed write – in John Fowles's former writing room with its wide views of sea and sky. In the garden there is a Victorian observatory tower, with hatch and revolving roof. Most of the long garden is left wild (Fowles was a keen naturalist) and it tumbles down to the esplanade, with a pebble beach and the Cobb beyond. Free Admission and leaflets on the building's history. 10am to 4pm Pound Street, Lyme Regis
Love Lyme's Beaches Beach Clean


Meeting at the usual place (Outside the RNLI shop) we will be cleaning Monmouth beach. 11:30 am – 12:30 pm – briefing at 11:15 am.


Lyme Lunches
Nutritious, good value lunch, aimed at over 50's. 2 courses plus tea or coffee £6 The Pine Hall, Baptist Church, Broad Street. 2nd Wednesday of month. Organised by Lyme Forward. Bookings: Penny Black café (behind the Post Office)


A rare opportunity to visit Lyme's cemetery chapel.
Lyme Regis is supporting Dorset Architectural Week by opening the very highly decorated Victorian Church of England chapel built in 1856 and not normally open to the public. It is still used occasionally by local families for funeral services and contains a fine example of a Victorian bier. The chapel will be open from 10am to 4pm.
There is also the opportunity to visit the nearby grave of the crew of HMS Formidable, lost in 1915.




Coffee Morning in aid of Lyme Regis Christmas Lights. Cake Stall, Bric-a-brac & Raffle at The Driftwood, Baptist Church 10.00am – 12 Noon

Meet and Remember - A memory café for Lyme Regis, Uplyme and Charmouth Supportive, friendly environment for those experiencing memory loss or who have recently been diagnosed with dementia and the friends/relatives/carers who support them. 2 - 3.30pm Lyme Regis Football Club Pavilion 3rd Wednesday of the month, contact 07704902604 lymememory@gmail.com or just come along. LymeForward
Soup & Sweet Lunch
Cancer Research UK Lyme Regis are offering a choice of two warming soups (chicken and vegetable) and delicious sweets. 12 noon to 2 pm. Tickets on the door £8 at the Woodmead Halls Please support this event and help us to pass the £150,000 already raised by our branch since we formed in 2008.

NEW LOOK AUTUMN SHOW & HARVEST SUPPER – bring and share. Look out for the schedule and bring your best produce along, then vote for the exhibits you like most – this is an informal and friendly show, followed by a Bring and Share Supper. 7.30pm Uplyme Village Hall Uplyme and Lyme Regis Horticultural Society
---