Sunday 1st April 2018 Easter Sunday

EASTER BONNET PARADE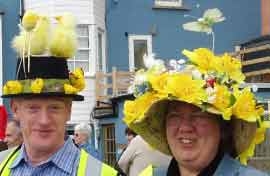 Make an Easter Bonnet or just enjoy the spectacle of people in the parade wearing their Easter Bonnets.
Easter Bonnets gather 14.00 at the Baptist Church, Broad Street.
EASTER BONNET PARADE
15.00 from the Baptist Church, Broad Street, led by the Mayor finishing at the Jubilee Pavilion on the sea front. Majorettes forming part of the parade.
MURDER ON THE ORIENT EXPRESS
CINEMA: When a murder occurs on the train he's travelling on, celebrated detective Hercule Poirot is recruited to solve the case. Certificate 12. £4 advance / £3 advance Theatre Friends / £6 on the door Bar opens 6:30 P.M., starts 7:30 P.M. marinetheatre.com
Monday 2nd Easter Monday Bank Holiday

Duck Race
12 noon Higher Mill Flats, nr Woodmead Road Bridge
SUFFRAGETTE


CINEMA: Meryl Streep stars in this British drama, set in 1912 and 1913, that tells the story of the suffragette movement. Certificate 12. £4 advance / £3 advance Theatre Friends / £6.50 on the door Bar opens 6:30 P.M., starts 7:30 P.M www.marinetheatre.com



3-7 April 2018

Lyme Regis Children's Week
For the Easter holidays, the Marine presents Lyme Regis Children's Week – five days jostling with fun activities based on 'The Beach'.

marinetheatre.com

Tuesday 3rd


CHILDREN'S YOGA Join Sarah Higgins on a yogi-advanceenture. Beginning yoga early encourages self-esteem and body awareness with a physical activity that's noncompetitive. As well as increasing strength, flexibility and coordination, yoga promotes concentration and a sense of calmness. 4-7 years 10 A.M. 8-12 years 11:15 A.M. £4 / £3 Theatre Friends www.marinetheatre.com

BOAT BUILDING WORKSHOP AT THE STORY BOAT A drop-in workshop with traditional boat-builder and artist, Gail McGarva, for children of all ages. Children will get the chance to rivet their own miniature plank. The Story Boat is outside the Marine Theatre for Children's Week. £2, pay at event 10 A.M ~ 1 P.M.


SAVING LIVES AT SEA – LYME REGIS AND THE RNLI: Hear exciting tales of rescue and advanceenture from Ian Marshall of the Lyme Regis Lifeboat Station, whilst learning to keep safe and have fun on the coast. Free, just turn up. 3:45 P.M. ~ 4:45 P.M. www.marinetheatre.com

THE SEA IN SONG: £6 per family, £5 Theatre Friends per family 2 P.M. ~ 3 P.M. marinetheatre.com

THE SEASIDE – ART WORKSHOP Marvellous Makers are hosting a drop-in parent and child art café. Activities will include painting, printing and gluing, using different ways to fire up the imagination and explore ideas about the seaside. £4 / £3 Theatre Friends 11 A.M. ~ 1 P.M. marinetheatre.com


WEDNESDAY 4 APRIL

DINOSAUR CRAFTS Join the Friends of Lyme Regis Museum for a dinosaur and fossil-based craft workshop. This event takes place at Lyme Regis Museum, Bridge St, Lyme Regis, DT7 3QA and is for all ages. Free with museum admission, just turn up 11 A.M. to 3 P.M.

WEDNESDAY 4 APRIL – SATURDAY 7 APRIL
WATERMILL TOUR Tours of the Town Mill's working watermill run daily during Children's Week. This event takes place at The Town Mill, Mill Lane, Lyme Regis, Dorset, DT7 3PU. For all ages. Donations, just turn up. 11 A.M. - 4 P.M

WEDNESDAY 4 APRIL

MERMAID BISCUIT DECORATING Create a Magical Mermaid cookie and a Mermaid's Tail biscuit, using different icing and decoration techniques.These events take place at the Town Mill Bakehouse Attic, Mill Lane, Lyme Regis DT7 3PU. £3 advance from townmill.org.uk 2:15 P.M. ~ 3:15 P.M. & 3:30 P.M. ~ 4:30 P.M.

OUTon the door CINEMA INon the doorS! THE LITTLE MERMAID Bring blankets and cushions, and spread out to have a picnic overlooking the sea whilst watching this Disney classic. £4 / £3 Theatre Friends Starts 12:45 P.M. www.marinetheatre.com
DEBATING CAFÉ – CREATING PLASTIC FREE OCEANS This lively event is run by Litter Free Coast and Sea to discuss environmental and conservation issues. For ages 9 and over. Free event ~ just turn up 1:30 P.M. ~ 3 P.M. www.marinetheatre.com
IN THE BAND JAM SESSION This is a fun and lively musical experience for young people to find out what it is like to be in band. They'll learn some music and perform at the end for parents – all in one session. For ages 9 to 13. £10 / £9 Theatre Friends 3:45 P.M. ~ 6:45 P.M. www.marinetheatre.com
THURSDAY 5 APRIL
FUNKEE MUNKEES' MUSIC GROUP Join Declan Duffy for a fun and engaging music session with puppets, props and percussion! For ages 0 to 6. £5 advance & on the door 10 A.M. ~ 10:45 A.M. www.marinetheatre.com
THE TIGER WHO CAME TO TEA TREASURE HUNT Prowl around Lyme with a painted face on an advanceenturous hunt, based on the classic children's book by Judith Kerr. Meet for the start of the hunt at Serendip Bookshop, 11 Broad St, Lyme Regis DT7 3QD and is for all ages. Free, just turn up. 10 A.M. ~ 11 A.M.
TIGER PAW PRINT DECORATING Complementing the theme of 'The Tiger That Came to Tea' treasure hunt, drop into the Town Mill and decorate tiger paw cookies.This event takes place at the Town Mill Bakehouse Attic, Mill Lane, Lyme Regis DT7 3PU. Suitable for all ages, £3, Drop-in activity, no need to book 10 A.M. ~ 3 P.M.
WILD FOOD AND WILD ART WANDER Wander along the beach with Chris Holland – collect some wild greens and make some wild art. He is a leading inspiration in environmental education for families and schools across the world. He book, 'I Love my World' is "a must have for all" according to Michael Morpurgo. This is an all ages family event that takes place on Lyme Regis beach (meet at the Lifeboat Station, Ozone Terrace, Lyme Regis DT7 3JJ). £7 per family advance 10:45 A.M. ~ 1 P.M.
CREATIVE MOVEMENT AND DANCE Aimee Symes of Bridport Dance leads an energetic dance and movement class exploring rhythm and physicality through music. No experience required, just enthusiasm! £5 4-7 years – 1:30 P.M. ~ 2:30 P.M. 8-11 years – 3:15 P.M. ~ 4:15 P.M. www.marinetheatre.com
BUILD A DINOSAUR Drop in the museum and help artist Darrell Wakeham build a dinosaur. This is an all ages event that takes place at Lyme Regis Museum, Bridge St, Lyme Regis, DT7 3QA. Free with museum admission, just turn up 11 A.M. ~ 3 P.M.
Friday 6th

The Big Breakfast CANCER RESEARCH UK LYME REGIS invites you to THE BIG BREAKFAST 8 am to 12.30 pm. This year we have a new venue - the Woodmead Halls where there is plenty of parking. A full English breakfast - orange juice, fried egg, bacon, sausage, hash brown , baked beans and tomato, with toast and preserves and tea of coffee - will cost £6. A bacon or sausage roll will cost £3. The Lyme Regis branch of Cancer Research UK has now raised more than £150,000 since formation in 2008. Please support us and help get our 2018 fundraising programme off to a good start. Don't forget - NEW VENUE: Woodmead Halls
THROW A POT Harry the resident potter at the Town Mill will run drop in pottery sessions where children can try throwing their own pot. For all ages and it takes place at Town Mill Bakehouse Attic, Mill Lane, Lyme Regis DT7 3PU. £6 / Drop-in activity, no need to book 12 P.M. ~ 2:30 P.M.
DINOSAUR JUNIORS Hear Rob talk about how he became a children's author and illustrator, listen to him read from his latest book 'Dinosaur Juniors: Happy Hatchday', and take part in creating some dinosaurs of your own. Ages 4 + £4 10:30 A.M. ~ 11:30 A.M.
B SHARP MUSIC ​MAKING & THE STORY BOAT Children can experience a mix of percussion, music games, singing, songwriting and 'found' sounds in and around​ the magnificent ​'S​tory B​oat'​ installation ​and the Marine. £6 / £3 for each additional sibling (ages 3-6) £8 / £4 for each additional sibling (ages 7-11) 11:45 A.M. ~ 12:45 P.M. and 12:45 P.M. ~ 1:45 P.M. (ages 3 - 6) 2:15 P.M. ~ 4:45 P.M. (ages 7 - 11) www.marinetheatre.com
Rise Up Women! The Remarkable Lives of the Suffragettes
Author Diane Atkinson to Appear at the Marine Diane Atkinson is a historian and author. She has also worked as a curator for the Museum of London on its suffragette exhibition and as a consultant on the Meryl Streep film Suffragette. In a special talk at the Marine, Diane celebrates the lives of the women who answered the call to 'Rise Up'; from actresses to mill-workers, teachers to doctors, seamstresses to scientists, clerks, boot-makers and sweated workers, Irish, Welsh, Scottish and English; a wealth of women's lives were brought together for the first time in her vividly rendered book 'Rise-up, Women!', on which the talk is based.
£7 advance, £6 advance for Theatre Friends, £9 on the door Bar opens 6:30 P.M., starts 7:30 P.M. Unreserved seating Tickets: Online: In person: Lyme Regis and Bridport Tourist Information centres Over the phone: 01297 442138 Booking Fee may apply marinetheatre.com
Saturday 7 April
STORY SOUP A magical mix of traditional tales, live music and folk songs brought to life by acclaimed storyteller Martin Maudsley and multi-instrumental musician Fiona Barrow. £3 11 A.M. ~ 1 P.M. www.marinetheatre.com
STORIES OF THE MUSEUM An all-ages evocative storytelling event in Lyme Regis Museum, Bridge St, Lyme Regis, DT7 3QA. Free with museum admission, just turn up 10:30 A.M. ~ 3:30 P.M.
"Perfect" by Tessa Bide

winner of the Primary Times Children's Choice Award 2017, presents 'Perfect' Family theatre: an adaptation of the beautiful illustrated book of by Nicola Davies and Cathy Fisher, 'Perfect' is the story of a young boy and the birth of his disabled sister, and is the latest show from Tessa Bide Productions. This heart-warming theatre production features performers, puppetry, and an original score. Marine Theatre, Church St, Lyme Regis DT7 3QA Doors open 1:30 P.M., Show starts 2 P.M. Venue contact number: 01297 442138 Tickets: £8 adult / £6 child / £25 family marinetheatre.com
SKATE PARK JAM Bring your wheels and helmets for some all-ages skate action at Lyme's own Skate Park, Charmouth Road Car Park, Lyme Regis, Dorset, DT7 3DP. If weather is poor, the event will be held at The Hub with inon the door ramps. Free Entry 4 P.M. ~ 7 P.M.

Kusanganisa Kusanganisa is the Shona word for 'mixture' that aptly describes this new world music and jazz project involving four musicians all from different traditions. Chartwell Dutiro from Zimbabwe leads; he plays mbira and sings in the Shona tradition. Marine Theatre, Church St, Lyme Regis DT7 3QA Doors 7:30 P.M., starts 8 P.M. £10 adv, £12 door Venue contact number: 01297 442138 Tickets: marinetheatre.com
Sunday 8 April


Bolshoi Bal

let: Giselle Live screening with prima ballerina Svetlana Zakharova in the ultimate ballerina role. It's a chilling, yet luminous ballet that has captivated audiences for over 150 years at the Bolshoi. Marine Theatre, Church St, Lyme Regis DT7 3QA Doors 1:30 P.M., starts 2 P.M. £11.50 adv., £14 door. Venue contact number: 01297 442138 Tickets: marinetheatre.com
Tuesday 10th April

Turn Lyme Green AGM followed by discussion: 'looking to the future'
and updates on Plastic Free Lyme Regis campaign . 7.15 for 7.30. Royal Lion Hotel, Blue Room www.turnlymegreen.co.uk All welcome.
Wednesday 11th

Cranborne Manor

9.15am This is a beautiful and historic garden laid out in the 17th Century by John Tradescant and enlarged last century, featuring several gardens surrounded by walls and yew hedges: blue and white garden, cottage style and mount gardens, water and wild garden. Cost to RHS members £12, Non RHS £17, guests an extra £3. Please ring Anne Rose 01297 33049 or 444034 to book. Uplyme and Lyme Regis Horticultural Society


Lyme Lunches
Nutritious, good value lunch, aimed at over 50's. 2 courses plus tea or coffee £6 The Pine Hall, Baptist Church, Broad Street. 2nd Wednesday of month. Organised by Lyme Forward. Bookings: Penny Black café (behind the Post Office)


Lyme Regis and Charmouth Lifeboat Guild Annual General Meeting
Following the business of the meeting we will have a talk from our guest speaker: long-serving Lyme Regis lifeboat crew member Elliott Herbert who is also a full time Senior Assessor Trainer with the RNLI. All are welcome to attend and we look forward to seeing you there. 7 for 7.30 pm. at the Lifeboat Station


RSC LIVE: Macbeth Live Screening: Shakespeare's darkest psychological thriller marks both Christopher Eccleston's RSC debut and the return of Niamh Cusack to the Company. Marine Theatre, Church St, Lyme Regis DT7 3QA Doors open 6 P.M., Show starts 7 P.M. £11 adv, £12.50 door Venue contact number: 01297 442138 Tickets: marinetheatre.com

Friday 13th
Mr Chips Rides Again John Bartholomew tells tales from school.
Sorry - Postponed due to illness
Dr Francis Burroughes
has kindly agreed to bring forward his talk on "
the history and beauty of glass
". He will give his talk this Friday (13th) instead of his date in June - John will be with us in June.
The Wonderful World of Glass Dr Francis Burroughes

Last March Francis kept a large audience enthralled and entertained with his insider's understanding (by inheritance, not directly!) of 'The Victorian Head Gardener'. He is also an acknowledged expert on the history of glass, and is often asked to lend pieces and speak about them for various television antiques programmes. From his own personal collection, he will bring historic and valuable items of glass, for members of the audience to examine for themselves, illustrating the whole history of glass-making from 3,000 B.C. to the present day.
Over the last few years this talk has proved to be one of the most popular talks Francis has given, so a treat lies in store. Woodmead Halls, Lyme Regis DT7 3PG, Wednesday 13th June. Coffee is served from 10.00 to 10.45 followed by talk at 11.00 until noon. Organised by U3A Heritage Coast Lyme Regis. Entry is free for U3A members; for non-members a £2 donation is suggested

M

itch Benn has a new show: I'M STILL HERE Satirical songs and hilarious jokes from the star of The Now Show and winner of BBC 2's Celebrity Mastermind. He brings his new show to Lyme Regis.

Congratulations! It's 2018 and you're still here! So is Mitch, looking backwards, forwards and sideways trying to make the world a better place, one silly song at a time. Join him as he looks back over what for the lack of a better word he still refers to as his "career" and ponders where he – and indeed all of us – might be going next.

A stalwart of BBC Radio 4's 'Now Show' for more than a decade, Mitch has also presented many radio specials. Following on from the success of 'Mitch Benn Is The 37th Beatle', a further three specials on music icons Bob Dylan, David Bowie and Elvis have been broadcast – 'The Freewheelin' Mitch Benn', 'Mitch Benn Is The Fat Pink Duke' and 'Mitch Benn Has Left The Building'. He also co-presented with Harry Shearer BBC Radio 2's 'Anatomy Of A Guitar' and presented 'Spank The Plank' for BBC Radio 4. Most recently, in December 2016, he appeared on (and won) BBC1 television's 'Celebrity Mastermind'! Mitch is the author of two novels, 'Terra' and 'Terra's World' both published by Gollancz and co-author with Jon Holmes of 'The Twitter History Of The World' the paperback edition of which was published by Prion Books. www.marinetheatre.com Doors 7 P.M., starts 8 P.M. £12 adv., £15 door


Saturday 14th

"Know your Blood Pressure Day" Lyme Regis date changed to 21st April





Guitars On The Beach Fundraiser
A fundraising music event for the UK's largest guitar festival, Guitars on the Beach. This night promises to be an all-hits, all-dancing, rock, and pop fun night, which stars Dream Phaser, the GOTB House Band, and surprise special guests. £10 advance / £12 on the door. Bar opens 6:30 P.M., starts 7:30 P.M. www.marinetheatre.com
Monday 16th

Wednesday 18th

Meet and Remember - A memory café for Lyme Regis, Uplyme and Charmouth Supportive, friendly environment for those experiencing memory loss or who have recently been diagnosed with dementia and the friends/relatives/carers who support them. Good company, activities, music, refreshments, help and support, information
This week we have a busy program, the Woodroffe students who volunteer with us will be doing musical performance, we have the popular musical bingo - run by the Woodroffe students and Alice Davies will be organising some gentle seated exercise to music.
Please pass this information on if you are aware of anyone that may benefit. No booking required, please just turn up.2 - 3.30pm Lyme Regis Football Club Pavilion (by kind permission of the Football Club), 3rd Wednesday of the month, Free to attend! Free parking! contact 07704902604 lymememory@gmail.com or just come along. LymeForward

Comedy: Robin Ince The star of The Infinite Monkey Cage returns brings his first new comedy show for three years to Lyme Regis. Expect a hilarious night-out about love, death, and art - with a teeny bit of physics. Marine Theatre, Church St, Lyme Regis DT7 3QA Doors 7 P.M., starts 8 P.M. £15 advance, £18 on the door Venue contact number: 01297 442138 Tickets: marinetheatre.com

Friday 20 April 2018


Annual Town Meeting


The Annual Town Meeting is not a council meeting. It is a meeting of the town electors and often involves the town council's partners such as Dorset Police and both West Dorset District Council and Dorset County Council. Local organisations who have benefited from council grants are invited to provide a report on their activities and all electors are entitled to attend and ask questions or raise issues.
Residents and non-residents are entitled to attend the meeting and to raise for debate any issue concerning the town. Priority will be given to those questions notified in advance. Please contact the town council offices to submit your questions. The Annual Town Meeting 2018 is at 7pm in the Woodmead Halls, under the chairmanship of the Mayor, Cllr Michaela Ellis.

Saturday 21st April
"Know your Blood Pressure Day"


Annual event run by the Rotary Club of Lyme Regis in conjunction with The Stroke Association. Pop into Fortnam, Smith and Banwell (Estate Agents) 53 Broad Street, between 10 & 2pm, and have your blood pressure monitored by trained local nurses. This is one of the most effective ways of minimising the chances of a stroke. See link..........and see you there!! www.stroke.org.uk
Gre

at Dorset Beach Clean:
Come and join us on our FREE Great Dorset Beach Clean at Lyme Regis and Charmouth! Help clean up your local beach and make it a much safer place for wildlife and us.
The annual beach clean-up returns as part of the 'Litter Free Coast and Sea' week! Bring your friends and family and lend a hand at any of the designated beaches. Please wear suitable clothing and shoes for the conditions: Help to remove plastics and other rubbish from the shore. The vast majority of litter found on Dorset's beaches is made of plastic, which steadily accumulates if not removed. As standard plastics never degrade, they circle around the world in ocean currents and can cause long-term damage. Whales, dolphins and turtles can mistake floating plastic bags for the jellyfish which form part of their diet. Once swallowed the plastic bag blocks the stomach and leads to a slow death through starvation.
Lyme Regis:
Meeting point – Outside RNLI Shop on Slipway 14:00 – 15:00 Monmouth Beach, Lyme Regis
Charmouth
We will meet at 3pm at the bottom of Charmouth Heritage Coast Centre steps. Stay for as much or as little as you like! All equipment is provided. All children need to be accompanied by an adult. No need to register, just turn up on the day!

Lyme Bay Chorale's spring concert: A concert of English choral music

Two giants of West Country choral music to join Lyme Bay Chorale for their spring concert

Two world-class musicians, both based in the West Country, will join Lyme Bay Chorale for their spring concert this year. Andrew Millington – formerly director of music at Exeter Cathedral – will take the rostrum as guest conductor, while Peter King, organist emeritus at Bath Abbey, will play the organ.

Peter King's appearance at the concert is something of a surprise; Alex Davies was due to play the organ accompaniment, but he injured his hand last week and won't be able to play for a while. Peter stepped in at almost the last minute to ensure the performance can still go ahead; he will also be playing a couple of solo pieces.

The concert, comprises a selection of stunning English choral music, featuring Elgar's 'From the Bavarian

Highlands' and 'Let the People Praise Thee, O God' by William Mathias as well as works by Parry, Vaughan Williams and Britten. The solo singers for the evening will be soprano Chloe Stratta and bass William Armiger. Chloe grew up in Lyme and was a pupil at Colyton Grammar School, where she sung in the chamber choir, taking part in tours to Paris, Malta, Oxford and Chester. She went on to study music at the University of Manchester. Chloe will sing the soprano solo parts in 'Festival Te Deum' by Britten and 'Hear My Words, Ye People' by Parry, as well as solo songs by other English composers.

On Monday 26th March, Andrew Millington arrived early for rehearsal so he could meet the members of St Michael's Primary School Choir (led by Alison Davies), who practise in the church before Lyme Bay Chorale. Andrew was very happy to share some of his knowledge with the children.

Tickets for the spring concert are £13 in advance from Lyme Regis Tourist Information Centre, Penny Black Café (behind the post office in Lyme) or from choir members, and £15 on the door.

Under-19s free. Prices include Lyme Bay Chorale's famous post-concert buffet.

7pm St Michael's Church, Lyme Regis


SPRING MASKED BALL In aid of Cancer Research UK at the Woodmead Halls with welcoming cocktail, live music and a superb buffet. A special prize will be awarded for the best mask. Tickets are £25 each, £225 for a table of ten. For tickets call Philip Evans on 07796 951991.

Open Air Screen showing the iconic DIRTY DANCING (CERT 12)

by Pop-Up-Events, Langmore Gardens, Lyme Regis seafront. Guests are encouraged to bring seats/blankets and their singing voices to what is set to be a memory making evening. More information is available at
www.pop-up-events.net
. Tickets are £10 and available via our website, the link below or on the door.
www.eventbrite.co.uk/e/lyme-regis-open-air-cinema-dirty-dancing-12-tickets-44239690104
The film will start at 21:00 with stunning views of the Jurassic coast and we are proud to be raising money for
Macmillan Cancer Support.

Sunday 22 April 2018 The Great Dorset Beach Clean



Sunday Sessions
A post-roast music session in our lovely bar overlooking the Cobb. It is hosted by Street & Matthews, an acoustic duo who are one half of popular local band DeltaTango7. Free entry, no tickets Bar opens and starts 3 P.M. www.marinetheatre.com
MONDAY 23 APRIL - MONDAY 9 JULY MARINE YOUNG COMPANY

In collaboration with the Northcott Theatre, we are offering a regular opportunity for 20 talented young people to make challenging theatre in a professional setting. It's a 10 week course with weekly sessions following term time starting Monday 23 April, culminating with a performance. Places can be secured with a 25% deposit. Payment and booking 01297 442394. Years 5 - 7: 5 P.M. - 6:30 P.M. Years 8 - 11: 7P.M. - 9 P.M. £100 advance only. www.marinetheatre.com
Monday 23rd St Georges Day


Tuesday 24th April


AGM & 'The Dorsets 1917 - 18'
by Chris Copson, Curator, The Keep Military Museum The Lyme Regis Society. 2.30pm - 4pm Woodmead Halls. Free to Members, visitors £3 Including refreshments.
Wednesday April 25th




'Gardening by the Moon'
presented by Stephanie Hafferty, an organic, no-dig gardener, chef and writer in Somerset. The plug plants for Class 36 in the Summer Show will be given out at this talk – so don't miss out! 7.30pm Uplyme and Lyme Regis Horticultural Society


Handel's Messiah Inspired by Handel's masterpiece, this is a live-screening of the acclaimed Bristol Old Vic production. Rediscover the intense spirituality of its many well-known arias and choruses. Marine Theatre, Church St, Lyme Regis Doors 6:30 P.M., starts 7 P.M. £11 adv, £13 door, £10 adv theatre friends marinetheatre.com
FRIDAY 27 APRIL
LYME REGIS COMEDY CLUB WITH JAMES REDMOND Redmond headlines a raucous night of four comedians for a bargain ticket price. He is a dry, slick and subtle stand up who delivers unexpected twists and turns during his set. He made his name as an actor too, and is known for appearances in 'Hollyoaks', 'Casualty', and 'Never Mind the Buzzcocks'. £8 advance / £7 advance Theatre Friends / £10 on the door Bar opens 7 P.M., starts 8 P.M. www.marinetheatre.com

Saturday 28 April 2018




Henry Blofeld: 78 Retired The cherished golden voice of cricket celebrates his retirement with a brand-new show jam-packed full of unheard anecdotes from on and off the pitch. Marine Theatre, Church St, Lyme Regis DT7 3QA Doors 6:30 P.M., starts 7:30 P.M. £20 advance, £23 door, £19 adv theatre friends www.marinetheatre.com
Sunday 29 April

Jazz in the Bar WITH JULIE DUNN Vocalist Julie Dunn has released three albums, playing alongside Johnny Dankworth's son Alec. She is influenced by the great jazz singers such as Ella Fitzgerald and Sarah Vaughan, as well as some of her own compositions £8 advance / £7 advance Theatre Friends / £12 on the door Bar opens 7 P.M., starts 8 P.M. marinetheatre.com
---