Thursday 1st April Last day of term

end of term
'Come to the Cross'

Uplyme Church host Easter activities. Visit the Cross on the New School field at Uplyme from Thursday April 1st, throughout the school holidays. At the foot of the cross are lots of activities for you and your family to enjoy. Take your painted pebble egg to Uplyme Church on Saturday April 3rd and receive a real Easter Egg. see
www.uplymechurch.org.uk
Friday 2nd April 2021 Good Friday
'Come to the Cross'

Uplyme Church host Easter activities. Visit the Cross on the New School field at Uplyme from Thursday April 1st, throughout the school holidays. At the foot of the cross are lots of activities for you and your family to enjoy. Take your painted pebble egg to Uplyme Church on Saturday April 3rd and receive a real Easter Egg. see
www.uplymechurch.org.uk
Saturday 3rd April
'Come to the Cross'

Uplyme Church host Easter activities. Visit the Cross on the New School field at Uplyme from Thursday April 1st, throughout the school holidays. At the foot of the cross are lots of activities for you and your family to enjoy. Take your painted pebble egg to Uplyme Church on Saturday April 3rd and receive a real Easter Egg. see
www.uplymechurch.org.uk

'Lyme Regis Virtual Easter Bonnet Parade',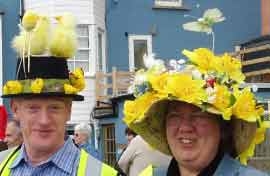 we are encouraging people to dress up in their most creative, home-crafted Easter bonnets to participate in the 'Lyme Regis Virtual Easter Bonnet Parade', which proved to be so successful last year.
Would-be participants have until 4pm on Saturday 3rd April to send in their photo entries, either via emailing easter@lymeregiscarnival.co.uk or messaging the Lyme Regis Carnival Facebook page.
Sunday 4th Easter Sunday
'Lyme Regis Virtual Easter Bonnet Parade',
The parade will take place at 3pm on the carnival Facebook page with a video featuring all the entrants. The video will also appear on YouTube.
See right and find out more at lymeregiscarnival.co.uk and facebook.com/lymeregiscarnival
Monday 5th April Easter Monday Bank Holiday
Thursday 8th April Residents Free winter parking extended until end of day on 16 May 2021
Monday 19th


Thursday 23rd April St Georges Day
---
Dates to be advised




Lyme Regis and Charmouth Lifeboat Supporters Annual General Meeting will be held when safe to do so



Annual Town Meeting .
The Annual Town Meeting is not a council meeting. It is a meeting of the town electors and often involves the town council's partners such as Dorset Police and both West Dorset District Council and Dorset County Council. Local organisations who have benefited from council grants are invited to provide a report on their activities and all electors are entitled to attend and ask questions or raise issues.
The Town Council will give notice of the meeting through the local press and staff will be happy to advise on the best way of getting items on to the agenda.
The Annual Town Meeting is in the Woodmead Halls, Residents and non-residents are entitled to attend the meeting and to raise for debate any issue concerning the town. Priority will be given to questions notified in advance to the town council offices, by post or email admin@lymeregistowncouncil.gov.uk
Great Dorset Beach Clean: 'We have cancelled the Great Dorset Beach Clean for 2020 due to Coronavirus. We hope to be back later in the year with another event.'
Come and join us on our FREE Great Dorset Beach Clean at Lyme Regis and Charmouth! Help clean up your local beach and make it a much safer place for wildlife and us.
The annual beach clean-up returns as part of the 'Litter Free Coast and Sea' week! Bring your friends and family and lend a hand at any of the designated beaches. Please wear suitable clothing and shoes for the conditions: Help to remove plastics and other rubbish from the shore. The vast majority of litter found on Dorset's beaches is made of plastic, which steadily accumulates if not removed. As standard plastics never degrade, they circle around the world in ocean currents and can cause long-term damage. Whales, dolphins and turtles can mistake floating plastic bags for the jellyfish which form part of their diet. Once swallowed the plastic bag blocks the stomach and leads to a slow death through starvation.
Saturday Charmouth 9.30 - 11am at the bottom of Charmouth Heritage Centre steps.
Sunday Lyme Regis: 11am - 1pm Meeting point & Briefing by the slipway near the Cobb, Bags, buckets and picker-uppers supplied to give Monmouth beach a spring clean.
Stay for as much or as little as you like! All equipment is provided. All children need to be accompanied by an adult. No need to register, just turn up on the day! Please wear suitable footwear and clothing for the weather.
---