Friday 1st St David's Day
SATURDAY 2 MARCH
COMEDY ROB NEWMAN'S TOTAL ECLIPSE OF DESCARTES


Based on the hit BBC Radio 4 series, this whirlwind tour of philosophy explores 3000 years of good and bad ideas from Pythagoras to driverless cars, by way of levitating Buddhist monks, Pavlov's dogs, Jean-Paul Sartre's mum, T. Rex, and Morrissey. In a world gone crazy, can philosophy help? Ages 14 and over £14 advance / £16.50 on the door 10% off Theatre Friends Bar opens 6:30 P.M., starts 7:30 P.M. www.marinetheatre.com
MONDAY 4 MARCH

SCREENING: MET OPERA: LA FILLE DU REGIMENT
Screened from New York, Donizetti's comic opera is a delight. The famous aria "Ah! Mes Amis," with its nine high Cs, is one of opera's most show-stopping numbers. (alternative but more fulsome as from their description - Donizetti's frothy comedy has Tenor Javier Camarena and soprano Pretty Yende team up for a feast of bel canto vocal fireworks—including the show-stopping tenor aria "Ah! Mes amis," with its nine high Cs. Alessandro Corbelli and Maurizio Muraro trade off as the comic Sergeant Sulpice, with mezzo-soprano Stephanie Blythe as the outlandish Marquise of Berkenfield. Enrique Mazzola conducts.). Encore Screening. Duration: 155 minutes including interval. £5 under 18s / £15 Adult advance or on the door 10% off for Theatre Friends Bar opens 4:55 P.M., starts 5:55 P.M. www.marinetheatre.com

Tuesday March 5th: Shrove Tuesday Pancake Day

Nina Squires 'Sandbanks/ Portrait' Pastel


Demonstration Free to members of Lyme Regis Art Society, visitors £5 (this will be refunded if you decide to join the Society). Woodmead Halls in Hill Road, Lyme Regis DT7 3PG from 2pm to 4pm. All are welcome. contact: 01297 445464


Friday 8 March International Women's Day


The Lighthouses of Devon and Dorset
A talk by Alan Nichols, a retired Lighthouse engineer with 40 years experience, part history, part information, part stories. Coffee served from 10am to 10.45 talk at 11am until noon. Venue: Woodmead Hall, Hill Road, Lyme Regis DT7 3PG. Organised by U3A Heritage Coast Lyme Regis-free for members, non-members suggested £2 donation. To join U3A, see website www.lymeregisu3a.org or telephone 01297 444566.
SATURDAY 9 MARCH
MUSIC: AMY MAYES BAND


Amy sings regularly with blues musician Ben Waters. She recently performed at his Chuck Berry concert at Ronnie Scott's, being joined on stage by Ronnie Wood and Johnny Depp. Expect classic soul and blues, alongside original numbers. With support £8 in advance / £10 on the door Bar opens 7 P.M., starts 8 P.M. www.marinetheatre.com
Sunday 10th
MUSIC THE SUNDAY SESSIONS


This is a post-roast music session in our lovely bar overlooking the Cobb. It is hosted by Street & Matthews, with other guests, and a selection of local drinks. Free entry, no tickets Bar opens and starts 3 P.M. www.marinetheatre.com

TUESDAY 12 MARCH

Outing to Saltram House, Plympton
leaving Uplyme Village Hall at 9:15am. This George II mansion is most impressive, and the gardens should be at their best in March. Contact Rose Mock (34733) to book your place at a cost of £15 for National Trust members, £21 for non-members. Uplyme and Lyme Regis Horticultural Society

Jake Winkle 'Wildlife in watercolour'
Lyme Regis Art Society workshop, visitors £5 Woodmead Halls in Hill Road, Lyme Regis DT7 3PG from 2pm to 4pm. contact: 01297 445464 All are welcome. www.jakewinkle.co.uk

Turn Lyme Green Annual General Meeting
All are welcome to a review of the past year's activities, including the Plastic Free Lyme Regis campaign, and to have a look to the future. We will welcome any ideas and thoughts on future projects or events. 7.30pm. Royal Lion Hotel, Blue Room, Broad Street.

CINEMA: TUESDAY NIGHT AT THE MOVIES: BLADE RUNNER
Directed by Ridley Scott and starring Harrison Ford: a blade runner must pursue and terminate four replicants who stole a ship in space and have returned to Earth. Shown in the Scott-approved Final Cut version, it's a visually remarkable and achingly human sci-fi masterpiece, set in a dystopian Los Angeles of 2019 - note the year. Duration: 117 minutes Certificate 15 £5 advance / £6.50 on the door 10% off for Theatre Friends Bar opens 6:30 P.M., Starts 7:30 P.M. www.marinetheatre.com

FRIDAY 15 MARCH
MUSIC SAM KELLY'S STATION HOUSE


The much cherished blues musician brings his 'groove band' to the Marine, with dancing very much in mind. Its repertoire includes Jimi Hendrix, Keb Mo, and Gary Moore. Expect calypso, soul and funk, with roots firmly in the blues. £8 advance / £10 on the door 10% off for Theatre Friends Bar opens 7 P.M., Starts 8 P.M. www.marinetheatre.com

SATURDAY 16 MARCH
MUSIC KATHRYN ROBERTS & SEAN LAKEMAN


The Dartmoor-based husband and wife have twice won the 'Best Duo' award at the BBC Radio 2 Folk Awards. Consistently delivering assured, distinctive performances, they mix traditional song arrangements with their self-penned material £14.50 advance / £17 on the door 10% off for Theatre Friends Bar opens 7 P.M., Starts 8 P.M. www.marinetheatre.com
Sunday 17th St. Patrick's Day
Tuesday 19th March

"Georgian Society in Bath and Lyme Regis"
The Lyme Regis Society
talk
by Amy Frost, Senior Curator, Bath Preservation Trust.
"Taking the waters, sitting for a portrait and promenading were all part of the daily routine
when the elite of Georgian society visited Spa resorts such as Lyme Regis or Bath.
This talk will look at what drew people to a spa, the rules that they had to follow once there,
and the reality behind the image of polite society".
2.30pm- 4pm at Woodmead Halls, Hill Road, Lyme Regis. DT7 3PG. All Welcome. Members Free. Visitors £3.00. Including Refreshments.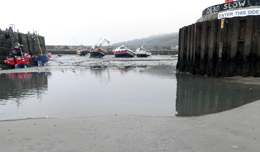 Wednesday 20th Vernal Equinox The Spring Equinox is the first day of spring and occurs when the sun passes the equator moving from the southern to the northern hemisphere. The sun is directly overhead at the equator and day and night are of approximately equal lengths. At equinox, the Sun rises everywhere on Earth (except the Poles) at about 6am in the morning and sets at about 6pm in the evening (though this can vary a little when time zones and daylight saving etc
are taken into account).
Tides along the Lyme Regis coast are among the lowest of the year
THURSDAY 21 MARCH

SCREENING NATIONAL THEATRE LIVE
Details of this National Theatre screening were unavailable at the time of print. Please check our website for details. £5 under 18s advance or on the door £11 advance / £14 on the door 10% off for Theatre Friends Bar opens 6 P.M., starts 7 P.M. www.marinetheatre.com
FRIDAY 22 MARCH

Some dramatic and exciting organ music
by
Alex & Alison Davies
including Mendelssohn F minor sonata, Dupre B major Prelude and Fugue, Handel Organ concerto, Ad Wammes "Play it Cool", also pieces using Organ and Saxophone and some Jazzy pieces with Piano. It will be 70 minutes of music with a short drinks interval. Tickets on the door at £10, U18 are free. 7.30pm to St Michael's Lyme Regis. South Wessex Organ Society. Promoting the art and appreciation of organ music through education, training, concerts & recitals
www.sworgansociety.org

THE SOUTH


When pop act The Beautiful South split in 2007, some members carried on. Embarking on this new journey The South continues performing their classics, such as Perfect 10, Rotterdam, Don't Marry Her, and A Little Time - the number one single. All are performed again live in 2019, which marks thirty years in the business. £22 early bird / £25 advance / £28 on the door 10% off for Theatre Friends Bar opens 7 P.M., Starts 8 P.M. www.marinetheatre.com
SATURDAY 23 MARCH
COMEDY LYME REGIS COMEDY CLUB WITH GLENN MOORE


Our headliner's stand-up show - Glengarry Glen Glenn - was one of 2016's best shows of the Edinburgh Fringe. Known for his inventive jokes, Glenn Moore has supported Tiff Stevenson, Josie Long and Alun Cochrane and has appeared on Mock The Week. He's joined by three other comedians on the bill. £8 advance / £10 on the door 10% off for Theatre Friends Bar opens 7 P.M., Starts 8 P.M. www.marinetheatre.com
SUNDAY 24 MARCH
JAZZ IN THE BAR: TERRY QUINNEY PLAYS STAN GETZ


This concert is dedicated to the music of multi-Grammy winning Stan Getz, who played with the biggies - Oscar Peterson, Bill Evans, and Gerry Mulligan. Terry Quinney is an acclaimed Canadian musician and leader of famed 'The Sound of Blue Note' band. £8 advance / £12 on the door 10% off for Theatre Friends Bar opens 7 P.M., Starts 8 P.M. www.marinetheatre.com
TUESDAY 26 MARCH

James Budden 'Approach to Figure Drawing'
Pencil/ Charcoal demonstration Lyme Regis Art Society, visitors £5 Woodmead Halls in Hill Road, Lyme Regis DT7 3PG from 2pm to 4pm. All are welcome. contact: 01297 445464

CINEMA TUESDAY NIGHT AT THE MOVIES: SULLIVAN'S TRAVELS
The second outing for our new regular film night — which presents iconic films from the past — features a 1940s satire about a Hollywood film director who longs to make socially relevant dramas. He sets out on a journey of self-discovery, only to learn the value of creating laughter. Written and directed by Preston Sturges and starring Joel McCrea and Veronica Lake. Duration: 90 mins Certificate PG £5 advance / £6.50 on the door 10% off for Theatre Friends Bar opens 6:30 P.M., Starts 7:30 P.M. www.marinetheatre.com
WEDNESDAY 27 MARCH

SCREENING WILDE WEDNESDAYS: AN IDEAL HUSBAND
Recorded at the Vaudeville Theatre in the West End, this is the return of Oscar Wilde's hugely popular masterpiece. It stars Olivier Award-nominated Frances Barber (Silk), and Susan Hampshire (Forsyte Saga, Monarch of the Glen). Encore Screening £5 under 18s advance or on the door £11 advance / £14 on the door 10% off for Theatre Friends Bar opens 6 P.M., starts 7 P.M. www.marinetheatre.com
"Designing a Border" by Sally Leaney


award-winning designer, will be leading a workshop which will be a little bit different , discussing planting schedules, growing conditions etc. – and you can have a go at planning a border of your own. At this talk we will also be distributing plug plants to grow on for the Show, with a different set to come in April. 7:30pm Uplyme Village Hall Uplyme and Lyme Regis Horticultural Society
Saturday 30th British Summer Time begins tomorrow morning: Put your clock forward one hour before you go to bed

MUSIC: LYME FOLK FUNDRAISER



National and local acts perform at this concert, which secures funds for the town's popular folk festival that takes place every year in September - its headline concerts are here at the Marine. Come and join us and our patrons NINEBARROW for a one-off mini-festival featuring some brilliant young musicians.
This year we are thrilled to welcome the wonderful ASKEW SISTERS, who are really making a name for themselves on the folk scene and will be performing material from their brand new album.
Also on stage are the brilliantly joyous JI & THE RAINBIRDS. If you were lucky enough to catch their seafront set at last summer's Lyme Folk Weekend you will not want to miss this.
And we are delighted to welcome back one of our favourite people from previous festivals - the wonderfully talented LEE RAHN, weaving his spell in the Marine Theatre once again. Please check the website for the line-up. £15 advance / £17 on the door 10% off for Theatre Friends Bar opens 7 P.M., Starts 8 P.M. www.marinetheatre.com
Sunday 31st 'Mothering Sunday'
British Summer Time has begun - have you changed all your clocks? - it may be later than you think
---