Wednesday 1st St David's Day

Public Consultation session on the Joint Local Plan Review
Drop-in session 10am - 7pm Woodmead Halls. More info www.dorsetforyou.gov.uk/local-plan-review
Something Better by Josie Long
F

ollowing the international sell-out success of her previous show Cara Josephine across the UK, Europe, in Australia and New York, the star of BBC Radio 4's Romance and Adventure, All of the Planet's Wonders and presenter of Short Cuts tours her eighth solo stand-up show nationwide in 2017 and heads to Lyme Regis's Marine Theatre. Josie's 34. She thought by now that she would have children, and be in love, and have a country that didn't vote with the far right parties to march us all off a cliff. And that she would be able to do all the awesome stuff that activists do. She thought we would have won by now. Oh, and she wanted to be taller and better looking.
This is a show about optimism and hopefulness, about looking for people and finding things to look up to. It's about wanting more from life than it might be up for giving out. It's about struggling with realising what you are, who you are and what you can't change about yourself, and about really feeling like an outsider for the first time. It's a bit about having faith in younger people, and friendship, and activism, and solidarity. Actually, she's been busy interviewing activists about what they do and why, so it's also about politics and making things happen. And there's probably a bit where she pretends to be a push-button shower, so it should be silly and fun too, with a few exciting bits in it. Marine Theatre www.marinetheatre.com

Thursday 2nd March

Mad Dog Mcrea
Unique blend of folk rock, pop, gypsy jazz, and bluegrass 7.30pm www.marinetheatre.com

Friday 3rd March

The Songs of Leonard Cohen
Tribute to the legend 8pm www.marinetheatre.com

Saturday 4th March

Spikedrivers
Bluesroots at its best! 8pm www.marinetheatre.com

Sunday 5th March

Viva Neil Diamond
50th Anniversary Tribute Act 7.30pm
Monday 6th March

Casting date for 'Monmouth' - Marine Theatre Community Play 2017!

Following from the outstanding Tempest of Lyme this summer, the 2017 Marine Theatre Community Production will be 'Monmouth', a specially commissioned play re-telling the events of the Monmouth Rebellion of 1685, which began here on Monmouth Beach (and, for some of the local rebels, also gruesomely ended there). It is written by Andrew Rattenbury and directed by Clemmie Reynolds: the team that – with a little help from W. Shakespeare – brought us The Tempest of Lyme.
5.30 - 8.30pm Marine Theatre:
If you'd like to be involved in the production please email Becky at officeassistant@marinetheatre.com to find out more and register your interest.
Tuesday 7th



Watercolour "Harbours"
Terry Whitworth demonstration 2.00pm The Woodmead Halls, Hill Road, Lyme Regis Art Society. More info: 01297 445464
Wednesday 8th


When the Eye Has Gone
The life of Ollie Milburn, the cricketing legend 7.30pm www.marinetheatre.com

Thursday 9th



Annual General Meeting of the Lyme Regis/Barfleur Twinning Association
The evening offers an opportunity to meet current and prospective members, hear about recent developments and to contribute towards our plans for 2017 and beyond. 7.30pm The Guildhall.

Friday 10th

The Victorian Head Gardener

by FRANCIS BURROUGHES Francis's father started his career in Horticulture as gardener's boy on a large estate just before the First World War. Hear about the fascinating life of the Victorian country estate, which has now entirely vanished. Learn the correct way of mowing a lawn with a horse-drawn mower, how to grow grapes, pineapples and cucumbers, and why and when William Robinson's butler had to serve his master with a pear on a silver tray. You will also discover why the Ministry of Defence issued thousands of stirrup pumps to the Home Guard in the Second World War. Woodmead Hall opens 10.00 - 10.30am for coffee etc. The talk starts at 11.00am.

Marine Theatre Disco
8pm www.marinetheatre.com

Saturday 11th March 2017

L

ecture: 'Who Were The Lyme Regis Rebels?' By
Dr. Robert Dunning, Museum of Somerset
Dr. Robert Dunning served as Somerset's official historian for nearly forty years where he specialised in ecclesiastical history. Join him for a fascinating insight into the history of South West England as he explores the Monmouth Rebellion and the Lyme Regis people behind it. Find out what spurred them to join and discover whose names still live on in the town today.
Entry: Pay what you can (suggested donation £5.00)
All donations go towards the Marine's 'Monmouth' Community play coming in July 2017.
The Marine Theatre, Talk at

12.00noon

, Q&A at

12:45pm
www.marinetheatre.com

Oxley Meier Guitar Project Music
Contemporary Guitar Duo 8pm www.marinetheatre.com

Sunday 12th March

Withnail and I Screening + Sunday Lunch
Film Screening with Sunday Lunch 1pm www.marinetheatre.com


Jazz in the Bar: Billie Holiday Celebration
With Julie Dunn 8pm www.marinetheatre.com
Tuesday 14th



Watercolour "Harbours"
Terry Whitworth Workshop 10-1pm Football Club, Lyme Regis. Lyme Regis Art Society. More info: 01297 445464.


WEST DORSET CONSULTING ON LOCAL PLAN REVIEW
Lyme Regis Town Council will be discussing issues at a specially convened meeting of the Planning Committee As always with Council meetings, members of the public can attend to listen to the discussion - and in this instance, the Chair, Cllr Steve Miller, has said he will allow individuals to speak if they have pertinent information on specific points they wish to make. The planners are asking four questions specifically relating to Lyme Regis in the local plan review:-
Lyme Regis has grown at an average rate of 15 dwellings per year over the last 5 years. Given the constrained nature of the Lyme Regis area, should we plan for a lower level of growth or maintain the current level of growth?
Are there any additional issues related to the development of the site options?
What are the infrastructure requirements for the development of the site options, individually or in combination with others?
Do you agree that the vast majority of the additional growth proposed for the period up to 2036 should be accommodated at Dorchester, Weymouth (including Chickerell and Littlemoor), Beaminster, Bridport, Lyme Regis, Portland, Sherborne and Crossways?
The Review also asks if any of the Key Employment Sites listed should in future have less protection than is currently afforded to them by the "key employment site" status. This would affect the Uplyme Road site, not only the Travis Perkins site but also the currently unused piece of land below the B! Gym which could provide affordable housing if the restriction were to be lifted.
7.00pm. The Guildhall. The public consultation will remain open until April 3rd and more information is available at the website www.dorsetforyou.gov.uk/local-plan-review
Wednesday 15th
First outing of the year, to Kingston Lacy (National Trust)


The park should be in fine shape, especially the snowdrops. The coach leaves Uplyme Village Hall at 9am, and costs £12-50 for NT members, £21 for non-members. Those who are not members of ULRHS are welcome to join us, for an extra charge of £3. Uplyme and Lyme Regis Horticultural Society


When the Eye Has Gone
The life of Ollie Milburn, the cricketing legend 7.30pm www.marinetheatre.com
Friday 17th St. Patrick's Day
Lynx Helicopters Farewell Flypast
over Lyme Regis between 11.44 and 11.49am

'All Stations to West Bay'
Speaker: Bruce Upton, from Bridport Museum, (Change to programme) will talk about 'All Stations to West Bay' plus show various portraits of local people. For further information please contact Mr Chris Sellers on 01297 442475 or see Lyme Bay Photographic Club 7.30 pm - 10.00pm. Woodmead Halls, Hill Road, DT7 3PG.

Saturday March 18th


Annual fundraiser, Lyme Folk Revisited.
IF you've been following The Choir on BBC with Gareth Malone, you will undoubtedly have noticed a bunch of bearded Bristolian blokes who rather stand out from the crowd. Now the Longest Johns, fresh from their appearance on the popular TV show, are among the acts appearing next month at Lyme Folk Revisited, the annual fundraiser for the town's summer folk festival. The five-strong singing group, all in their twenties, bring a youthful vigour – and a touch of bawdy Bristolian humour – to their performances of traditional shanties and their own original material. Joining them for the evening will be Saskia Griffiths-Moore, a young singer-songwriter really making name for herself on the folk circuit.
Completing the evening are Mitchell and Vincent, a highly sought-after duo who have been among the most popular performers at Lyme Folk Weekend for the last four years. 'The annual Revisited show is becoming a traditional event for us, and we are delighted to welcome such amazing talent once again. All the performers are donating their time so all the proceeds from the show go to helping us put on the summer festival. Tickets for the fundraiser at the Pilot Boat Inn are £10, available online at www.lymefolk.com, from Lyme Regis Tourist Information Centre (01297 442138) or from the Pilot Boat Inn, 1 Bridge Street, Lyme Regis.

Madame Butterfly
The One Man Opera 7.30pm www.marinetheatre.com

Vocal Workshop - Saturday 18 March

Songerama Drama is where singing, drama and performing meet confidence building and are unlocked t
hrough Cleveland's special skill with improvisation. Rhythm's of the world, melodies, text, movement and stories are created spontaneously and interwoven in a friendly and encouraging environment. These workshops are for ALL Ages and abilities! Artsreach 2:30pm-4pm at Wootton Fitzpaine Hall. Places £8. Tel 01297 560948
VocalSuite

by Cleveland Watkiss


Fresh from performing in Birmingham as part of the Nigel Kennedy and friends gala, Guardian Jazz Awards winner Cleveland Watkiss tours Dorset this weekend with VocalSuite, an a capella performance where musical cultures from Africa to Europe go together to create oustanding human vocal soundscapes. With a workshop opportunity too, don't miss this amazing performer live. Artreach 7:30pm. Wootton Fitzpaine. 01297 560948
Sunday 19th March

Madame Butterfly
The One Man Opera 7.30pm www.marinetheatre.com

Monday 20th Vernal Equinox The Spring Equinox is the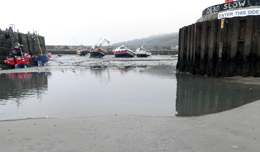 first day of spring and occurs when the sun passes the equator moving from the southern to the northern hemisphere. The sun is directly overhead at the equator and day and night are of approximately equal lengths. At equinox, the Sun rises everywhere on Earth (except the Poles) at about 6am in the morning and sets at about 6pm in the evening (though this can vary a little when time zones and daylight saving etc are taken into account).

Tides along the Lyme Regis coast are among the lowest of the year.
Black Ven Poetry Club Workshop


Six monthly live poetry workshops exploring ways of harnessing creativity to write poems, speak poems, and connect with the nature and elements outside. Anyone who is interested in how to develop ideas into poetry on the page, and on the stage. Join us if you're interested in thinking about language, articulation, story, speaking out and how. The workshops are aimed at poets, dreamers and thinkers. All abilities welcome. The workshops will involve: - Introducing themes to engage with nature and develop tools to write with, plus broad guidance and discussion about different approaches to composition and style; Readings of relevant literature, and poetry; Deep Listening and meditation; A 15-minute outdoor learning observation exercise (outside and in silence); Sharing our experiences from our 15 minutes and finding threads to work into; Guest teachings on how to stand up and offer your poems to others from theatre performance, music and acting specialists to teach breathing, physicality, microphone technique and voice control using basic exercises. You will probably not come away with a poem or finished piece at the end of the workshop, but tools to work with between the sessions. You may find that the teachings allow release for new thinking in other areas, or being able to tap into creativity more deeply in any artform. Price: £10 or £6 if you are a regular face at the local Apothecary or Vittals & Verse open mic poetry nights. 12 - 2pm Marine Theatre Bar, Marine Theatre, Lyme Regis DT73QB Contact: blackvenpress@gmail.com or sarah@marinetheatre.com Dates: (All Mondays) March 20th, April 17th, May 15th, June 19th, July 17th, August 21st

From Aid to Enablement..25 Years in Seica Mare
Dawn and Andy Fletcher went to Romania after the collapse of the Ceausescu regime to set up a

charity helping the abandoned orphans. Over the years it developed into a much more wide ranging charity. Now their town of Chard is twinned with Seica Mare in Romania. They will describe their experience and the situation in Romania. The event is organised by the Lyme Regis Amnesty International Group and will take place in the little Woodmead Hall at 7 p.m. Free, everyone welcome, refreshments provided.

Tuesday 21st



Watercolour "March Hare"
Shari Hill demonstration 2.00pm The Woodmead Halls, Hill Road, Lyme Regis Art Society. More info: 01297 445464

Wednesday 22nd March

'Restoration of Hestercombe Gardens'


by David Usher, Former Head Gardener for 18 years. He will talk us through the process of renovation which has made it the attraction it is today. Tea and coffee will be available, members free, visitors £3. 7.30pm Uplyme and Lyme Regis Horticultural Society 7.30pm Uplyme Village Hall




Ron Baker Storytelling: Theatre of the Imagination
Part Three: World Storytelling Day 7.30pm www.marinetheatre.com

Thursday 23rd March 2017
Film Screening: Comrades (1986) (15)

Comrades is a British historical drama film directed in 1986 and was Bill Douglas' last film. It depicts the story of a group of Dorset 19th Century agricultural labourers named the Tolpuddle Martyrs who moulded an early form of trade union and were arrested as a result in 1834. The film features an all-star cast including James Fox, Robert Stephens and Vanessa Redgrave.
Entry: Pay what you can (suggested donation £5.00)
All donations go towards the Marine's 'Monmouth' Community play coming in July 2017.
The Marine Theatre,
7.00pm
(Running Time: 3 hrs 3 mins)
www.marinetheatre.com
Friday 24th March

Fleetingwood Mac
Tribute Act 8pm www.marinetheatre.com
Saturday 25th British Summer Time begins tomorrow morning Put your clock forward one hour before you go to bed
Quiz Night


A classic Quiz Night over supper. Tickets £7 - includes a ploughman's supper Bar available

Tables of 6 but flexible. Tickets from Richard Cridge Tel: 01297 443476, Email: richard.cridge@sky.com Les Baker Tel: 01297 443478 Or any Lyme Regis Rotarian A Rotary Club of Lyme Regis Event: Proceeds to Dictionaries for Local Schools and other charities. Last year was a sell out so buy early 7.00 for 7.30pm Uplyme Village Hall.

Lyme Regis Battle of the Bands
Marine Theatre Fundraiser 8pm www.marinetheatre.com
Sunday 26th 'Mothering Sunday'
British Summer Time has begun - have you changed all your clocks? - it may be later than you think



Join Jane in Kate's Kitchen for a Mother's Day cake decorating activity
The Town Mill, Mill Lane, Lyme Regis DT7 3PU.
Tuesday 28th

Fairfield House
an illustrated talk by Audrey Standhaft. Lyme Regis Society, 2.30pm Woodmead Hall. Free to members, Visitors £3

Wednesday 29th March - Friday 31st March Lyme Youth Theatre presents The Monstrum
Young people from all over the local East Devon and West Dorset areas take to the Marine Theatre's stage in their National Theatre Connections play The Monstrum, by Kellie Smith. These

drama students and pupils have been rehearsing since October and, following the performances in Lyme Regis, will be travelling to Bath to perform at Bath Theatre Royal in the regional contest in April. The Monstrum is about growing up, relationships and young people so it's the perfect piece for the Youth Theatre to present. Having the opportunity to take part in a national project on this level is a huge privilege and offers the participants a real chance to work hard and participate in a high profile project. Director Clemmie Reynolds said " We have a cast of all ages from 11 to 18, from different schools, towns, backgrounds and they all come together in this cast, playing an isolated community brought together in a crisis. The way the young people have tackled the subject matter and rehearsal process has been just wonderful and all of them have grown hugely in the process." the Marine Theatre, Lyme Regis 7.30pm Tickets are just £5 www.marinetheatre.com

Friday 31st Last Day Lyme Residents Free Parking Permit Winter Times apply



End of Term


Cyril Nimo / Cobb Trophy;
For further information please contact Mr Chris Sellers on 01297 442475 or see Lyme Bay Photographic Club 7.30 pm - 10.00pm. Woodmead Halls, Hill Road, DT7 3PG.
---
Tuesday 13th March 2018

Workshop: Rocky Coastline
by David Webb, Watercolour. Lyme Regis Art Society 10:00 am – 1:00 pm Lyme Regis Football Club, charge tba. For more information please contact Sheila.lyme@gmail.com or 01297 445464
Thursday 29th of March 2018


End of Term
---