Thursday 1st St David's Day

Friday 2nd March


Barfleur Twinning Association meeting This will be an informal meeting to discuss future plans including a possible visit to Barfleur this summer. New members welcome. The Guildhall from 10.00 am

Quiz Night SORRY - CANCELLED OWING TO WEATHER CONDITIONS/FORECAST Please contact the person you bought your tickets from for a refund.


A classic Quiz Night over supper. To raise funds to help Yeovil Rotary Club rebuild a school in Nepal, which was destroyed in recent earthquakes. Bar available Tables of 6 but flexible. Tickets £7.50, includes supper, David Bettes Tel: 01297 560867 Or any Lyme Regis Rotarian A Rotary Club of Lyme Regis Event: Last year was a sell out so buy early 7.00 for 7.30pm Uplyme Village Hall.
Boadicea of Britannia Street As part of our celebrations for International Women's Day, the

Marine presents Ade Morris' funny and touching play about female friendship. Local journalist Fran, PE teacher Penny, shy librarian Janet, and feisty Annie form a writing group. Inspired by the historical figure Boadicea, these three women face their demons, overcome their enemies, and move on as friends to a better future. Doors open at 7:30pm, £10 adv / £11 on the door www.marinetheatre.com
Saturday March 3rd
Dreaming the Night Field: ARTSREACH Presents an Adverse Camber Production:
"One of Wales' most engaging storytellers alongside exquisitely haunting live music. English and Welsh are artfully woven together to make these ancient voices and living landscapes come alive in an exhilarating performance." Immerse yourself in glorious living landscapes and the brilliant night sky to discover a world that's bristling with life, filled with animals, people and constellations caught between creation and destruction. Wootton Fitzpaine Village Hall 7.30pm (doors open at 7pm) Tickets £9 and U18: £7 (Family of 4: £28) Suitable for ages 12+ On sale in the self service Box Office at reception of The Charmouth Practice next to the Royal Oak. Information, group discounts and advance bookings : 01297 560948 For online bookings go to www.artsreach.co.uk

Sunday 4th March 2018



"The World's Biggest PUB QUIZ" Be a part of it Help raise money for the at Cellar 59's event: starts at 6pm Teams of four - £20 (includes food) Tickets from Cellar 59, Broad Street
Tuesday 6th March

Saving Lives At Sea: BBC2 are repeating this series over the next 2 weeks: 7pm Tues-Fri.

Alcohol Awareness Training
Free training available to both volunteers and professionals.
It will enable the attendee to
recognise adults aged over 50 , who may be experiencing problems with their alcohol use
build their skills and confidence to talk to the individual about their drinking in a sensitive way
signpost to appropriate services or support

An introduction to some holistic approaches that may support you to manage the stresses of life more effectively This session is free to attend and for anyone aged 50+ 10am-4pm Uplyme Parish Church (St Peter and St Paul) Pound Lane DT7 3TT For more information or to book onto this session, please call 0800 304 7034 The training has been arranged by Uplyme Help at Hand, is FREE, certificated and lunch will be provided. Heather Prior, LymeForward
Thursday 8 March International Women's Day
Ain't I A Woman Ain't I A Woman is a special show of professional female singers alongside

two community choirs. It marks International Women's Day as well as celebrating 100 years since the women's vote. It's presented by Wren Music, a Devon-based charity with a mission to work with music and culture in order to celebrate identity and diversity. Doors open at 7:30pm, £10 adv / £13 on the door www.marinetheatre.com
Steve Knightley 'Songs and Stories' 2018 Tour The Show of Hands frontman showcases a setlist

of classics such as 'Cousin Jack', 'AIG', and 'Country Life'. The roots singer also pays tribute to some of his influences along the way, from Dylan to Radiohead. Doors open at 7:30pm , £18 adv 7.30pm www.marinetheatre.com
Saturday 10 March

Jazz Jurassica: Jazz Supper with Duncan Anselm Quartet with Nigel Price Bandleader and alto

saxophonist Duncan Anselm recreates the Blue Note era with swinging American standards, alongside his own compositions. Ticket includes a delicious two-course supper from local chef Dottie Kitchen. Doors open 6:30pm, £22 adv inc food www.marinetheatre.com


Sunday 11th 'Mothering Sunday'
Tuesday 13th March 2018
The National Trust's

Killerton estate,
Our first outing of 2018, with spectacular gardens, a costume exhibition and tearoom. The coach will leave Uplyme Village Hall at 9:15am, and costs £12-50 to NT members, £18 for non-members, and as usual, guests are welcome at an extra £3. Book your place with Barbara Kidson on 01297 445618 or 34733. Uplyme and Lyme Regis Horticultural Society

Workshop: Rocky Coastline
by David Webb, Watercolour. Lyme Regis Art Society 10:00 am – 1:00 pm Lyme Regis Football Club, charge tba. For more information please contact Sheila.lyme@gmail.com or 01297 445464

Going Green is good for business Turn Lyme Green meeting
Turn Lyme Green is hosting an open discussion to share the practicalities and business benefits, of 'going green', highlighting the awards and rewards available to those who succeed. A panel of business owners who have already put plans in place will talk about their experiences. Information will be available on local initiatives—including ReFill, recycling, Business Award Scheme, alternatives to single use plastics.
Open to all business people and leaders of other local organisations interested in helping improve and protect our environment to benefit our residents, businesses and visitors. 7.15 for 7.30 Driftwood Café, Baptist Church, Broad Street, Lyme Regis. For more information www.turnlymegreen.co.uk; enquiries@turnlymegreen.co.uk; 01297 446066
Wednesday 14th



Lyme Lunches Nutritious, good value lunch, aimed at over 50's. 2 courses plus tea or coffee £6 The Pine Hall, Baptist Church, Broad Street. 2nd Wednesday of month. Organised by Lyme Forward. Bookings: Penny Black café (behind the Post Office)


Thursday 15 March

Barfleur Twinning Association re-arranged meeting This will be an informal meeting to discuss future plans including a possible visit to Barfleur this summer. New members welcome. The Guildhall from 3pm

Lyme Regis Comedy Club Tom Glover leads three other wits in a raucous night of laughs. Expect the funniest night in Dorset in a comedy club setting. Please check the website for details of acts. Doors open 7pm, £8 adv / £10 door www.marinetheatre.com
Friday 16 March

Buster Shuffle Cockney ska and pop, with an authentic rock and roll sound is served up by dancefloor favourites Buster Shuffle. 'You'll enjoy this knees-up bar-room stomp' The Guardian Doors open at 7:30pm, £10 adv / £12 door www.marinetheatre.com
Saturday 17th St. Patrick's Day

Mayor's Coffee Morning for Tower Fund
Cakes, coffee, raffle, books, gifts. Donations appreciated. Raising funds for the crucial work to be done on the Church Tower. 10am - 12 noon St Michaels Church Hall, Church Street
Charity Table Top Sale


Profits to Brain Tumour Society and Fortuneswell Cancer Trust. £6 per table. To book call Andrea 01297 561083 or Gill 01297 442960 St Andrew's Community Hall, Lower Sea Lane, Charmouth 2 pm to 4.30pm Entry donations much appreciated.

Rock for Heroes Rock For Heroes is a live music event. It brings hits from favourite Rock & Pop

artists across the eras, in celebration of the charity Help for Heroes. Performed by a live band, you can expect music from acts such as Dire Straits, Status Quo, Queen, David Bowie, Bryan Adams, and many more. Doors open at 6:30pm, £18 adv / £21 door www.marinetheatre.com


KEN GOLLOP'S SHADY TREE TALK
with 60+ illustrations
SORRY - CANCELLED DUE TO WEATHER - WILL TRY AGAIN
This is being billed as Ken's final talk. Lyme born and bred, this is Ken's unique view of Lyme's past with locations, events and characters illustrated by over 60 pictures. Woodmead Halls Time 2.30pm to approx 4pm Admission: £3 to include a cuppa. Postponed from 4th March due to weather forecast.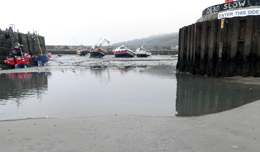 Tuesday 20th Vernal Equinox The Spring Equinox is the first day of spring and occurs when the sun passes the equator moving from the southern to the northern hemisphere. The sun is directly overhead at the equator and day and night are of approximately equal lengths. At equinox, the Sun rises everywhere on Earth (except the Poles) at about 6am in the morning and sets at about 6pm in the evening (though this can vary a little when time zones and daylight saving etc are taken into account).
Tides along the Lyme Regis coast are among the lowest of the year

Wednesday 21 March to Saturday 24 March

The Vicar of Dibley All the characters of the cherished comedy return to the stage, brought to life with a wonderful local cast, courtesy of the Marine Players. The Marine Players is a talented local drama group based in Lyme Regis. The TV series was produced by Tiger Aspect, with script by Richard Curtis and Paul Mayhew-Archer, and has been adapted by Ian Gower and Paul Carpenter. www.marinetheatre.com

Wednesday 21st



Meet and Remember - A memory café for Lyme Regis, Uplyme and Charmouth. Supportive, friendly environment for those experiencing memory loss or who have recently been diagnosed with dementia and the friends/relatives/carers who support them. 2 - 3.30pm Lyme Regis Football Club Pavilion 3rd Wednesday of the month, contact 07704902604 lymememory@gmail.com or just come along. LymeForward

Saturday 24th British Summer Time begins tomorrow morning: Put your clock forward one hour before you go to bed
Sunday 25th
British Summer Time has begun - have you changed all your clocks? - it may be later than you think
Last Day Lyme Residents Free Parking Permit Winter Times apply
Tuesday 27th

Summerhill House
A talk by Audrey Standhaft of the Lyme Regis Society. The Lyme Regis Society. 2.30 - 4pm., Woodmead Halls, Hill Road, Lyme Regis. DT7 3PG . All Welcome. Free to Members, visitors £3 including refreshments

Wednesday 28th
Talk and workshop on Willow Weaving


led by Jenny Knight. She will help you create a bumble bee, dragonfly or similar piece of work to take home – bring your secateurs if you can, and book your place at a cost of £2. Anyone wishing to book their place for willow weaving should ring Jenny Harding on 01297 444034 to do so. There will also be the Chairman's competition for the best spring-flowering bulbs, corms or tubers – bring your entries from 7pm, either as cut flowers or growing in a pot. If that is not enough for one evening, we will be distributing plug plants to grow on for the Summer Show (another set will be given out in April) – claim your free plug and see how well it grows! Uplyme and Lyme Regis Horticultural Society
NT Live: Julius Caesar Nicholas Hytner directs a new take on the Shakespeare classic

starring Be

n Whishaw (Skyfall, Hamlet). Caesar returns in triumph to Rome. Alarmed by the autocrat's popularity, the educated élite conspire to bring him down. After his assassination, civil war erupts on the streets of the capital. Doors open 6pm, £11 adv / £12.50 on the door www.marinetheatre.com
Thursday 29th
Friday 30th March


End of Term
30 & 31 March
Lyme Regis Beer Festival

Beer Fest

Cancelled
---