Thursday 1st 2018 St David's Day

Friday 2nd March

Quiz Night


A classic Quiz Night over supper. To raise funds to help Yeovil Rotary Club rebuild a school in N

epal, which was destroyed in recent earthquakes. Bar available Tables of 6 but flexible. A Rotary Club of Lyme Regis Event: Last year was a sell out so buy early - ticket info to follow 7.00 for 7.30pm Uplyme Village Hall.
Steve Knightley 'Songs and Stories' 2018 Tour
7.30pm www.marinetheatre.com
Saturday 10 March

Jazz Jurassica: Jazz Supper with Duncan Anselm Quartet with Nigel Price
www.marinetheatre.com


Sunday 11th 'Mothering Sunday'
Tuesday 13th March 2018

Workshop: Rocky Coastline
by David Webb, Watercolour. Lyme Regis Art Society 10:00 am – 1:00 pm Lyme Regis Football Club, charge tba. For more information please contact Sheila.lyme@gmail.com or 01297 445464
Saturday 17th St. Patrick's Day
Tuesday 20th Vernal Equinox The Spring Equinox is the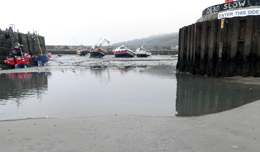 first day of spring and occurs when the sun passes the equator moving from the southern to the northern hemisphere. The sun is directly overhead at the equator and day and night are of approximately equal lengths. At equinox, the Sun rises everywhere on Earth (except the Poles) at about 6am in the morning and sets at about 6pm in the evening (though this can vary a little when time zones and daylight saving etc are taken into account).

Tides along the Lyme Regis coast are among the lowest of the year.
Saturday 24th British Summer Time begins tomorrow morning Put your clock forward one hour before you go to bed
Sunday 25th
British Summer Time has begun - have you changed all your clocks? - it may be later than you think
Thursday 29th of March 2018


End of Term
Satuurday 31st Last Day Lyme Residents Free Parking Permit Winter Times apply
---

Annual General Meeting of the Lyme Regis/Barfleur Twinning Association
The evening offers an opportunity to meet current and prospective members, hear about recent developments and to contribute towards our plans for 2017 and beyond. 7.30pm The Guildhall.
---