FRIDAY 3 DECEMBER


SALUTE TO HUMPHREY LYTELLTON
This very special and unique evening celebrates "Humph" - the man, his music and the jazz revival of the late 40s and 50s he did so much to promote.
It starts with the music - naturally. A big band, led by award-winning jazz trumpeter, Chris Hodgkins, recreates the sounds of Humph's original post-war jazz performances with some new material specially composed for the evening.
7.30pm, Marine Theatre, Lyme Regis www.marinetheatre.com
Friday 10th December



11am Join members of Lyme Regis u3a for a selection of readings and monologues on a Christmas theme, with a touch of humour, presented by Paul Evans. See lymeregisu3a.org for details.
SATURDAY 11 DECEMBER 2021
Uplyme Church Fayre Cancelled

Tex Mex Superstars
LOS PACAMINOS
Eighties star Paul Young brings his Tex Mex band of supergroup musicians to the Marine for a foot-stomping session. Placing themselves squarely in Americana music, Los Pacaminos must be the first Tex-Mex band to have formed in the UK. Growing from an idea put forward by Paul Young, the band formed in 1992. Other band members play as session musicians with Queen, The Pretenders, Joan Armatrading and Paul McCartney. They have played before and it always sells out, so buy a ticket now if you fancy it. £22.00 advance / £26.00 on the door | 10% discount for members www.marinetheatre.com
Sunday 12 December



Lyme Bay Chorale Christmas concert in Lyme Regis Parish Church at 4pm. Conducted by the choir's musical director, Alex Davies, with organist Andrew Millington, formerly director of music at Exeter Cathedral. Programme includes Missa Sancti Nicolai (Haydn), Zadok the Priest (Handel) plus carols for choir and audience. Tickets £15 on the door / £13 in advance (cash only please) from Fortnam Smith & Banwell, Lyme Regis. www.lymebaychorale.co.uk
13th December 2021 20th Anniversary of UNESCO awarding World Heritage Site status to West Dorset and East Devon coasts (2001) see http://jurassiccoast.org/
Wednesday 15th December 2021


Create a festive Christmas table
,
Uplyme & Lyme Regis Horticultural Society. Bex Partridge of Botanical Tales shows how to create a table centre for your Christmas dining table using all-natural materials. Doors open at 7pm for refreshments including mulled wine and mince pies. Demonstration starts 7.30pm. Members free; guests £3.
16th - 19th December

Christmas Tree Festival
Christmas Trees decorated by local organisations in the
Baptist Church, Broad Street Admission free


THURSDAY 16 DECEMBER 2021
THE LITTLE MATCH GIRL

A family Christmas classic, live on stage with real actors! Join the Little Match Girl on a magical journey, filled with live music, puppetry and multimedia. This is a family Christmas show for all.
The Little Match Girl wanders the street on New Year's Eve, trying to sell her match sticks. Everyone is busy celebrating with fires, Christmas trees and delicious food but outside the girl is cold, sad and alone, that is until she lights one of her matches to keep warm and visions come to life before her very eyes! £10.00 children | £12.00 adults | £38.00 family advance (2 adults and 2 children) | 10% discount for members
Friday 17th

end of term
Saturday18th December

Last posting date for second class mail.


Tuesday 21st


Last posting date for first class mail.
Thursday 23rd December 2021



Last posting date for special delivery
Rotary Carols Round the Tree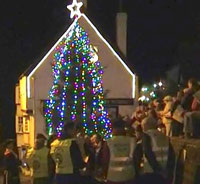 (Covid & Weather permitting)
by the

Rotary Club of Lyme Regis with Lyme Regis Town Band.


The Rotary Club of Lyme Regis are once again hosting their Annual Carols Round the Tree at the Shambles in Broad Street. The Lyme Regis Town Band will playing a selection of popular carols for everyone to sing along to and the Town Crier Alan Vian will be the MC. Hot soup supplied by the Royal Lion Hotel will be provided in the interval. A collection will take place,
Friday 24th 2021 Christmas Eve

An Outdoor Nativity
Uplyme (see poster right)
Saturday 25th Christmas Day
Christmas Morning Fancy Dress 'Swim'


11am sharp Charmouth: Swimmers please be there by 10.30 Spectators enjoy seeing all the fund-raisers in their (dry) fancy dress (optional) They don't stay in the water a minute longer than they
need to - it's all over by 1 minute past 11! in aid of Lyme Regis RNLI, kindly sponsored by The Royal Oak. 10.30 for 11am the beach Charmouth. Just turn up and take the plunge. This event is weather dependent
Sunday 26th Boxing Day Go for long walk!

See Liz Jones walks for ideas

Thursday December 31st New Years Eve
---
December 2021 Dates To be advised

Launch Day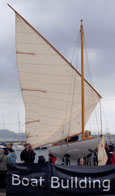 The Launch
After 38 weeks of demanding work, the Lyme Regis Boat Building Academy Class of February 2020 are launching their boats for the first time. The students are building new build boats, all of which will be lined up for launch.

Launch at Lyme Regis Harbour The first boat is due in the water at ? (time subject to change with adverse weather).
All are invited to join us in celebrating the end of the course and the launching of the boats.




Carols by Candlelight
This traditional service of carols and readings will also feature Weldmar Hospicecare "Light up a Life" and the work of the Children's Society. This year gifts are requested for children and adults which will be taken to Women's Refuges in Dorset. 4pm St Michael's, Parish Church followed by seasonal refreshments.


Crib Service
4pm St Michael's Parish Church

Midnight Mass
11pm St Michael's Parish Church

Christmas Eucharist Services
at 8am and 10am St Michael's Parish Church, church Street

Don't forget the Lyme Lunge on New Years Day 2022 - fancy dress 'swim'


from the sand beach organised by Lyme Regis Rotary.
1pm from the Sandy Beach (time to watch the Duck Race First)
See January page for more details. This is a Weather Dependent event

---