MONDAY 2 DECEMBER


PAM AYRES – UP IN THE ATTIC
One of the Nation's Favourite Poets Pam Ayres visits the Marine for the first time to talk about her new book of poetry, Up In The Attic—the brand-new collection of verse from one of the nation's favourite poets. With the same magic that has enchanted her fans for more than four decades, Pam's new collection is by turns side-splittingly funny, at others so reflective and profound that audiences are moved to tears. This new collection will tickle and move in equal measure. £10.00 advance and on the door, 10% discount for members Starts at 3:00 P.M. www.marinetheatre.com
Wednesday December 4th 2019
Launch Day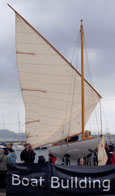 The Launch
After 38 weeks of demanding work, the Lyme Regis Boat Building Academy Class of February 2019 are launching their boats for the first time. The students are building new build boats, all of which will be lined up for launch.

Launch at Lyme Regis Harbour The first boat is due in the water at 10:00 (time subject to change with adverse weather).
All are invited to join us in celebrating the end of the course and the launching of the boats.


Social and Christmas Supper

A pre-Christmas social event with a bring and share
finger food
supper starting at 7.30pm in Uplyme Village Hall. Find out what the society is up to for 2020, renew your membership (if you haven't already) and sign up to forthcoming outings. Enjoy a light-hearted quiz and bring along any unwanted seeds to swap with other members.
Uplyme and Lyme Regis Horticultural Society
THURSDAY 5 DECEMBER - SATURDAY 7 DECEMBER

THEATRE: ARE YOU GOING TO THE MARINE?
Join us as we celebrate one hundred and twenty five years of the Marine, in this special community play, written by Andrew Rattenbury. With the help of the thriving local theatre, music, and drama groups, who have all performed here over the past century or so, we'll be looking back at our rich history as seen through the eyes of two young lovers. £3 children, £6 adults advance / £5 children, £7 adults on the door Starts at 7:30 P.M www.marinetheatre.com
Saturday 7 December

Vocal Masterclass
Led by our patrons, Philippa Hyde (soprano) and Paul Esswood (countertenor)
Among the singers taking part will be our bursary students Fleur Gardner-Wray and Alex McNeice, plus members of the choir. There are still a few places left, though, so if you're a confident singer and would like to take this opportunity to learn from the best, please email our musical director, Alex Davies, at organalex@yahoo.com Everyone is welcome to come along and listen. This is a free event with a retiring collection in aid of our young singers bursary fund.2.30pm in Lyme Regis Parish Church
Sunday 8th December



Lyme Bay Chorale Christmas concert We're delighted to announce the programme for this year's Christmas concert, which features music from the Baroque and Classical periods...
GF Handel Laudate Pueri Dominum, JS Bach Jauchzet, Frohlocket! (from the Christmas Oratorio), J Haydn Missa Sancti Bernardi von Offida (the 'Heiligmesse') Ombra mai fu ... plus solo pieces We will be joined by soprano Philippa Hyde and other soloists:
Working with our patron Philippa Hyde (soprano) plus alto, tenor and bass professional soloists, our musical director Alex Davies will be bringing together a chamber orchestra of fantastic players on flute, oboe, trumpet, timpani, horn, cor anglais, violin, viola, cello, double bass, harpsichord and organ. 4.30pm St Michael's Parish Church, Lyme Regis We'll bring you more information nearer the time - meanwhile, please put the date in your diary! Tickets will be available in October from local outlets and from choir members

MUSIC: JAZZ IN THE BAR: CHRISTMAS WITH CHARLIE BICKNELL
This local diva will be singing a special festive programme at our Jazz in the Bar. Charlie first became a household name playing Delilah in BBC2′s This Life, and subsequently starred as Scout in Ben Elton's West End hit Popcorn. £8.00 advance / £12.00 on the door Starts at 8:30 P.M. www.marinetheatre.com

THURSDAY 12 DECEMBER

Wreath making workshop: Sea theme,
using sea heather, eucalyptus, driftwood and more. Workshop by Rebecca Brooke takes place 10.30am in the Poulett Chapel at the Alexandra Hotel. All materials are included: £77 per head, including tea, coffee, biscuits, and a 2 course lunch with a glass of Prosecco To book, pop in or call reception on 01297 442010

SCREENING; THE WINTER'S TALE
Judi Dench and Kenneth Branagh star in Shakespeare's timeless tragicomedy of obsession and redemption, reimagined in this production filmed live at London's Garrick Theatre in 2015. £5.00 under 18s advance and on the door / £11.00 advance / £13.50 on the door Starts at 7:00 P.M. www.marinetheatre.com
13th December 18th Anniversary of UNESCO awarding World Heritage Site status to West Dorset and East Devon coasts (2001) see http://jurassiccoast.org/
SATURDAY 14 DECEMBER

CINEMA: POLAR EXPRESS PYJAMA PARTY
Get up, get on, and get ready for the ride of your life! Starring Tom Hanks: on Christmas Eve, a young boy embarks on a magical adventure to the North Pole on the Polar Express, you'll to roller-coaster up and down mountains, teeter across mile-high bridges, and be served hot chocolate by singing waiters on The Polar Express! Father Christmas and the Station Master will appear in person, and audience members are invited to wear pyjamas for a fun event for the family. £4.50 advance and on the door Starts at 2.00 P.M. www.marinetheatre.com

COMEDY LYME REGIS COMEDY CLUB WITH LAURA LEXX
Multi award winning comedian and star of Live at the Apollo Laura Lexx headlines the Christmas comedy club, with support from Jon Wagstaffe and Morgan Rees. £8.00 advance / £10.00 on the door Starts at 8:00 P.M. www.marinetheatre.com
SUNDAY 15 DECEMBER

MUSIC: THE SUNDAY SESSIONS
This regular free entry event is the Marine's dedicated time to promote quality live music—our post-roast music session. Enjoy local drinks and the best musicians in our lovely bar overlooking the Cobb. If you'd like to play, just turn up! Bar opens and starts at 3 P.M. Free entry, no tickets. www.marinetheatre.com
THURSDAY 19 DECEMBER

MUSIC: THE JERSEYS—OH WHAT A NITE!
We celebrate the timeless music of Frankie Valli & The Four Seasons. Incredible Falsettos, beautiful acapella singing, and authentic harmonies of the 60s and 70s—that's The Jerseys. Expect all the hits including Sherry, Walk Like A Man, and Grease. Starts at 7:30 P.M. £16.00 advance / £18.00 on the door www.marinetheatre.com

'Dorset String Quartet' Christmas Recital
in the Alexandra Hotel's 18th century Chapel: A variety of classic Christmas music, mixed in with som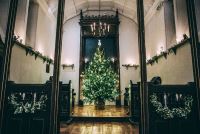 e more modern songs. All members of the 'Dorset String Quartet' were professionally trained in London at Guildhall School of Music, Royal College of Music, and Royal Academy of Music, with extensive experience in various professional orchestras. Based in Dorchester, the quartet play all over the South of England, playing music from J S Bach to Guns 'n' Roses, Mozart to Bruno Mars. The bar opens from 7:30 and the recital starts at 8pm prompt, with a half hour interval and finishing at 10pm. Tickets are £20 and are available from the Alexandra Hotel, Pound Street, reception or by calling 01297 442010. www.hotelalexandra.co.uk
Friday 20th


End of term





Christmas Tree Festival
Christmas Trees decorated by local organisations in the
Baptist Church, Broad Street Admission free
SATURDAY 21 DECEMBER

Christmas Tree Festival
Christmas Trees decorated by local organisations in the
Baptist Church, Broad Street Admission free

CINEMA: WHITE CHRISTMAS
Our annual free yuletide film for the community is Bing Crosby's classic musical, in which a successful song-and-dance team become romantically involved with a sister act and team up to save the failing Vermont inn of their former commanding general. Having left the Army following W.W.II, Bob Wallace and Phil Davis team up to become a top song-and-dance act. Davis plays matchmaker and introduces Wallace to a pair of beautiful sisters (Betty and Judy) who also have a song-and-dance act. When Betty and Judy travel to a Vermont lodge to perform a Christmas show, Wallace and Davis follow, only to find their former commander, General Waverly, as the lodge owner. A series of romantic mix-ups ensue as the performers try to help the General. Free entry, ticketed. Tickets are not available online for this event. Starts at 7:30 P.M. www.marinetheatre.com

Sunday 22nd 2019

Christmas Tree Festival
Christmas Trees decorated by local organisations in the
Baptist Church, Broad Street Admission free
Monday 23rd

Carols Round the Tree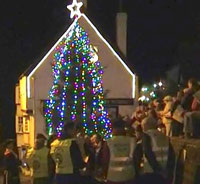 by the

Rotary Club of Lyme Regis with Lyme Regis Town Band.


The Rotary Club of Lyme Regis are once again hosting their Annual Carols Round the Tree at the Shambles in Broad Street. The Lyme Regis Town Band will playing a selection of popular carols for everyone to sing along to and the Town Crier Alan Vian will be the MC. Hot soup supplied by the Royal Lion Hotel will be provided in the interval. A collection will take place, last year's was in aid of the Julia's House Children's Hospice. All welcome. 7 - 8pm The Shambles, Broad Street


Tuesday 24th Christmas Eve
Wednesday 25th Christmas Day ~ HAPPY CHRISTMAS EVERYONE ~
Christmas Morning Fancy Dress 'Swim'


11am sharp Charmouth: Be there by 10.30 to enjoy seeing all the fund-raisers in their (dry) fancy dress (optional) They don't stay in the water a minute longer than they need to - it's all over by 1 minute past 11! in aid of Lyme Regis RNLI, kindly sponsored by The Royal Oak. 10.30 for 11am the beach Charmouth. Just turn up and take the plunge. This event is weather dependent

Thursday 26th Boxing Day Go for long walk!

See Liz Jones walks for ideas
Tuesday December 31st New Years Eve

January Wednesday 1st 2020



Don't forget the Lyme Lunge on New Years Day 2020 - fancy dress 'swim'


from the sand beach organised by Lyme Regis Rotary.
1pm from the Sandy Beach (time to watch the Duck Race First)
See January page for more details. This is a Weather Dependent event

---
2018 events which may happen again

Last Posting date International Air Mail to: Africa, Middle East


Last Posting date International Air Mail to: Cyprus, Malta, Asia, Far East, Eastern Europe (except Poland, Czech Republic and Slovakia)

The last day to send a letter to Father Christmas
Royal Mail will send a letter from Santa Claus for free. If you are hoping for a reply from Father Christmas, post him a letter by Friday, December 7. Send to: Santa / Father Christmas Santa's Grotto Reindeerland XM4 5HQ Make sure you include a full name and address so Father Christmas can write back.
Last Posting date International Air Mail to: Caribbean, Central and South America


Last Posting date International Air Mail to: Greece, Turkey, Australia, New Zealand
Friday CHRISTMAS JUMPER DAY IN AID OF SAVE THE CHILDREN



Last Posting date International Air Mail to: Czech Republic, Germany, Italy, Poland, Canada,USA
Last Posting date International Air Mail to: Finland, Sweden
Lyme Regis Town Band Christmas Concert
2.30pm Woodmead Hall

Carols by Candlelight Service
The lights on the Christmas tree will once again be lit as one of the Weldmar Hospicecare's "Light up a Life" services being held throughout Dorset. During the service there will also be an opportunity to bring gifts for teenagers as part of the Children's Society Christmas Appeal. The Carol Service will be followed by festive refreshments in the Church hall. 4pm St Michael the Archangel (Church of England) , Church Street

Carols by Candlelight 6pm St Peter and St Paul, (Church of England) Uplyme

Last Posting date International Air Mail to: Austria, Denmark, Iceland, Netherlands,
Norway, Portugal, Slovakia, Spain, Switzerland


Last Posting date for UK 2nd Class and 2nd Class Signed For
Last Posting date International Air Mail to: Belgium, France, Ireland, Luxembourg
Last Posting date for 1st Class and 1st Class Signed For and UK Special Delivery Guaranteed


Last Posting date for: UK Special Delivery Guaranteed Saturday Delivery


Christmas Tree Festival - Last Day
Christmas Trees decorated by local organisations in the
Baptist Church, Broad Street Admission free, 12.00 – 20.00
Morning Worship Posada 10am St Peter and St Paul, (Church of England) Uplyme

Carols by Candlelight 6pm St Peter and St Paul, (Church of England) Uplyme
Carols by Candlelight followed by coffee and mince pies in among the Christmas Tree Festival. 18.30 Baptist Church, Broad Street

Crib Service 4pm St Michael's (Church of England) Church Street, Lyme Regis
Midnight Service 11pm St Michael's (Church of England) Church Street, Lyme Regis
Midnight Communium 11pm St Peter and St Paul, (Church of England) Uplyme
Midnight Mass The first Mass of the Nativity
11pm St Michael & St George Roman Catholic Church, Silver Street, Lyme Regis


Christmas Morning Sung Eucharist
St Michael's (Church of England) Church Street, Lyme Regis 10am. (There is no 8am service on Christmas Day.)

Christmas Morning Worship 10am St Peter and St Paul, (Church of England) Uplyme

Christmas Day Mass Mass of the Nativity 10.30am St Mary's, Axminster, (Roman Catholic)


Morning Worship 10am St Peter and St Paul, (Church of England) Uplyme

Evening Worship (BCP) 6pm St Peter and St Paul, (Church of England) Uplyme