Lyme Regis Area Daily Diary January 2018 Events


Monday 1st Bank Holiday

Grand Duck Race
A New Year's Day Tradition! Watch the ducks race down the River Lym Raising money for Lyme's Christmas Lights. 12 noon Higher Mill Flats, Windsor Terrace.
Rotary Lyme Lunge: Take a Plunge in the sea for Charity
A fancy dress dip in the balmy waters of Lyme Bay
see here for Surf at Lyme Regis




13.00 hours at the Sandy Beach, all for charity. Everyone welcome, whether 'dipping' or contributing to our charity collection. "If you would like to raise funds for the chosen Rotary charity: 2018 in aid of Shelterbox please feel free to use the downloadable sponsor form, where sponsors can sign up to Gift Aid if they

wish. If you have your own charity which you wish to raise funds for then please go ahead. It would help our cause if you would just email us with the amount raised. If you just want a swim, feel free to join us, there is no obligation" 1pm from the Sandy Beach (time to watch the Duck Race First). more.. Wet suits allowed, preferably with fancy dress over the top, just a paddle in the sea is enough to say you've 'done the Lyme Lunge' for charity. No doubt the collectors will get as wet as the Lungers! Whether watching or lunging don't forget to arrive early.
This year our chosen charity is SHELTERBOX, the renowned disaster relief charity run by Rotarians.
Watch the 2018 Lyme Lunge on Youtube

watch the Lyme Lunge 2017 in aid of Macmillan Cancer Support.

watch the Lyme Lunge 2016
Watch the brides in the 2015 Formidable Lyme Lunge here: The Formidable Lyme Lunge Parade and Formidable Lyme Lunge

Tuesday 2nd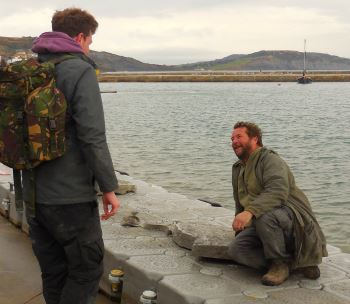 Saturday 6th Twelfth Night
Time to take down your decorations and Recycle your Christmas Tree


Sunday 7th

Attenborough and the Sea Dragon
Featuring the amazing Ichthyosaur find at Lyme Regis.
BBC One at 8pm.

Right: A delighted Chris Moore of Forge Fossils in Charmouth nurses his 'sea dragon'

This is the Kit
www.marinetheatre.com


Friday 12th January
Bee aware


Illustrated talk by Brigit Strawbridge:
Brigit will introduce the fascinating and often hidden world of bees. She is an amateur naturalist, wildlife gardener and bee enthusiast who writes, speaks and campaigns to raise awareness of the importance of our native wild bees and the reasons for their decline. She will explain the differences between honeybees, bumblebees and solitary bees, describing their lifecycles, behaviour and the roles different species play in pollinating different flowering plants. She will also speak about the problems they all face and, crucially, tell us what we can do to help.
Followed by
A Members Social Gathering
with wine, juice and nibbles, members only, (no charge) will follow the talk to bring further cheer to January.
10.00 coffee, 11.00 talk. Woodmead Halls

Saturday 13 January
LEIGH COLEMAN and MATT CARTER TRIO – Jazz Jurassica Supper Club


Soulman, Leigh Coleman, and Matt Carter's exciting piano combo return to Jazz Jurassica with a finger-snapping evening soul-driven jazz. 7pm, Marine Theatre Tickets: £22 + b/f includes 2- course supper courtesy of Dottie Kitchen Advance booking is essential to secure your table from: 01297 442138 or http://www.wegottickets.com/event/413479 Doors: 6.30, Supper: 7-8pm, Music: 8pm onwards, Ends: 10pm MUSIC ONLY TICKETS JUST RELEASED Due to unprecedented demand to see Leigh Coleman and the Matt Carter Trio on Saturday we are now releasing a limited number of music only tickets. These are only available (not online) from 01297 442138 for £12 + b/f. Doors: 7.30pm. Music at 8pm. £12 + b/f.

Wednesday January 24th
Bogs and Ponds,


Terry Underhill, gardener and broadcaster with many years of experience, gets the New Ye

ar off to a damp start, with his talk. He will explain the many benefits of having a pond and wet areas in the garden, including the wide range of unusual plants which they allow you to grow. Tea/coffee and biscuits are available before and after the talk, which is free for members, £3 for visitors. 7:30pm in Uplyme Village Hall. The Schedule for the Summer Show will appear during January, so look out for it in the usual places, including the website Uplyme and Lyme Regis Horticultural Society
Thursday 25th Burns Night is annually celebrated in Scotland on or around January 25. It commemorates the life of the bard (poet) Robert Burns, who was born on January 25, 1759. The day also celebrates Burns' contribution to Scottish culture. Burns' best known work is "Auld Lang Syne".
Friday 26th January

The Big Garden Birdwatch
Watch for one hour: you can do your birdwatch with a cuppa, your favourite biscuit and your feet up. More info: The Big Garden Birdwatch
Saturday 27th January
Annual RNLI SOS Table Top Sale
The hall will be open to sellers from 8am. For further information and to hire a table (£6) contact Ian Rangeley on 07813043301. There will be a variety of stalls, along with bacon baps, teas, coffee and a raffle from 9am to 12.30pm, at the Mariners Hall, Beer.

The Big Garden Birdwatch
Watch for one hour: you can do your birdwatch with a cuppa, your favourite biscuit and your feet up. More info: The Big Garden Birdwatch
Sunday 29th January

The Big Garden Birdwatch
Watch for one hour: you can do your birdwatch with a cuppa, your favourite biscuit and your feet up. More info: The Big Garden Birdwatch
Monday 29th January



Workshop Working with Clay
by Amanda Popham, Clay. Lyme Regis Art Society 10:00 am – 1:00 pm Lyme Regis Football Club, charge tba. For more information please contact Sheila.lyme@gmail.com or 01297 445464
Tuesday 30th

'A consideration of spaces and their meaning in Lyme Regis'
The Lyme Regis Society is hosting a Workshop led by our Chairman Peter Coe. 'We usually think of buildings as defining 'place' but many people are concerned about overlooking space as the determining factor of the value of living and working in Lyme Regis' To be held 2.30- 4.00pm Woodmead Halls, Hill Road, Lyme Regis. DT7 3PG All Welcome. Free entrance. Including refreshments. www.lymeregissociety.org.uk
---