SCREENING: AN IDEAL HUSBAND A new production of Oscar Wilde's An Ideal Husband will be broadcast from the Vaudeville Theatre in the West End. As an ambitious government minister, Sir Robert Chiltern's smooth ascent to the top seems assured until Mrs Cheveley appears in London with damning proof of his previous financial chicanery. Bar opens 6 P.M., starts 7 P.M £11 advance, £10 advance Theatre Friends, £12.50 on the door. www.marinetheatre.com
SCREENING BOLSHOI BALLET : COPPELIA This is a live screening of Coppélia from Moscow. It exhibits a fascinating reconstruction of the original 19th century choreography of this ebullient comedy involving a feisty heroine, a boyish fiancee with a wandering eye, and an old dollmaker. Bar opens 3 P.M., starts 4 P.M. £12 advance / £11 advance Theatre Friends / £14.50 on the door. www.marinetheatre.com
SCREENING ROYAL BALLET : SWAN LAKE Screened from the Royal Opera House, this is a new production of Tchaikovsky's magnificent classical ballet: Prince Siegfried chances upon a flock of swans while out hunting. When one of the swans turns into a beautiful woman, Odette, he is enraptured. Bar opens 6:15 P.M., starts 7:15 P.M. £12 advance / £11 advance Theatre Friends / £14.50 on the door. www.marinetheatre.com
Mr Chips Rides Again John Bartholomew tells tales from school.

John Bartholomew, former Chair of the Heritage Coast U3A, Organiser-in-Chief of U3A theatre and opera visits, and Quizmaster-Extraordinaire, takes a whimsical look at forty years in the education business.
John spent thirty five years full-time in secondary education, one third as head of a large comprehensive school and a further seven years, part-time, working as adviser, consultant and reluctant inspector. His talk will mix anecdote with observation in the hope of offering something that will stimulate lots of thought and some merriment.
Woodmead Halls, Lyme Regis DT7 3PG,. Coffee is served from 10.00 to 10.45 followed by talk at 11.00 until noon. Organised by U3A Heritage Coast Lyme Regis. Entry is free for U3A members; for non-members a £2 donation is suggested.

Lyme Lunches
Nutritious, good value lunch, aimed at over 50's. Fish Pie! Please book at the fantastic Penny Black Café. Dietary alternatives available. We are also looking for volunteers to help with the serving and washing up. Please contact me if you can help. Thank you. 2 courses plus tea or coffee £6 The Pine Hall, Baptist Church, Broad Street. 2nd Wednesday of month. Organised by Lyme Forward. Bookings: Penny Black café (behind the Post Office)

FRIDAY 15 JUNE
THE RONNIE SCOTT'S ALL STARS From the legendary Soho haunt, the band perform a vast repertoire of jazz music and is comprised of house musicians as seen in the Ronnie Scott's Quintet. This dynamic group is lead by the Artistic Director of the club, James Pearson. This is part of "The Soho Songbook" tour, a musical glimpse into the jazz venue and its history combining, alongside narration and rare archive images. Bar opens 6:30 P.M., starts 7:30 P.M. £24.50 early bird / £32 standard advance / £30 advance Theatre Friends. www.marinetheatre.com
Saturday 16th June




Guitars on the Beach Guitars On The Beach is the UK's largest guitar festival at which hundreds of guitarists of all ages and abilities come together to simultaneously play together a selection of well-known songs and form Britain's biggest band, performing on the beach in Lyme Regis in Dorset. B ands will perform from 10 am to 10 pm and the highlight of the day will be a giant tribute to guitar greats at around 4 pm, when the massive band on the sand plays hits by legendary guitarists who sadly died last year – including Chuck Berry, Tom Petty, Malcolm Young of AC/DC and Glen Campbell. The sand band – will also be invited to play along to a tribute to Rory Gallagher and, as is done every year, join in on Buddy Holly's "Rave On" [GOTB's signature song], which this year marks its 60th anniversary. Guitars on the Beach
GUITARS ON THE BEACH AFTER PARTY The UK's largest guitar festival takes place on the beach in Lyme Regis, when thousands of guitarists simultaneously play a selection of well-known songs and form Britain's biggest band. Our bar will be open all night, and we host the official after-party, where you can dance to rock and alternative DJs, and mingle with the stars of the show. Bar opens 8 P.M., starts 10 P.M. Free Entry www.marinetheatre.com

Sunday 17th 2018 Fathers Day

FATHER'S DAY JAZZ BRUNCH Treat your father to a delicious brunch made by the 'Feasting House' of Ottery St Mary, The Rusty Pig whilst listening to Californian jazz vocalist Allison Adams-Tucker. Allison is an internationally acclaimed artist and has entertained audiences in Japan, Europe, Mexico, and the US, including performances at the Blue Note in New York, Ronnie Scott's, and Herb Alpert's Vibrato in Los Angeles. Allison will be joined by her London jazz quartet for this special event. Ticket includes food. advanceance booking only. Bar opens 10 A.M., starts 11 A.M. £20 advance / £19 advance Theatre Friends. www.marinetheatre.com
Wednesday 20th



Meet and Remember - Remembering the music of the 50's and 60's with Lyme Luggers. A memory café for Lyme Regis, Uplyme and Charmouth. Supportive, friendly environment for those experiencing memory loss or who have recently been diagnosed with dementia and the friends/relatives/carers who support them. 2 - 3.30pm Lyme Regis Football Club Pavilion 3rd Wednesday of the month, contact 07704902604 lymememory@gmail.com or just come along. LymeForward
FRIDAY 22 JUNE
BACK TO THE SHACK Back To The Shack play a heady brew of foot-stomping blues and classic Americana, all performed in their own distinct style. The band features dobro, guitar, accordion, double bass, and vocals. "A superb evening's entertainment" Centre Stage Bar opens 7 P.M., starts 8 P.M. £10 advance / £11 advance Theatre Friends / £12 on the door. www.marinetheatre.com

Saturday 23rd June 2018

Axe Vale Show - Axminster - Music - Stalls - Displays
Coach Parties welcome Dogs welcome. THE SHOWGROUND, Trafalgar Way, AXMINSTER From 10am to 6 pm Axe Vale Show
LYME REGIS COMEDY CLUB WITH SEAN MCLOUGHLIN Four comedians perform in one night for our excellent value Comedy Club. June's edition is headlined by Ricky Gervais's support act, Sean McLoughlin. You might have seen him on Russell Howard's Stand Up Central, Comedy Central's Live, or Brexit Stage Left. He was a hit at the Edinburgh Festival: "A terrifically intense and eloquent hour of comedy" The Independent. Bar opens 7 P.M., starts 8 P.M. £8 advance / £7 advance Theatre Friends / £10 on the door. www.marinetheatre.com
Sunday 24th June 2018
Coast to Coast: Jurassic Coast Motorcycle Run: Lyme Regis to Weston-super-Mare
Veteran, Vintage & Post War Classics (in production in the 1990's) will again start from Lyme Regis promenade (Guncliff) and, after the customary call by the Town Crier and address from the Mayor, will proceed to the Clubs home base at Chilthorne Domer Recreational Club. Then it's onto Wells Market Place and Bishops Walk for the lunch stop before proceeding to the finish and award presentations by the Mayor on Burnham-on-Sea South Esplanade. Vintage Motorcycle Club, Dorset section visit Lyme Regis. Come and view the parade of bikes first at the Guncliff and talk to the riders This event is open to motor bikes in production up to and including 1972 including Veteran and Vintage. Departs from Cobb Gate/Marine Parade. Arrive early to have a good look at the bikes! Supported Charity: Headway Somerset More info www.wcmcc.org.uk Westland Classic Motorcycle Club

Axe Vale Show - Music - Stalls - Displays
Coach Parties welcome Dogs welcome. THE SHOWGROUND, Trafalgar Way, AXMINSTER from 10am to 5.30pm Axe Vale Show
THE SUNDAY SESSIONS A post-roast music session in our lovely bar overlooking the Cobb. It is hosted by Street & Matthews, an acoustic duo who are one half of popular local band DeltaTango7. Bar opens and starts at 3 P.M. Free entry, no tickets www.marinetheatre.com
TUESDAY 26 JUNE
SCREENING GLYNDEBOURNE: MADAME BUTTERFLY East meets West with devastating consequences in Puccini's tragic romance. Madame Butterfly is screened direct from the famous festival. When an innocent young Geisha meets an American naval officer she falls instantly and deeply in love. Giving up her family and her faith, she risks all to marry the dashing Lieutenant Pinkerton. Soon love turns to abandonment and betrayal, and Butterfly is forced to make one final, agonising sacrifice. Bar opens 6 P.M., starts 7 P.M. £12 advance / £11 advance Theatre Friends / £14.50 on the door. www.marinetheatre.com

Wednesday June 27th
Lyme Regis Foodbank will be open on Thursday at The Hub this coming week (28th June), 10 - 12. This is for this week only. Next week it will revert to Wednesday 4th July, 10 - 12.
If you are aware of anyone who needs to access the foodbank they will need to be referred by one of our referrers, who will issue them with a voucher - http://www.lymeforward.co.uk/


'Michaelmas Daisies' TALK by Helen Picton Helen's nursery, Old Court Nurseries Malvern, grows over 400 varieties of this much-loved autumn plant, and it regularly features on Gardener's World. a valuable group of plants which has been in and out of fashion but is again on the up. Tea and biscuits are available before and after the talk – members attend free, visitors £3. Plants on sale. 7.30pm Uplyme Village Hall. Uplyme and Lyme Regis Horticultural Society

THURSDAY 28 JUNE
SCREENING NATIONAL THEATRE LIVE There will be an NT Live screening. At time of going to press, details of the show were not available, so please check our website and social media nearer the time for details. Bar opens 6 P.M., starts 7 P.M. £12 advance / £11 advance Theatre Friends / £14.50 on the door. www.marinetheatre.com
Saturday 30th June Armed Forces Day www.armedforcesday.org.uk

T

hird Annual LYME REGIS POPPY RUN
the Royal British Legion (kindly hosted by Lyme Regis Football Club) are holding their third annual Poppy Run to celebrate Armed Forces Day. The 3km race starts at 1

1.00am from the bottom of the new steps (leading from Charmouth Road car park) on the East Cliff walkway. (Car parking in Charmouth Road Car Park at am of steps.) Please note that the 3km run on the route shown is to the Gin Shop on the Cobb AND back.
All competitors need to report to the registration desk at Lyme Regis Football Club between 9.30 & 10.30
There will be lots of stalls and afternoon entertainment so stay on and enjoy food, drink and a great time for the kids at the Lyme Regis Football Club ground.
Entrance fee for the 3km is £5 (minimum age 10 unaccompanied). All proceeds will go the Lyme Regis Branch of The Royal British Legion Poppy Appeal. More info: info@lymeregispoppyrun.com
If you'd like to help out with marshalling, supervising a water station or stewarding at the start and finish, please contact us as above or :-
lymeregis.memsecretary@rbl.community Entry Form and more info at: Lyme Regis Poppy Run

Velo Vintage Occasion & Ride, Seaton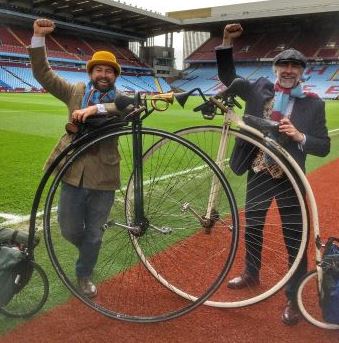 We're delighted to be holding our 14th Occasion & Ride in the coastal resort of Seaton on the Jurassic Coast. We had such a wonderful time last year, we just had to return.
The ride distance will be no more than 9 miles at a very relaxed pace. Tickets must be purchased before the event for riders. You don't need a vintage bicycle, but you do need a bicycle! Lycra is banned and vintage/traditional attire is the order of the day
Spectators are free to come and meet us, indeed are positively encouraged. In aid of Headway Devon. 10:30 am Grand Depart from Seaton Jurassic. More info: www.velovintage.co.uk