Tuesday 1st June Half Term
Wednesday 2nd June 2021 U3A Day

a day dedicated to learning, staying active and having fun in your Third Age - that's people who are retired, semi-retired or no longer bringing up a family.
"We hope this day will help to challenge negative perceptions of older adults and will bring together all Third Agers in the community to learn about the contribution u3a makes to the quality of life for retired people".
celebrating the learning, activity and fun that happens every day in u3as across the country. If you are not currently a u3a member, we'd love you to come along to your local u3a event and help us celebrate the new experiences and fun we are having in the third stage of our lives. And if you want to get involved but you are not yet a member – why not consider joining?

Friday 4th June

Saturday 12th
Uplyme Fete
Saturday 19th




Guitars on the Beach Guitars On The Beach is the UK's largest guitar festival at which hundreds of guitarists of all ages and abilities come together to simultaneously play together a selection of well-known songs and form Britain's biggest band, performing on the beach in Lyme Regis in Dorset. Guitars on the Beach
Sunday 20th 2021 Fathers Day, Summer Solstice

Sunday 27th

Coast to Coast: Jurassic Coast Motorcycle Run: Lyme Regis to Weston-super-Mare Veteran, Vintage & Post War Classics (in production in the 1990's) will again start from Lyme Regis promenade (Guncliff) and, after the customary call by the Town Crier and address from the Mayor, will proceed to the Clubs home base at Chilthorne Domer Recreational Club. Then it's onto Wells Market Place and Bishops Walk for the lunch stop before proceeding to the finish and award presentations by the Mayor on Burnham-on-Sea South Esplanade. Vintage Motorcycle Club, Dorset section visit Lyme Regis. Come and view the parade of bikes first at the Guncliff and talk to the riders This event is open to motor bikes in production up to and including 1972 including Veteran and Vintage. Departs in small groups from 10am from Cobb Gate/Marine Parade. Arrive early to have a good look at the bikes! Supported Charity: Headway Somerset More info www.wcmcc.org.uk Westland Classic Motorcycle Club
---
Dates to be advised Covid Permitting
Jurassic Coast Challenge www.jurassiccoastchallenge.com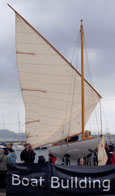 Boat Building Academy Boat Launch

Just eight months ago this Class was learning how to sharpen chisels and make dovetail joints. Now they're making boats as part of their training on our intensive 38 week 'Boat Building, Maintenance and Support' course. You can read what brought each student to the Academy and follow the progress of the boat builds at www.boatbuildingacademy.com.

At 2.30pm(ish) the boats will be led from the Academy's workshops on Monmouth Beach to Lyme Regis Harbour. Champagne corks will pop and each boat will be launched into the water for the first time. The launch will celebrate the achievements of the class, the end of their training at the Academy and the start of their new lives as boat builders.

the slipway -

This is an approximate time due to the scale of the event.

more info.. see right

Axe Vale Show 2021 CANCELLED: we hope that in due course, we can plan a Show for June 2022 and to continue to raise funds to help support local groups and individuals. Axe Vale Show

Summer Picnic Until further notice, sadly we are now closed.
To celebrate 80 years of rescuing and rehoming animals, we are throwing a Big Summer Picnic! Games and activities for all ages and plenty more to be announced. Stay up to date on our Facebook page https://www.facebook.com/FerneAnimalSanctuary or our website www.ferneanimalsanctuary.org