Thursday 1st June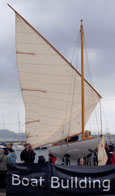 Boat Building Academy Boat Launch


Just eight months ago the Class of August 2016 were learning how to sharpen chisels and make dovetail joints. Now they're making boats as part of their training on our intensive 38 week 'Boat Building, Maintenance and Support' course. You can read what brought each student to the Academy on the class page and follow the progress of the boat builds here.

At 1030 the boats will be led from the Academy's workshops on Monmouth Beach to Lyme Regis Harbour. Champagne corks will pop at 1100 and each boat will be launched into the water for the first time. The launch will celebrate the achievements of the class, the end of their training at the Academy and the start of their new lives as boat builders.

more info.. see bottom right


Monday 5th 2017

Tuesday 8th June



MANCHESTER BY THE SEA
19:30 The Marine Theatre, www.marinetheatre.com
Wednesday 9th

Clovelly Court Gardens,


leaving Uplyme Village Hall at 9am on Wednesday 9th. Brian Cursley, 07831 533580, is taking the bookings at a cost or £20 for the coach and admission – Landrover service costs extra on the day, and as usual visitors are welcome for an extra £3. Uplyme and Lyme Regis Horticultural Society
Wednesday 14th



Lichtenberg's Remarkable Figures Illustrated talk by John Marriage
Georg Christoph Lichtenberg in the eighteenth century, and Étienne Leopold Trouvelot in the nineteenth, worked on the same subject and published scientific papers on it, but lived a century apart and never met. Their work is called to this day 'Lichtenberg figures' – the strange, beautiful, almost organic shapes formed when a pulse of high-voltage electricity passes over the surface of an insulator.
Lichtenberg was the first to describe these figures, with Trouvelot (famous as an astronomical illustrator and notorious as an accidental environmental vandal) one of the first to record them photographically. Kirlian Photography and Aura Photography are related phenomena, which some people still explore.
John Marriage has researched the history of these two men who were interested in both science and art. His talk is illustrated by examples of their work, and of Lichtenberg figures created by himself.
Although they and others approached the subject for scientific purposes, there was in the end little important scientific outcome. But the visual force of their images has continued to attract artists. The 2015 'Revelations' exhibition in London's Science Museum was but the latest in a series of public explorations showcasing this confluence of art and science.
Woodmead Hall opens 10.00 - 10.40am for coffee etc. Talk11.00am - 12 noon. Non members welcome - suggested donation£2. See Lyme Regis U3A
Saturday 17th

Axe Vale Festival - Axminster - Music - Stalls - Displays
Coach Parties welcome Dogs welcome. Axe Vale Festival, THE SHOWGROUND, Trafalgar Way, AXMINSTER


Sunday 18th 2017 Fathers Day



LEGO BATMAN MOVIE
12:00 The Marine Theatre, www.marinetheatre.com


Guitars on the Beach

Axe Vale Festival - Axminster - Music - Stalls - Displays
Coach Parties welcome Dogs welcome. Axe Vale Festival, THE SHOWGROUND, Trafalgar Way, AXMINSTER
Monday 19th

Black Ven Poetry Club Workshop


Six monthly live poetry workshops exploring ways of harnessing creativity to write poems, speak poems, and connect with the nature and elements outside. Anyone who is interested in how to develop ideas into poetry on the page, and on the stage. Join us if you're interested in thinking about language, articulation, story, speaking out and how. The workshops are aimed at poets, dreamers and thinkers. All abilities welcome. The workshops will involve: - Introducing themes to engage with nature and develop tools to write with, plus broad guidance and discussion about different approaches to composition and style; - Readings of relevant literature, and poetry; - Deep Listening and meditation; - A 15-minute outdoor learning observation exercise (outside and in silence); - Sharing our experiences from our 15 minutes and finding threads to work into; - Guest teachings on how to stand up and offer your poems to others from theatre performance, music and acting specialists to teach breathing, physicality, microphone technique and voice control using basic exercises. You will probably not come away with a poem or finished piece at the end of the workshop, but tools to work with between the sessions. You may find that the teachings allow release for new thinking in other areas, or being able to tap into creativity more deeply in any artform. Price: £10 or £6 if you are a regular face at the local Apothecary or Vittals & Verse open mic poetry nights. 12 - 2pm Marine Theatre Bar, Marine Theatre, Lyme Regis DT73QB Contact: blackvenpress@gmail.com or sarah@marinetheatre.com

How Dorset is responding to the refugee crisis

and what more can be done. The speaker will be Stephanie Farr from the Dorset Refugee Resettlement Programme. Presented by
The Lyme Regis Amnesty group
in the Woodmead Small Hall, Hill Road, Lyme Regis at 7.00 p.m.
Refreshments will be provided. Free entrance: everyone welcome
Saturday 24th Armed Forces Day www.armedforcesday.org.uk

Sunday 25th

Coast to Coast: Jurassic Coast Motorcycle Run: Lyme Regis to Weston-super-Mare
Veteran, Vintage & Post War Classics (in production in the 1990's) will again start from Lyme Regis promenade (Guncliff) and, after the customary call by the Town Crier and address from the Mayor, will proceed to the Clubs home base at Chilthorne Domer Recreational Club. Then it's onto Wells Market Place and Bishops Walk for the lunch stop before proceeding to the finish and award presentations by the Mayor on Burnham-on-Sea South Esplanade. Vintage Motorcycle Club, Dorset section visit Lyme Regis. Come and view the parade of bikes first at the Guncliff and talk to the riders This event is open to motor bikes in production up to and including 1972 including Veteran and Vintage. Departs from Cobb Gate/Marine Parade. Arrive early to have a good look at the bikes! Supported Charity: Headway SomersetMore info www.wcmcc.org.uk Westland Classic Motorcycle Club
Wednesday June 28th
The "Bishop's Palace and Gardens, Wells : Past Present and Future"


talk in Uplyme Village Hall at 7:30pm. Talk by James Cross, Head Gardener since 2004, As usual, tea/coffee and biscuits will be available before and after the talk – members free, visitors £3. Uplyme and Lyme Regis Horticultural Society
29th June

HACKSAW RIDGE
19:30 The Marine Theatre, www.marinetheatre.com