FRIDAY 1 JUNE
REGGAE NIGHT WITH FOWOKAN The sounds of Jamaica will be in the air in Lyme Regis once again with the return of this popular event that features live music, DJs, and drinks offers. Headlining is authentic Reggae band Fowokan, who are currently touring their new album 'Shadow of Rasta'. The band was formed by Jamaican-born drummer Sam Kelly, who was also the founder of Cymande, the 70s reggae outfit. Bar opens and starts 7:30 P.M. £6 advance / £5 advance Theatre Friends / £8 on the door. www.marinetheatre.com
Saturday 2nd

RNLI Flag Day: volunteer collectors will be on duty in Lyme Regis and Charmouth


ROMEO AND JULIET The popular Handlebards theatre company return to Lyme Regis for an outside performance of Shakespeare's tragedy. The HandleBards are the world's first cycling theatre company. Before touring their production of Romeo and Juliet around the world, they pedalled it 1500 miles around the UK by bicycle, with all the necessary set, props and costume in tow.
You can expect riotous amounts of energy and a great deal of laughter. Join the HandleBards' troupe outside the beautiful Marine for Romeo and Juliet as you've never seen it before! In Verona, the Montagues and Capulets are in the throes of a long-running family feud. In the midst of this two young members of the families – Romeo Montague and Juliet Capulet – fall in love at the Capulet Ball. Forbidden by their family allegiances, they marry in secret. Performance inside in inclement weather. Bar opens 5:30 P.M., starts 6:30 P.M. £14 advance / £12 advance Theatre Friends and concs. / £16.50 on the door. www.marinetheatre.com
Monday 4th June 2018

Tuesday June 5th

Holbrook Garden Nursery and Cothelstone Manor
9.00am COACH TRIP Holbrook is a naturalistic garden and specialist nursery, and Cothelstone is not normally open to public but we will tour with the owner followed by high tea! £25 total includes coffee, and tea at Cothelstone. Bookings: Rose Mock 01297 34733 or 444927. Uplyme and Lyme Regis Horticultural Society

SCREENING: AN IDEAL HUSBAND A new production of Oscar Wilde's An Ideal Husband will be broadcast from the Vaudeville Theatre in the West End. As an ambitious government minister, Sir Robert Chiltern's smooth ascent to the top seems assured until Mrs Cheveley appears in London with damning proof of his previous financial chicanery. Bar opens 6 P.M., starts 7 P.M £11 advance, £10 advance Theatre Friends, £12.50 on the door. www.marinetheatre.com
FRIDAY 8 JUNE
MARTIN HARLEY Martin Harley is an acoustic roots and blues guitarist, singer-songwriter with an international reputation. Last year's album 'Static In The Wires' was recorded in Nashville. It follows the critically acclaimed 'Live At Southern Ground' is a 'spellbinding 50 minutes', as The Observer put it. "Quite simply a great live act" – Time Out Bar opens 7 P.M., starts 8 P.M. £12.50 advance / £11.50 advance Theatre Friends / £15 on the door. www.marinetheatre.com
Saturday, June 9th
Lyme Regis Day of Morris Dancing: Performances on the seafront throughout the day, including morris dancing sides from across the country, local schools and a morris band. start at 11am. Beach barbecue in the evening.
SUNDAY 10 JUNE
SCREENING BOLSHOI BALLET : COPPELIA This is a live screening of Coppélia from Moscow. It exhibits a fascinating reconstruction of the original 19th century choreography of this ebullient comedy involving a feisty heroine, a boyish fiancee with a wandering eye, and an old dollmaker. Bar opens 3 P.M., starts 4 P.M. £12 advance / £11 advance Theatre Friends / £14.50 on the door. www.marinetheatre.com
JAZZ IN THE BAR WITH JESSE MOLLINS Jesse Molins is a popular jazz guitarist who has evolved his sophisticated style working in the South West and London. As well as leading his own groups he is a regular with the Dave Hankin Big Band and has been described as "a hard swinging jazz guitarist with a style reminiscent of Wes Montgomery". He will be performing with pianist Philip Clouts in our lovely bar overlooking the Cobb. Bar opens 7 P.M., starts 8 P.M. £8 advance / £7 advance Theatre Friends / £12 on the door. www.marinetheatre.com

TUESDAY 12 JUNE
SCREENING ROYAL BALLET : SWAN LAKE Screened from the Royal Opera House, this is a new production of Tchaikovsky's magnificent classical ballet: Prince Siegfried chances upon a flock of swans while out hunting. When one of the swans turns into a beautiful woman, Odette, he is enraptured. Bar opens 6:15 P.M., starts 7:15 P.M. £12 advance / £11 advance Theatre Friends / £14.50 on the door. www.marinetheatre.com
Wednesday 13th
Mr Chips Rides Again John Bartholomew tells tales from school.

John Bartholomew, former Chair of the Heritage Coast U3A, Organiser-in-Chief of U3A theatre and opera visits, and Quizmaster-Extraordinaire, takes a whimsical look at forty years in the education business.
John spent thirty five years full-time in secondary education, one third as head of a large comprehensive school and a further seven years, part-time, working as adviser, consultant and reluctant inspector. His talk will mix anecdote with observation in the hope of offering something that will stimulate lots of thought and some merriment.
Woodmead Halls, Lyme Regis DT7 3PG,. Coffee is served from 10.00 to 10.45 followed by talk at 11.00 until noon. Organised by U3A Heritage Coast Lyme Regis. Entry is free for U3A members; for non-members a £2 donation is suggested.

Lyme Lunches
Nutritious, good value lunch, aimed at over 50's. 2 courses plus tea or coffee £6 The Pine Hall, Baptist Church, Broad Street. 2nd Wednesday of month. Organised by Lyme Forward. Bookings: Penny Black café (behind the Post Office)

FRIDAY 15 JUNE
THE RONNIE SCOTT'S ALL STARS From the legendary Soho haunt, the band perform a vast repertoire of jazz music and is comprised of house musicians as seen in the Ronnie Scott's Quintet. This dynamic group is lead by the Artistic Director of the club, James Pearson. This is part of "The Soho Songbook" tour, a musical glimpse into the jazz venue and its history combining, alongside narration and rare archive images. Bar opens 6:30 P.M., starts 7:30 P.M. £24.50 early bird / £32 standard advance / £30 advance Theatre Friends. www.marinetheatre.com
Saturday 16th June




Guitars on the Beach Main song: Free Fallin
by Tom Petty Although originally recorded in the key of F we will be playing it in D so no capo is required. Have fun with it
GUITARS ON THE BEACH AFTER PARTY The UK's largest guitar festival takes place on the beach in Lyme Regis, when thousands of guitarists simultaneously play a selection of well-known songs and form Britain's biggest band. Our bar will be open all night, and we host the official after-party, where you can dance to rock and alternative DJs, and mingle with the stars of the show. Bar opens 8 P.M., starts 10 P.M. Free Entry www.marinetheatre.com

Sunday 17th 2018 Fathers Day

FATHER'S DAY JAZZ BRUNCH Treat your father to a delicious brunch made by the 'Feasting House' of Ottery St Mary, The Rusty Pig whilst listening to Californian jazz vocalist Allison Adams-Tucker. Allison is an internationally acclaimed artist and has entertained audiences in Japan, Europe, Mexico, and the US, including performances at the Blue Note in New York, Ronnie Scott's, and Herb Alpert's Vibrato in Los Angeles. Allison will be joined by her London jazz quartet for this special event. Ticket includes food. advanceance booking only. Bar opens 10 A.M., starts 11 A.M. £20 advance / £19 advance Theatre Friends. www.marinetheatre.com
Wednesday 20th



Meet and Remember - A memory café for Lyme Regis, Uplyme and Charmouth Supportive, friendly environment for those experiencing memory loss or who have recently been diagnosed with dementia and the friends/relatives/carers who support them. 2 - 3.30pm Lyme Regis Football Club Pavilion 3rd Wednesday of the month, contact 07704902604 lymememory@gmail.com or just come along. LymeForward
FRIDAY 22 JUNE
BACK TO THE SHACK Back To The Shack play a heady brew of foot-stomping blues and classic Americana, all performed in their own distinct style. The band features dobro, guitar, accordion, double bass, and vocals. "A superb evening's entertainment" Centre Stage Bar opens 7 P.M., starts 8 P.M. £10 advance / £11 advance Theatre Friends / £12 on the door. www.marinetheatre.com

Saturday 23rd June 2018

Axe Vale Show - Axminster - Music - Stalls - Displays
Coach Parties welcome Dogs welcome. THE SHOWGROUND, Trafalgar Way, AXMINSTER From 10am to 6 pm Axe Vale Show
LYME REGIS COMEDY CLUB WITH SEAN MCLOUGHLIN Four comedians perform in one night for our excellent value Comedy Club. June's edition is headlined by Ricky Gervais's support act, Sean McLoughlin. You might have seen him on Russell Howard's Stand Up Central, Comedy Central's Live, or Brexit Stage Left. He was a hit at the Edinburgh Festival: "A terrifically intense and eloquent hour of comedy" The Independent. Bar opens 7 P.M., starts 8 P.M. £8 advance / £7 advance Theatre Friends / £10 on the door. www.marinetheatre.com
Sunday 24th June 2018
Coast to Coast: Jurassic Coast Motorcycle Run: Lyme Regis to Weston-super-Mare
Veteran, Vintage & Post War Classics (in production in the 1990's) will again start from Lyme Regis promenade (Guncliff) and, after the customary call by the Town Crier and address from the Mayor, will proceed to the Clubs home base at Chilthorne Domer Recreational Club. Then it's onto Wells Market Place and Bishops Walk for the lunch stop before proceeding to the finish and award presentations by the Mayor on Burnham-on-Sea South Esplanade. Vintage Motorcycle Club, Dorset section visit Lyme Regis. Come and view the parade of bikes first at the Guncliff and talk to the riders This event is open to motor bikes in production up to and including 1972 including Veteran and Vintage. Departs from Cobb Gate/Marine Parade. Arrive early to have a good look at the bikes! Supported Charity: Headway Somerset More info www.wcmcc.org.uk Westland Classic Motorcycle Club

Axe Vale Show - Music - Stalls - Displays
Coach Parties welcome Dogs welcome. THE SHOWGROUND, Trafalgar Way, AXMINSTER from 10am to 5.30pm Axe Vale Show
THE SUNDAY SESSIONS A post-roast music session in our lovely bar overlooking the Cobb. It is hosted by Street & Matthews, an acoustic duo who are one half of popular local band DeltaTango7. Bar opens and starts at 3 P.M. Free entry, no tickets www.marinetheatre.com
TUESDAY 26 JUNE
SCREENING GLYNDEBOURNE: MADAME BUTTERFLY East meets West with devastating consequences in Puccini's tragic romance. Madame Butterfly is screened direct from the famous festival. When an innocent young Geisha meets an American naval officer she falls instantly and deeply in love. Giving up her family and her faith, she risks all to marry the dashing Lieutenant Pinkerton. Soon love turns to abandonment and betrayal, and Butterfly is forced to make one final, agonising sacrifice. Bar opens 6 P.M., starts 7 P.M. £12 advance / £11 advance Theatre Friends / £14.50 on the door. www.marinetheatre.com

Wednesday June 27th

'Michaelmas Daisies' TALK by Helen Picton Helen's nursery, Old Court Nurseries Malvern, grows over 400 varieties of this much-loved autumn plant, and it regularly features on Gardener's World. a valuable group of plants which has been in and out of fashion but is again on the up. Tea and biscuits are available before and after the talk – members attend free, visitors £3. Plants on sale. 7.30pm Uplyme Village Hall. Uplyme and Lyme Regis Horticultural Society

THURSDAY 28 JUNE
SCREENING NATIONAL THEATRE LIVE There will be an NT Live screening. At time of going to press, details of the show were not available, so please check our website and social media nearer the time for details. Bar opens 6 P.M., starts 7 P.M. £12 advance / £11 advance Theatre Friends / £14.50 on the door. www.marinetheatre.com
Saturday 30th June Armed Forces Day www.armedforcesday.org.uk
---
2018 Dates to be advised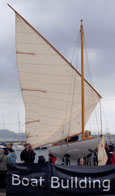 Boat Building Academy Boat Launch


Just eight months ago the Class of August 2016 were learning how to sharpen chisels and make dovetail joints. Now they're making boats as part of their training on our intensive 38 week 'Boat Building, Maintenance and Support' course. You can read what brought each student to the Academy on the class page and follow the progress of the boat builds here.

At 1030 the boats will be led from the Academy's workshops on Monmouth Beach to Lyme Regis Harbour. Champagne corks will pop and each boat will be launched into the water for the first time. The launch will celebrate the achievements of the class, the end of their training at the Academy and the start of their new lives as boat builders.

more info.. see bottom right
---
June: Dogs banned
from the town's main beaches. (1st May until 30th September)
Permitted on Back Beach & Church Cliff, Monmouth Beach.
Dogs need to be on a lead all year on


Marine Parade, Cart Road, Gun Cliff, Church Cliff Walk, the Harbour, the Cobb, Lister & Langmoor Gardens
Please check notices locally to verify this information

Download Car Parks Map
if you park in the road please do so considerately
LIFEBOAT WEEK 2018
28th July - Friday 3rd August
Programmes on sale in and around Lyme Regis


What's on in the Galleries
LYME REGIS ART SOCIETY
ANNUAL EXHIBITION
26 May-6 June
This Annual Exhibition at Whitsun usually attracts over 100 works of art, offering all members of the Society a chance to display and sell their work and the public an opportunity to explore what can be achieved with a variety of media.


The Malthouse Gallery,
The Town Mill, Mill Lane, Lyme Regis DT7 3PU.

10.30am-4.30pm. Free admission. www.townmillarts.co.uk
31 May-13 June
AFFAIRS OF THE HEART

Everything we do, say and think has an impact on how we feel. In the same vein, whatever you have on your walls in your home or office, or on your person infuses into your core being every day and effects how you feel. This year Liz Shewan's annual solo exhibition will continue her enchanting journey to bring calm and inspiration into people's lives through her explorations and experiences with nature and her connection with spirit.



The Courtyard Gallery, The Town Mill, Mill Lane, Lyme Regis DT7 3PU. Open daily 10.30-4.30. Free admission. www.townmillarts.co.uk
7-20 June
VIEWPOINTS

Nine successful and creative photographers from Bridport Camera Club have come together to show their passion for the medium of photography. Each has a different viewpoint on the world: whether that is expressed globally or locally; through black and white or colour; through rural or urban landscapes or the natural or man-made world. Together they are displaying an exciting and memorable mix of work.

The Malthouse Gallery,
The Town Mill, Mill Lane, Lyme Regis DT7 3PU.
Open daily 10.30-4.30. Free admission. www.townmillarts.co.uk
15-27 June
PAPER AND CLAY

A diverse and exciting exhibition by four established ceramicists and a collagraph printer: Linda Bristow, Cath Bloomfield, Alison Potter, Belinda Brownlee and Denise de Freitas. They met ten years ago whilst studying Ceramics at Bath Spa University. Their techniques include throwing, hand building, plaster casting and mono printing onto clay, and Cath creates collagraph and stitched prints. They are all inspired to create work that is

vibrant and unique.
The Courtyard Gallery,
The Town Mill, Mill Lane,
Lyme Regis DT7 3PU. Open daily 10.30-4.30. Free admission. www.townmillarts.co.uk
21-27 June
THERE IS ONLY LIGHT

Photographs are often seen as a representation of reality. This exhibition by Dorset Independent Photographers considers words penned by John Fowles, novelist and former Lyme resident, that "reality is infinitely baffling." In styles ranging from landscape and documentary to abstract and wildlife, images by the photographers for their 30th anniversary exhibition go to the heart of Fowles' assertions "that nothing and nobody is what they seem" and "there is only light."

The Malthouse Gallery,
The Town Mill, Mill Lane, Lyme Regis DT7 3PU. Open daily 10.30-4.30.
Free admission. www.townmillarts.co.uk
29 June-11 July
THEM, AGAIN!

In this exhibition Zee Jones and Pam Allsop continue to explore mixed media, collage and colour. There is always something fresh in their work that encompasses themes of sea and landscapes, still life and flowers, as well as abstracts. For both artists, working in collage brings together their love of painting with their skill at sculpting images with mixed media in order to create texture, shape and structure. In this way, they create a colourful and painterly equivalent to sculpture, which they hope will be exciting, uplifting and pleasurable.

The Courtyard Gallery,
The Town Mill, Mill Lane, Lyme Regis DT7 3PU.

Open daily 10.30-4.30.
Free admission. www.townmillarts.co.uk
29 June-11 July
STORIES OF THE CITY, STORIES OF THE SEA

This exhibition explores through photography and drawings Chelsea Davine's inspiration for her large scale oil paintings. In her working practice Chelsea draws upon memories and images of the Dorset coastline where she grew up and the details of its surrounding landscape, as well as the energy and vibrancy of the architecture of the city where she now lives, Barcelona. Returning to Lyme Regis for this exhibition provided her with the perfect opportunity to showcase her collection of photographs and the materials she is inspired by, alongside the work she exhibits around the world.

The Malthouse Gallery,
The Town Mill, Mill Lane, Lyme Regis DT7 3PU.
Open daily 10.30-6.00. Free admission. www.townmillarts.co.uk

Boat Building Academy student boat launch – June, Lyme Regis Harbour
June marks an end and a beginning for students at the Boat Building Academy in Lyme Regis. The students will walk the boats they have built from the Academy's workshops to Lyme Regis Harbour, where they will launch them for the first time. The launch marks the end of their training at the internationally renowned Academy on Monmouth Beach and the start of their lives as boat builders.
The students range in age, coming to the Academy from all over the UK and Europe. Their backgrounds are diverse, some have significant woodworking experience, some had never picked up a chisel before. Some have already been offered employment; Yvonne Green, Principal of the Academy, says 'I have no doubt that all of the students who want to work in the marine industry will do so easily. We have an excellent relationship with a number of employers and the students have access to our Graduates' Network. There is a serious skills shortage and people with good skills are highly sought after'.
Following a few words from Commander Tim Gedge, a Director of the Academy, champagne corks will pop and the boats launch into the water one by one. If you would like to help celebrate the students' achievements the Academy would be delighted.
Read about where Academy Graduates go on to work, their profiles, photographic build diaries and Graduate case studies, see the Academy's website at: www.boatbuildingacademy.com
WALKS and TOURS

Do take advice about safe tide times before setting off for more than fifteen minutes hike without a guide, along our beautiful beaches: - what appears to be an easy bit of ground to scramble over is more likely to be a treacherous mud slide - don't take a chance!
A selection of 12 walks around Lyme Regis area to do at your leisure see U3A Page for maps
Lyme History Walks

Meet at the Marine Theatre at 11.00am
Cost £8.00 Adults Children £4
JUNE: Wed 6th, Thurs 7th, Wed 13th, Thurs 14th, Wed 20th, Thurs 21st, Wed 27th, Thurs 28th
"Discover the unique and colourful history of Lyme Regis with experienced tour guide Chris Lovejoy"
01297 443140
Ghost Walks

Tues and Thurs 7.30 pm
May – September From outside Lyme Regis Museum
Lasts 1 hour
Adults £8.00 Children £4.00
01297 443140 www.ghostwalkslyme.org.uk

Mary Anning Walks
Mary Anning was a world famous fossil

hunter - and was featured in Tracey Chevalier's novel Remarkable Creatures - hear stories of her life and see where she lived and hunted.
walks@lymeregismuseum.co.uk

Meet at Lyme Regis Philpot Museum, Bridge Street, Lyme Regis, DT7 3QA
Jane Austen Tours
'During the Jane Austen tour we visit the

houses in which Jane is said to have stayed and hear stories of Lyme Regis as she would have known it. See where Louisa Musgrove fell on the Cobb.'
Tours run all year round. We have scheduled walks detailed below or you can contact us via our website www.literarylyme.co.uk to arrange another time.
Open Air Market
Every Monday
Manor Farm Holiday Centre, Charmouth