Charmouth Christmas Day swim brings out the crowds and raises about £1,500...More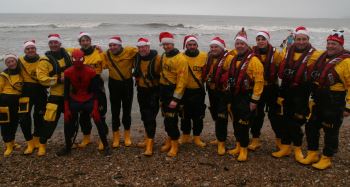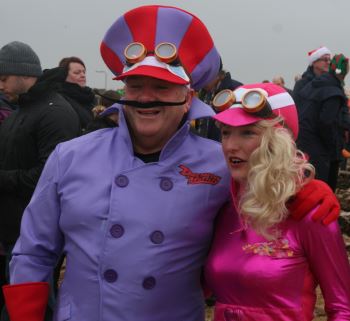 RNLI wellie dog family has a puppy for Christmas ...More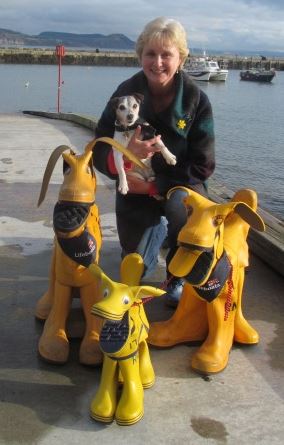 Lifeboat volunteers honoured for long service ...More
Christmas Day swim to draw the crowds
...More
Exhausted windsurfer rescued by Lyme Regis RNLI lifeboat crew
...More
Lone sailor rescued after bitterly cold night at sea
...More
Man rescued by Lyme Regis RNLI crew as sailing boat capsizes
...More
Lifeboat launched to 'lost' walkers
...More
Man and two dogs in speedboat rescued by Lyme Regis RNLI lifeboat crew ...More
Coastguards and lifeboat crew aid woman injured after fall on rocks
...More
Man rescued by Lyme Regis RNLI crew as fishing boat breaks down ...More
Lyme Regis RNLI lifeboat launches in Storm Callum ...More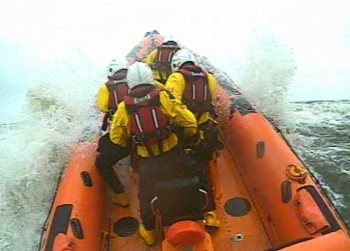 Fish suppers raise a tasty sum for RNLI ...More
Lyme Regis RNLI lifeboat crew called to 'children in trouble' ...More
Lyme Regis RNLI station – Mayoral visit
...More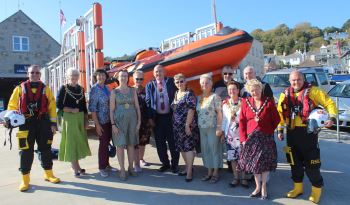 Bowls club boosts lifeboat week total ...More
Golden wedding couple donate their 'presents' to RNLI
...More
Fish suppers on the menu for lifesavers at sea
...More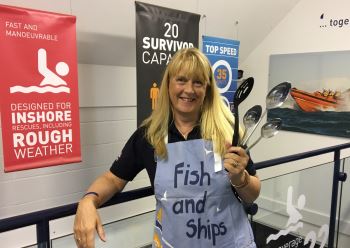 Porsche Marathon ...More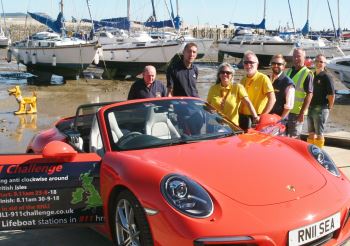 Lifeboat crew rescue man as dinghy capsizes ...More
Lifeboat launched to 'swimmer in trouble' ...More
Lifeboat crew assist in search for missing man ...More
'Exhausted' yachtsmen rescued by Lyme Regis RNLI lifeboat crew ...More
Council boss joins Lyme Regis RNLI lifeboat crew
...More
Lifeboat Week sets an all-time record with £34,000 ...More
RNLI Lyme Regis lifeboat launched to missing swimmer near Burton Bradstock ...More
Lifeboat launched to broken down yacht ...More
RNLI Lyme Regis lifeboat launched to man cut off by the tide
...More
RNLI Lyme Regis lifeboat assists broken fishing boat 4 miles south of Lyme Regis ...More
Lifeboat launched to two incidents ...More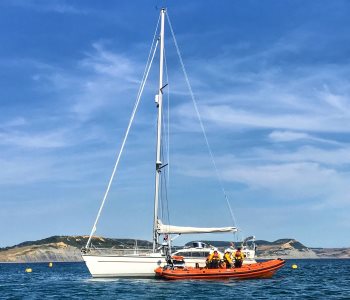 Lyme Regis RNLI lifeboat false alarm ...More
Holiday cottage weekend is new lifeboat week prize ...More
RNLI to stage lifejacket 'clinic' in lifeboat week ...More
Father and son all at sea with the lifeboat ...More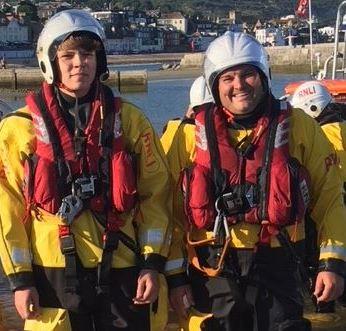 Colyton Vintage Tractor run presentation
...More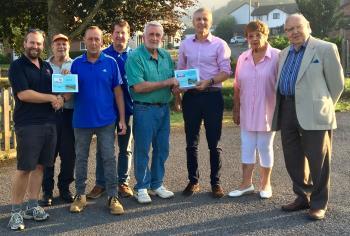 Downton Abbey creator to visit Lyme Regis RNLI Lifeboat Week
...More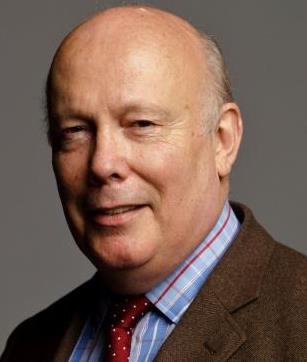 Couple rescued by Lyme Regis lifeboat crew after speedboat is swamped by waves
...More
Tom follows dad at the helm of Lyme Regis lifeboat ...More
Lyme Regis RNLI crew assist coastguards at powerboat incident ...More
RNLI thanks supporters as lifeguard tower arrives ...More
Lyme Regis RNLI lifeboat rescues eight divers
...More
Mystery of the yellow welly dog's missing eyes
...More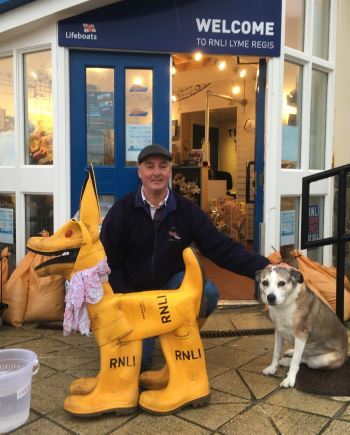 Lifeboat in search for 'missing man'
...More
Lifeboat in search
for 'missing man'
...More
Lyme Regis RNLI Lifeboat launched in search for missing person
...More
The annual Blessing of the Boats service ...More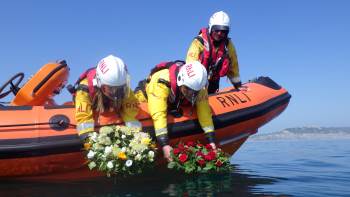 Lyme Regis RNLI start the Yellow Welly Mayday Relay
...More
Penny farthing pair cycle for charity
...More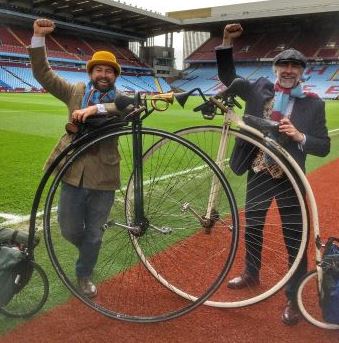 Chairman Mark to lead lifeboat management team
...More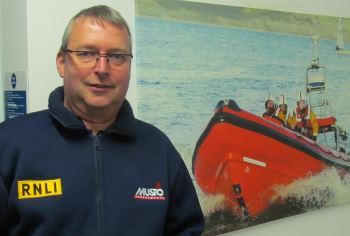 Blessing of the boats service – all welcome
...More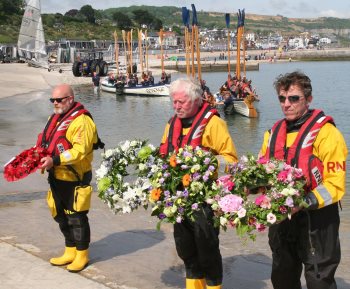 Volunteers hit the jackpot for RNLI's life-saving charity
...More
RNLI Lyme Regis lifeboat assists broken fishing boat 30 miles south-west of Portland ...More
Lyme Regis RNLI lifeboat moves into a tent
...More
Lyme Regis RNLI lifeboat launched twice
in night ....More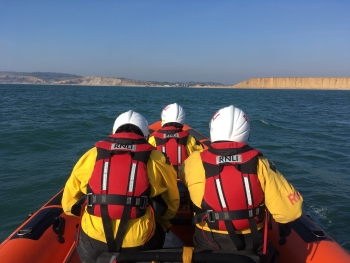 Photo: Seb Cope
RNLI Lyme Regis lifeboat launched to couple cut off by the tide
....More
RNLI Lyme Regis lifeboat moves 'home' for station repairs
....More
Georgia joins the volunteers of Lyme Regis RNLI ....More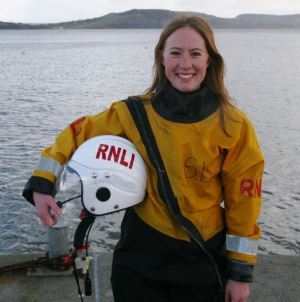 Lifeboat Week 2018 is coming!
....More
How Garry turned old wellies into a fun fund raiser
....More
Lifeboat launched to 'three cut off by tide'
....More
Lifeboat crew tributes at Christmas party ....More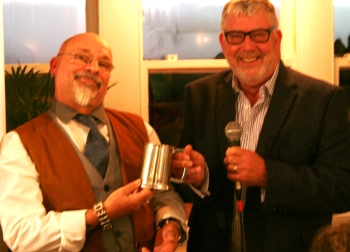 School visits to lifeboat station are a hit with youngsters ....More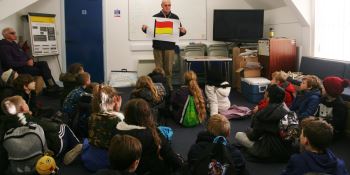 Photo Club puts lifeboat in the picture with £250
....More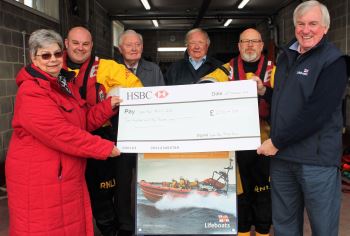 Gig club in safety exercise with RNLI crew
....More
Lifeboat assists with search after 'wreck debris' report ....More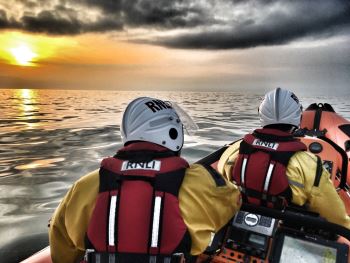 Photo: Seb Cope
Wanted – volunteer lifesavers to join RNLI crew
...More
Lyme Regis lifeboat rescues 5 teenagers ...More
Lifesaver Andy swaps the Thames for Lyme Bay...More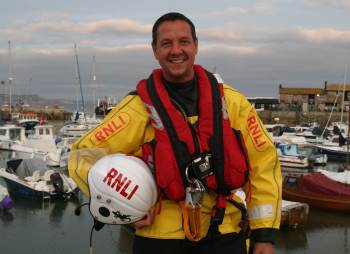 Sea anglers donate another £1,000 to RNLI
...More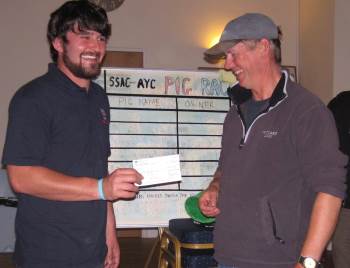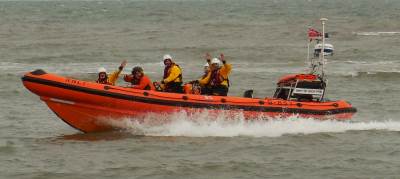 Family of four and dog rescued as yacht sinks
...More
Survivors are guests at RNLI Lyme Regis lifeboat book launch
....More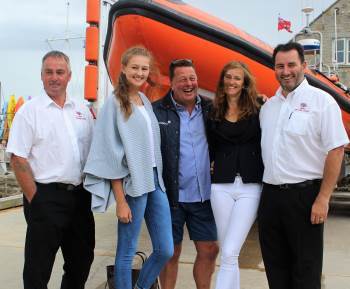 Gym boss boosts lifeboat fund with a dance
....More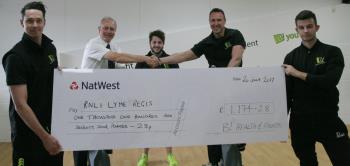 Cheque handshake. Mike McAlpine, (left) Deputy Launching Authority at RNLI Lyme Regis, thanks gym owner Craig Bernhardt for his donation. Also pictured personal trainers Duncan Bryant, far left, Josh Armytage, centre, and Scott Bean.
---
Four rescued by Lyme Regis RNLI crew as powerboat 'drifts towards rocks'
....More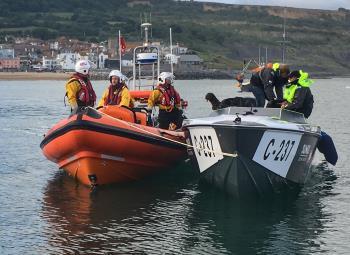 ---
How a yellow welly and a penny farthing set out to boost lifeboat charity
....More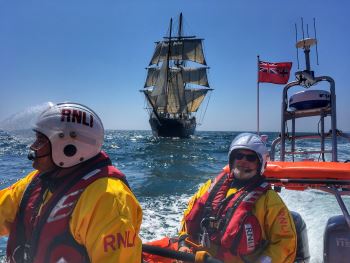 ---
Rescue helicopter exercises with lifeboat crew and coastguards
....More