Winter Parking Permits

Free parking in Cabanya and Woodmead car parks 1st November 2015 to March 2016 for Lyme Regis Residents.
Available from Lyme Regis Town Council Office from and can be collected between 9.30am and 4.30pm.
A valid Council tax bill for Lyme Regis and vehicle registration document displaying the same address are necessary to obtain a permit.


Flu Vaccination
Lyme Regis Medical Centre 445777

Lyme Bay Medical Practice 443399

Charmouth Medical Practice 560872

Offered to all over 65 and those at risk.
Book now
Books to your Door
Unable to get to the Library? Housebound?
'If you are housebound or unable to get to your local

library, we may be able to arrange for books to be delivered to your home, free at regular intervals by volunteers.
We offer a wide range of fiction as well as information books on country life, cookery, travel, biography and other popular subjects. You can request specific books or subjects.
Large print books are available as well as talking books for people with sight problems, illness or other disabilities.
Books and talking books are delivered to your home by volunteers. All staff and volunteers always carry identity cards. Visits are usually every three weeks. There is no charge for our Home Library Service.
For more details, contact your local library and a member of staff will call to see if we can help you to use the library service.'
Something in need of repair or
maintenance around town?
Sign cleaning, clearing and repair. Unblocking drainage gullies, small areas of footpath, roadway or carriageway edge repairs. Report these problems to either Lyme Regis Town Council 01297 445175; Dorset Direct 01305 221000 or Click Here
Organisers -
Use this page to ask for help; volunteers; sponsors; give advance notice of events and other information about the town.
Unstable cliffs along the coast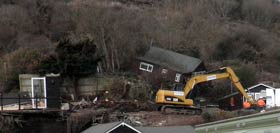 Chalets being demolished at Ware Cliffs
Where to Buy just about everything in town
Lyme Life
A community page with information for residents in the Lyme Regis locality
See a list of Regular events

---
Volunteering can be an ideal way to ease from a working life into retirement and to meet new and local people if you are new to the area. Lyme Regis has many active charities and organisations - many of which are listed on 'Regular Events' below and even more on our Clubs page.
---
Twins get together for boules and barbecue
T

he two twinning associations in Lyme Regis that link the town with Barfleur in France and Bermuda got together today (Sunday) in a fund-raising exercise to play boules and enjoy a barbecue.
Some 35 members, their friends and families met at Lyme Regis Football Club where a raffle and a few friendly rounds of the French version of bowls were accompanied by sausages, burgers and talk of plenty of twinning experiences.
Twinners pledge over Brexit

Members of the Lyme Regis/Barfleur Twinning Association have assured their friends in France that the result of the referendum will not change the relationship between the two towns.
In a letter to his opposite number in the Normandy town, chairman of the Lyme Regis committee, John Dover, said: 'Our members wish to make it clear to our friends in Barfleur that this result will make no difference to our twinning arrangements and the warm relationship between our two towns.
'The association is looking forward to welcoming the Barfleurais to Lyme next year.
'Although the referendum has created a great deal of uncertainty about the future direction of our country please reassure your members that 'le jumelage continuera.'…..the twinning will continue.
Ten members from Lyme, including the Mayor Cllr Owen Lovell, recently travelled to Barfleur to join in the town's events marking the 950th anniversary of 1066 when William the Conqueror left Normandy for Britain.
The French celebrations included a reception with the mayor of Barfleur and the presentation of a commemorative medal to Cllr Lovell.
A number of vintage vessels including a replica Viking longboat, tied up in Barfleur harbour Later a drama production was followed by a communal Sunday lunch for all the twinners.

VOLUNTEERS


Our popular RNLI shop in Lyme Regis is

looking for some new volunteers to join a

friendly and sociable team. We really need

your help to keep the shop open and at the

heart of the community.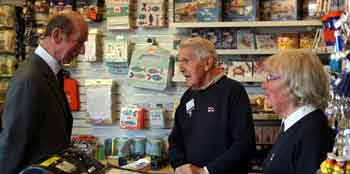 If you could offer any help at all please get
in touch by popping in or speaking to
Amanda Woods 07787842201
Raise the Roof
As most of you are probably aware by now, we set up the Raise the Roof campaign last year in order to finally fix our leaking roof! As much as the indoor paddling pools (and our friendly inflatable shark that swims in them) are fun and give off a seaside feel, we would rather set little Sharky free from the end of the Cobb and pack up the pools until a sunny day!

There is still a hike, trek, a few corners, some roundabouts, a vault over a five-bar gate, a limbo under a security laser and forward rolls through the fields to go before making the £95,000 to fix the entire roof. However, we are so very excited to announce that we have raised enough (£7,500) to have a new flat roof fitted.

You know what this means everyone...a dry auditorium without the need for a brolly or hats or coats over our heads! And just in time for some fabulous events leading up to Christmastime, with mistletoe and wine!
From the Marine Theatre
Volunteers wanted

for Lyme Regis Regatta and Carnival Committee
Tel. 01297 443696 or 442220
or e-mail Secretary
Have you got time to spare to keep part of Lyme's heritage thriving?

The town's restored 14th century working watermill produces stone-ground flour from local organic wheat and lies within a courtyard complex in the heart of Lyme containing a variety of Artisan Shops, Studios, Galleries and a Millers Garden. Spring 2010 will be an exciting time with the opening of the Malthouse Community Space and Lyme Bay Brewing.
Can you spare a few hours a week or month? We need people to regularly volunteer as millers, staffing the gift shop, stewarding the gallery, and helping out to keep the environment, including the gardens and the courtyard, attractive for our visitors. You'll find that enthusiastic, generous and friendly people make up the community at the mill. As well as being involved with a unique heritage project you will have the chance to meet many visitors from around the globe.
For more information please visit our website www.townmill.org.uk or contact Mags Osborn at the Town Mill on 01297 443579, info@townmill.org.uk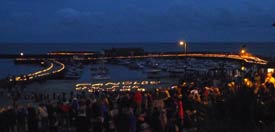 5,000 candles light the Cobb, the North wall and spell 'Candles on the Cobb' on the beach. What an incredible event! The next one will be in August 2018
---
and
Ichthyosaur discovered near Lyme Regis
After months of patient work the fossils of an Ichthyosaur discovered on the Jurassic Coast near Lyme Regis were carefully laid on a pontoon to be towed on the morning tide into Lyme Regis harbour on 20th October. Word quickly spread and people gathered to see the pieces harbouring fossils of a creature which had been hidden in the nearby cliffs for around 160 million years.
This was a find worthy enough to attract a visit by naturalist Sir David Attenborough and a BBC film crew the previous day. However we shall have to wait a year or so to see the finished programme on television.
Great British Beach Clean in
Lyme Regis
Litter Free Coast and Sea's support of the Marine

Conservation Society's Great British Beach Clean in Lyme Regis encouraged many local people to come and help.
An area of Monmouth beach was divided into zones where detailed information about the size and type of debris collected between the tide lines was noted by small teams. This data will be collated and compared against previous years, it also helps discover where the litter is coming from and gives the evidence to help stop it from ever getting there in the first place: an essential part of cleaning up our oceans.
Then, covering a much larger area of Monmouth Beach, the litter pickers found not only the most common rubbish consisting of fishing lines, plastic bottles, sweet wrappers and disposable BBQs but: a jacket, a pair of trousers, two tops, a pair of knickers, a shoe and two (odd) socks.
All of these can pose a serious threat to sea and shore life: plastics can last for hundreds of years in the sea, harming wildlife and threatening livelihoods . Every little bit that is removed will make a difference for a long time to come. This is particularly relevant locally as a sick dolphin and a dead seal have been found in the Lyme Regis area recently. Whales, dolphins and turtles can mistake floating plastic bags for the jellyfish which form part of their diet. Once swallowed, the plastic bag blocks the stomach and leads to a slow death through starvation.
It is hoped these beach cleans raise awareness of just how much of a problem marine litter is and that everyone goes home with a better understanding of how they can help.
Krys Lavery, the Lyme Regis Litter free Coast and Sea Leader, would like to thank everyone who took part. For further information about future Litter Free coast and Sea events (no bending – litter picker-uppers provided!) please contact Krys: e-mail rnli1824@btinternet.com

<![if !vml]>
<![endif]>
'Use It or Lose It!' Exercise class for 50+

A mixture of cardio, Zumba, Pilates, yoga, balance & strengthening exercises all to music! No need to bring anything. Just wear comfortable clothing, trainers & a water bottle. Tuesdays & Thursdays 9:30am Masonic Hall, Lyme Regis. £5 PAYG contact Helen French 07725 465 360.

Lyme Regis Brownies
Wednesdays 5.30 - 7pm St Michaels School Hall Tel 07756 593811
Tae Kwon-Do
The Tae Kwon-Do Association of Great Britain (TAGB) has been established for 30 years and has over 20,000 members learning tae kwon-do in more than 600 venues. Classes are now being held twice a week at The Hub, Church Street, Lyme Regis (bottom of Charmouth Road, just up from Marine Theatre). Convenient for shops, beach, bus stops (Broad Street or Anning Road) and local schools. Every Tuesday and Wednesday afternoon at 4.30pm. They will suit any ability and are not just for children! Teaching traditional tae kwon-do as a martial art and not a sport. Part of the Tae Kwon-Do Association of Great Britain, established in 1983 and now with over 600 schools nationwide. Family group discounts and free trial. Additional classes available in other local towns at no extra cost. www.TargetTAGB.co.uk There are no contracts and family group discounts will be available. Telephone Gerry on 01297 639830.
Kickboxing at The Hub
Held every Thursday evening between 8pm-9pm. Classes are suitable for both adults and children and are great for fitness, self defence, weight loss and confidence. £5 per session, no contracts or direct debits. Telephone Gareth, 1st Dan Instructor on 07833 157436 or email diane@lrdt.co.uk. www.hublyme.co.uk
The Hubs' Toddlers
Meet every Thursday at The Hub, Church Street, Lyme Regis between 9.30-11.30. An informal, friendly session for parents and toddlers to meet and socialise. Refreshments available for a small donation. Lots of arts and crafts to do, ride-ons, slide and soft play-mats for babies to relax on. £1 per child. Contact Shelly on 07734 115138 or email diane@lrdt.co.uk. www.hublyme.co.uk

Lyme twinners join Barfleur liberation celebrations
Fifteen members of the Lyme Regis/Barfleur Twinning Association crossed the channel at the weekend to join hundreds of French families as they celebrated the 70th anniversary of the Normandy town's liberation.
It was 70 years to the day on Saturday that American troops drove into town to free the Barfleurais from Nazi occupation.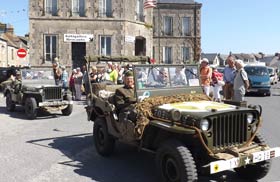 And just as on June 21st 1944 a convoy of American jeeps, sirens wailing and horns blaring, drove through the streets of Barfleur to the harbour to a tumultuous welcome. Only this time the jeeps were driven by French members of a local military vehicle preservation club in full American uniform.
The Lyme Regis group were invited to spend the weekend joining the celebrations and staying with local families, who are members of the Barfleur Twinning Association. As they arrived last Friday they were met at the harbourside of the French fishing port by flag-waving members of the Barfleur association.
Highlight of the weekend was Saturday, a day of ceremony, celebration and solemnity.
Hundreds, including the Lyme Regis group, with Richard Doney as standard bearer, attended an outdoor thanksgiving service at St. Nicolas church alongside the harbour. In his address the Mayor, Michel Mauger, welcomed the Dorset contingent and praised the town's American liberators along with British and Canadian troops.
Saturday's events continued with a a classic car parade – including Lyme Regis twinner Sheila Poupard and Mike Overfield-Collins in Sheila's 1963 Sunbeam Alpine sports car.
Then there was music from a local band, visits to the historic lifeboat station, which was the first in France in 1865, an open air dance and a celebration meal for twinners to round off the day.
Lyme Regis twinning chairman John Dover told dinner guests how hundreds of U.S. troops were based in the Dorset town in advance of D-day. He said it was an honour for Lyme Regis to share the liberation celebrations and it was 'fitting and appropriate' that both communities were now joined in a new partnership of friendship.
Next event planned by the Lyme Regis twinning group is a barbecue and boule afternoon to mark Bastille Day in the chairman's garden in Somers Road. The event, starting at noon on Sunday July 13th, is to raise funds for the association. Anyone interested in attending should contact jonner_dover@hotmail.com or call 07769 655362.

Download Latest Newsletter and membership form

Now it's official... Lyme Regis has a twin in France

In a very English ceremony involving two mayors, macebearers, and a town crier the twinning of Lyme Regis with the Normandy town of Barfleur was literally signed and sealed.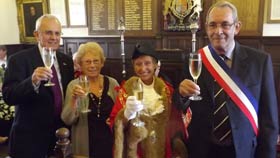 A beautifully crafted charter on hot pressed goat skin parchment was signed by Lyme Regis Mayor Councillor Sally Holman and the Mayor of Barfleur M. Jean Deville in the historic Guildhall to formally cement the link between the two towns. The signatures of the chairman of the Lyme Regis/Barfleur Twinning Association, John Dover and his opposite number from Normandy, Mme Cristiane Gancel were also added. Then wax was applied using the centuries old town seal usually kept under lock and key in the museum.
Seven residents of Barfleur crossed the channel to Lyme Regis for two days of celebrations to mark the twinning. Highlights included a tour of the renowned Boat Building Academy, a visit to St. Michael's primary school and the opening of ArtsFest.
During the ceremony Councillor Holman said the two ancient maritime communities had played significant parts in the development of both nations over the past thousand years. She said it was from Barfleur in 1066 that William the Conqueror, Duke of Normandy, departed to defeat Harold at Hastings. And Edward 1st granted Lyme Regis its royal charter in 1284. During his son's reign Edward 2nd sacked Barfleur in 1346 maintaining English rule in that area for another century.
John Dover said he was confident that many organisations and individuals in both communities, beyond the work of the twinning committees, would cement mutually beneficial ties. After the guildhall ceremony there was a visit to one of the town signs to view the addition of Barfleur. After a celebration dinner at the Mariners Hotel, the Barfleurais left for home on Sunday morning.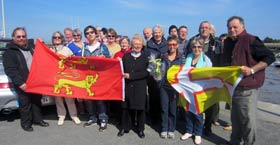 Discover more about future plans and 'entente cordiale' with our new twin town Barfleur, Normandy -
For more information about the Twinning Association contact John Dover on 07769655362; email jonner_dover@hotmail.com (please note the underscore) or Download Latest Newsletter
and membership form
March 2013: Fantastic New Fossil Find: The Lyme Bay Ichthyosaur!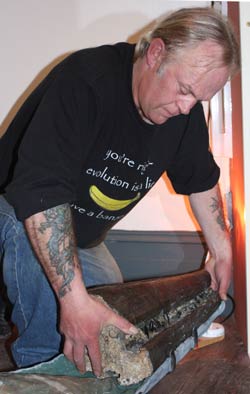 The Lyme Regis Museum announces the arrival of its fantastic new fossil – The Lyme Bay Ichthyosaur. The museum has acquired the fossilised head of this impressive Jurassic predator – a large dolphin-like reptile that swam the warm seas of prehistoric Dorset. The skull measures over 1.5 metres long and possessed a formidable armoury of razor sharp teeth.
Lyme Regis is the home of palaeontology and the place where Britain's greatest fossil hunter, Mary Anning discovered the first ichthyosaur and plesiosaur in the early 19th century. The town is situated at the heart of the Jurassic Coast, England's only Natural World Heritage Site. Museum Director David Tucker said, "This species of ichthyosaur, called Temnodontosaurus platydon is the same species as the first great ichthyosaur discovered by Mary Anning 200 years ago. Mary Anning's fossil is in the Natural History Museum, and Lyme Regis has waited two centuries to obtain a similar, large specimen. The fossil was discovered within metres of the museum. It's important that museums along the Jurassic Coast are able to display the amazing fossil treasures that are still being found along the coast". The fossil was found by local collector, Mike Harrison and was purchased for the museum with the support of the Heritage Lottery Fund and Prism Grant Fund. Lyme Regis Museum is built on the site of Mary Anning's house and was founded in 1902 by the family of Elizabeth Philpot, Mary Anning's friend and significant fossil hunter in her own right. The museum has featured on 'Countryfile' and runs fossil walks, led by expert geologists giving visitors a chance to find their own Jurassic Coast treasures.
Recycle those unwanted Gifts

Please Donate them to:

RNLI Shop, The Cobb:



Weldmar Hospice Shop, Broad Street:

Jumble Sales